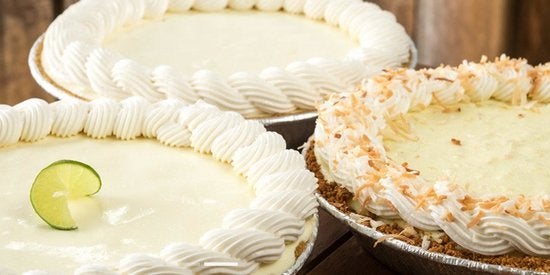 Once upon a time, a cook in south Florida — the precise name of that cook is lost in history — invented an obscure pie created solely for convenience.
Today, the now ultra-famous Key lime pie wraps itself in the glory of "local" and "fresh," endeavoring to attract hordes of gastro-tourists to the Florida Keys. The irony is that if you deny the canned convenience at the heart of it all, you just aren't making Key lime pie!
The original pie, dating back to the mid-1800s, had four main components: Key lime juice (a local product in the Keys), sugar, egg yolks (which don't need refrigeration) and, most important to this history, milk, which lends such dairy luxury to the filling.
But think about it. Florida. 1850s. No cattle industry. No airplanes. No bridges from the Keys to the mainland. And no mechanical refrigeration, because it hadn't been invented. Milk could not be stored, therefore Key lime pie, as we know it, could not have been invented until refrigerators were invented many decades later, and roads were built.
Not true, actually, because in the 1850s, long before home refrigerators came along, along came Gail Borden and William Curry. The former, whose family became legend in the dairy business, had a new product in 1856, canned milk, which needed no refrigeration. Borden's condensed milk, in fact.
As history has it, one of the early mega-distributors of Borden's condensed milk was a wealthy businessman who lived in Key West, Florida, William Curry. Curry also happened to be a shipping magnate and the sailors on his many boats needed products to store onboard for maritime meals. Setting sail from Key West, naturally, they certainly had Key lime juice.
The confluence of these historical threads leads to one conclusion. Key lime pie was most likely invented on a commercial ship, by a clever sea-going sailor, setting out from Key West.
Now, the first Key lime pie, almost certainly, was a thick goop made from the elements above, all tangy and sweet. There was no actual "pie" there because there wasn't any crust! Crust would have caused additional storage problems so it came later, but there was what locals call "the thickening," a chemical reaction that occurs when the Key lime juice is mixed with the sweetened condensed milk. The two substances form a molecular bond, and the mixture gets magically thickened, both then and now.
That "magical convenience" is still going on today. No self-respecting Florida baker in 2017 would dare substitute fresh milk for sweetened condensed milk. The taste of the pie would be totally different. Sweetened condensed milk is in the pie's DNA!
Modern Key lime creations
Let's take a look at some of southern Florida's most celebrated contemporary Key lime pies, which gives us a better understanding of all the options and variations that have come to exist. We at Flavored Nation are looking at these variations very carefully indeed because one of these bakers will come to St. Louis in October to represent the state of Florida, and its iconic dish, at the Flavored Nation weekend.
For starters, like other regional mega-stars including Buffalo chicken wings and Philly cheesesteak, Key lime pie is being made all over the country today, but are the best ones still in the original localities? As one Florida baker told me, "I could make a great Key lime pie anywhere in the U.S. today, but that's because I've lived in Florida. I know the taste. Sure, you can make it anywhere, as long as you've been here and know the taste."
The first Key lime star I spoke with was Michelle Kosiek, GM of The Fish House in Key Largo.
"There's great Key lime pie from key to key, all along the Overseas Highway," she told me. This 113-mile highway that connects the Keys just south of the Florida mainland opened in 1936, when canned milk stopped being physically essential but remained aesthetically essential to the true taste of Key lime pie.
The big news at The Fish House is about the topping. The rather standard whipped cream topping of today's Key lime pies is eschewed; "we go back to the original topping," says Kosiek, "meringue."
But it can't have been that original, since the original Key lime pie was not baked. The pie must have stood topping-less in the 19th century. It wasn't until the next century that, with refrigeration, using whipped cream became possible.
The meringue was a late bloomer, too. Government regulators in the 20th century refused to let Key lime pie, with uncooked egg yolk in it, come to the consumer uncooked, so a new tradition began — baking the pie for a short time to cook the eggs. And as long as we're cookin', why not create a meringue topping, using up the leftover whites?
The topping at The Fish House is famous. It's crisp, not crunchy, with perfect egg-white peaks adding visual appeal. "Baked meringue on top," says Kosiek, "with its slight browning, gives Key lime pie a whole different taste."
To Shelley McInnis, owner of Pepe's Cafe in Key West — which, according to David L. Sloan, a Key West historian, makes the best Key lime pie of all, unusually served in a bowl — the major factor is that she whips the egg whites separately, before folding them into the rest of the filling before baking.
"It makes a much lighter, fluffier pie," she says. "And I like the prominence of the egg whites: They're slightly bitter, which is a great counterpoint with the sweetness of the condensed milk."
McInnis is also a fanatic — and a truth-teller — about Key lime juice. All of us northern folk might be fantasizing about Florida bakers squeezing out juice from fresh Key limes, but it ain't so.
"First of all," says McInnis, "the Key lime season is only in July, August and September. We make pies year-round. But even if we stored the juice there'd never be enough juice around here to make all those pies. Everyone today uses bottled Key lime juice, but it's important to pick a good brand. There's a lot of bottled juice from Mexico being used in Florida, but we think the quality is better at a Florida company (based in Pompano Beach) called Nellie & Joe's. Their Key lime juice is all we use."
Is it possible to substitute another kind of lime juice?
"Absolutely not!" responds McInnis vociferously. "First of all, the Key lime is a completely different species. It's smaller than the Persian lime (that's the one we usually call 'lime'), more fragrant in a floral way, and, most important, it's far more acidic, intensely tart."
So what's wrong with using a little more Persian lime as a substitute?
"You couldn't," McInnis says, "because the extra amount of juice you'd need to reach the same tartness would destroy the filling's texture. And the color of a fully ripened Key lime is yellow, both the rind and the juice. If you see a green Key lime pie, someone is not using real Key lime juice or is using green food color!"
There's a lot of fakery in the production of Key lime pie. For Stephanie Piraino, baker and general manager of another award-winning bakery, Key Lime Pie Co., "most people use 50 percent regular lime juice. I can taste the difference right away. Not us. We always use 100 percent Key lime juice."
It's part of what's earned her company its reputation as one of the best places for Key lime pie. First of all, she, too, is very passionate about Key lime juice: "Ours is a great bottled juice from Mexico that has no preservatives, so it must be kept refrigerated. You can really taste the non-preservative difference."
Then there's her famous crust. Now, when crust came into the Key lime pie picture in the early 20th century, some bakers started using pastry crust.
"Don't like it," says Piraino. "It gets soggy too easily." So, like most bakers in Florida today, she uses a graham-cracker crust. "But ours is different," she says. "We make it ourselves rather than buy a premade crust from, say, Keebler. Our crust is firmer than the Keebler crust, but crumbles just right. And it has a much more vibrant taste."
Probably the most prominent feature of the Key West Key Lime Pie Co. pie is that it's not baked. So how do they get around the government's insistence on cooking eggs? Simple: They use no eggs at all, leading to greater lightness, and following suit with the topping, no meringue is used, either. It's a whipped cream Key lime pie all the way.
The Key West Key Lime Pie Co. is a large operation, turning out over 1,000 pies a week, and supplying pies to over 70 stores and restaurants throughout Monroe County, where the Keys are. They also create very popular variations like 2,000 chocolate-dipped frozen Key lime bars every week.
Are you still excited about eating Key lime pie, I ask Piraino? "Oh lord, yes!" she replies. "At least once a week I have a big slice. Truth be told, though, when I was pregnant, I was absolutely addicted. I ate at least one frozen Key lime bar every single day."
Tart, frozen, with temperatures in the 90s — it sounds like a tropical paradise!
REAL LIFE. REAL NEWS. REAL VOICES.
Help us tell more of the stories that matter from voices that too often remain unheard.
This post was published on the now-closed HuffPost Contributor platform. Contributors control their own work and posted freely to our site. If you need to flag this entry as abusive,
send us an email
.