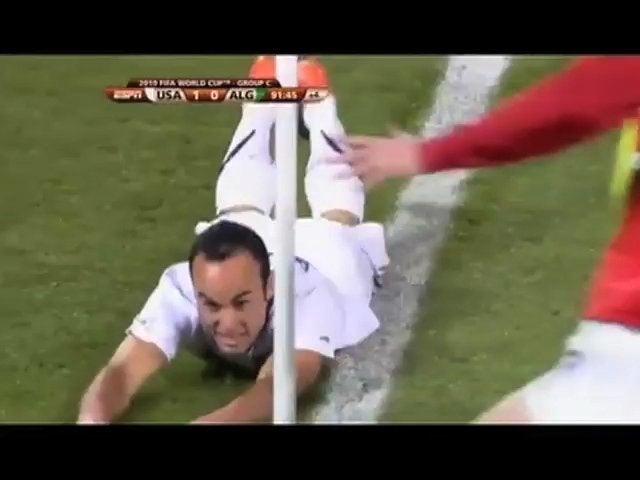 Landycakes. That used to be Landon Donovan's nickname. As often as he was acknowledged as one of the most talented soccer players America has ever produced, historically he was also perceived as being soft, petulant, churlish, a bit of a puff pastry. He was criticized for wilting when the spotlight got hot, shining only during insignificant games, disappearing when his country most needed him to be all that he could be.
Europe came calling, as it does when soccer talent rears its head. So Landon Donovan went to Germany, where soccer is a religion, played with a rare combination of technical brilliance and cutthroat Hunnish brutality. He struggled mightily, never able to fully display that he had the game, but perhaps more significantly, the balls to compete against the big boys. Sure, the pundits posited, Landycakes can shine in the minor-league caliber MLS, but he doesn't have what it takes to make it in the real world of big boy soccer.
Then came David Beckham. This international mega-uber-superstar brought his traveling circus to Hollywood, and joined Donovan's team, the LA Galaxy. Yes, Beckham is in the twilight of his career, but he is still one of the greatest benders of the ball in the known galaxy, and of course he brings his celebrity cachet and the star power of his anorexicish, ex-pop singer wife in tow. From the beginning, according to all sources, there was friction and tension.
According to Donovan, Beckham didn't take his new job with the LA Galaxy very seriously. Becks was a terrible teammate, and not much of a man. Instead of kissing the hem of the garment of the English superstar, Landon Donovan stood up in front of the world and told his truth. It became international news, shots heard round the world. In fact, it created such a furor, a book was written about it, and there's rumors of a Lifetime movie in the works. Eventually, a truce was hashed out, and everyone agreed to play nice. But people started looking at Landon Donovan differently. He had become, by standing up for himself and his teammates, a leader of men. Then Landon Donovan received an invitation from English club Everton to play a guest starring role for a month in the stretch run of the English Premier League, one of the very best in the world, studded with international superstars.
Landon Donovan didn't just play well -- he was brilliant. In fact, he was voted the player of the month for Everton, and became a huge fan favorite. It was quite remarkable to listen to the freakishly English crowd break out into chants of, "U-S-A!" when Donovan would rampage. That brief month spent running roughshod over some of the best teams in the world seemed to prove to the international soccer community, and perhaps to Landon Donovan himself, that he had the skills, the flare, and yes, the testicles to compete against the best and the brightest.
Then came South Africa 2010. After a tentative, Landycake-ish performance against the English, the US found itself in dire trouble, down 2-0 to the aggressively Eastern European Slovenian team, in danger of getting bumrushed on the biggest stage there is in the world of sports. This is when Landon Donovan took the game by the scruff of the neck, and hoisted America up onto his suddenly Superman-sized shoulders. He came steaming in from the right flank with the ball at his feet and took it right to the hole. When no one stopped him, from a sublimely ridiculous angle, he fired a cannon shot so hard over the hapless Slovenian keeper's head, that it singed the poor fellow's scalp. The ball thundered into the roof of the net, a majestic, monumental, world-class and game-changing goal.
That was the beginning of the beginning for Team USA. America came storming back, and except for the dastardly call by the evil Coulibaly of Mali, they would've won handily. But of course they didn't win handily. And they still needed a victory over Algeria, who suddenly looked every bit a quick, tricky, skillful destroyer of dreams. Sure enough, after yet another travesty of a referee's decision, denying the US a much-deserved goal, all seemed lost. Seconds sped by with shocking speed. Suddenly, 90 minutes was gone. Four minutes of extra time were now whipping past faster than humanly possible. American fans were gagging on the foul fetid breath of failure belching into their faces.
Then suddenly the ball was in the hands of a player, at this World Cup, who has grabbed the mantle of Best Goalkeeper in the galaxy, Tim "T-Ho" Howard. And there was Landon Donovan sprinting for all he was worth up the right side of the field. T-Ho threw a 60 yard bullet that would've made Tom Brady proud, hitting Landon in perfect stride. And there it was, 3-on-1, with Donovan pulling the playmaker strings. He drew the defensive in, laid off a sweet simple ball to Pussycat Altidore, who slotted the ball in front of the goal, where Clint Eastwood Dempsey whacked it as hard as he could. And then the soccer gods beamed down their love upon Landon Donovan, and they rewarded him for all his hard work and suffering. The ball landed like a gift sliding down the chimney on Christmas Eve.
Instead of panicking, disappearing, or choking, Landon Donovan stepped up and made history. He snatched sweet victory from the hoary clutches of defeat, as Americans from Wall Street to Alaska, Hollywood to Bangor, Miami to Minnesota, erupted in full throated roar: "Gooooooooooooooooooooooooooooooal!!!" And thus Donovan became Landon the Man.
David Henry Sterry is, with Bay Area literary legend Alan Black, co-author of The Glorious World Cup: A Fanatics Guide, for those who like their soccer with a side of kick ass.
Calling all HuffPost superfans!
Sign up for membership to become a founding member and help shape HuffPost's next chapter