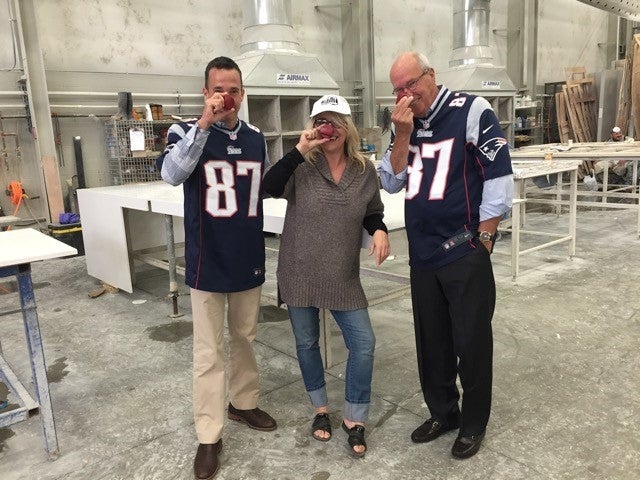 Admittedly, I am not the world's biggest sports fan, but I am a super fan of sports stories centering around mentoring. This year's Super Bowl story is one of those award-winning greats, something capable of garnering Oscar nods. Nothing has touched my heart as much as the explosive win by the New England Patriots.
Was it the validation of proving the commissioner wrong? Was it the stunning moments of a mother to sick to travel but determined to support her son? Was it all the doubters (including a deflated Brady) at half time that thought there is no way they can win? Was it the power of music and the pixie dust of Lady Gaga, a great mentor who lives her life around mentoring about inclusion, integrity, and increasing your self-esteem, that released the winning spirit from the heavens?
The score was 21 to 3, it got as high as 28 to 3 in the third quarter, with nearly impossible odds of reversing this direction. The probability of winning was less than 1%. Until the moment when magic took over, when a team decided that they were unstoppable and made history. It was a nail biting moment at 28 to 9 when the Falcons had a 99.7% chance of winning the game and the Patriots had only .3 %. They clung to that thread of hope, fought back, and conquered. So yes, watching their miraculous comeback during those last few minutes was exciting to watch, but beyond those touchdowns it was the little things that touched my heart.
The uncontrolled dancing of Brady's proud wife, Giselle, screaming in delight, going bananas as her husband helped turn around a hopeless situation as he and his team orchestrated the next-to-impossible comeback.
I watched in amazement as I imagined Tom Brady's mentor, the late Tom Martinez reaching from the heavens pulling his mentee back on his feet, whispering words of mentoring wisdom and reminding him all that he was taught about the laws of mentoring – that without hope, without support, without emotional sustenance we become lost as individuals and as a society.
This Super Bowl, which also happened to be the very first game I have ever watched, turned me into a sports fan. This was about winning against all the odds. It was a celebration about mentoring, persevering, and proving doubters wrong. It was about family, love, team spirit, support, and acknowledging that without each other we are unable to succeed at anything. That without each other we are unstable. It was about not losing your faith.
As a stone designer at Cumar Marble and Granite, my amazing team and I have able to work in the homes of many well-known Boston athletes. My very first stone design project was for Drew Bledsoe, but these athletes were just clients to me. To the dismay of my fiancé, I did not watch football at all. During football season, while everyone was watching the game, I was off doing extra work and getting things done for the week.
So why did I even watch the Super Bowl?
This past Fall, I got a mysterious call. It was a secretive production company asking me to whip together a "prop" for picture-perfect filming. Years ago, I produced films in Los Angeles before I got into the design industry, so in my mind, this was the perfect blend of experiences. It is simply majestic when your worlds collide and you can merge talent, imagination, and craftsmanship together.
The mission? In only a few hours, we had to create a working kitchen for Patriots quarterback, Tom Brady, and Intel. I bolted to my boss, Ivo Cubi, to ensure Cumar Marble and Granite was involved in this multi-million-dollar ad campaign - that we were going to go to the Super Bowl. Knowing that we needed an honest-to-goodness, top-of-the-line kitchen, I brought Sean Clarke and his team in with their prestigious Sub Zero and Wolf products. I was also overjoyed to be reunited with Jason Sevinor of Designer Bath whom I have also worked with for over 15 years.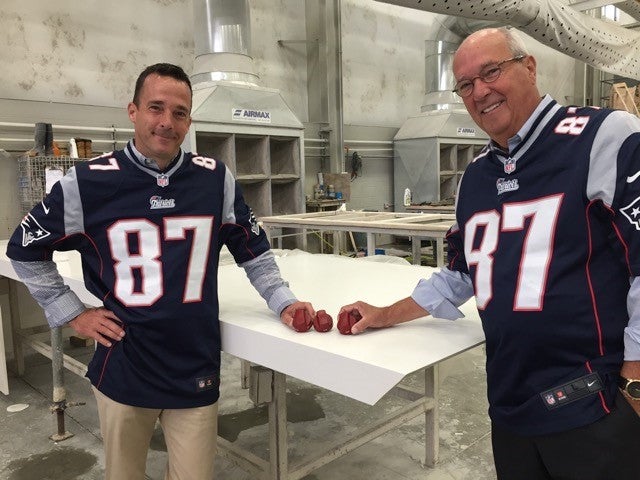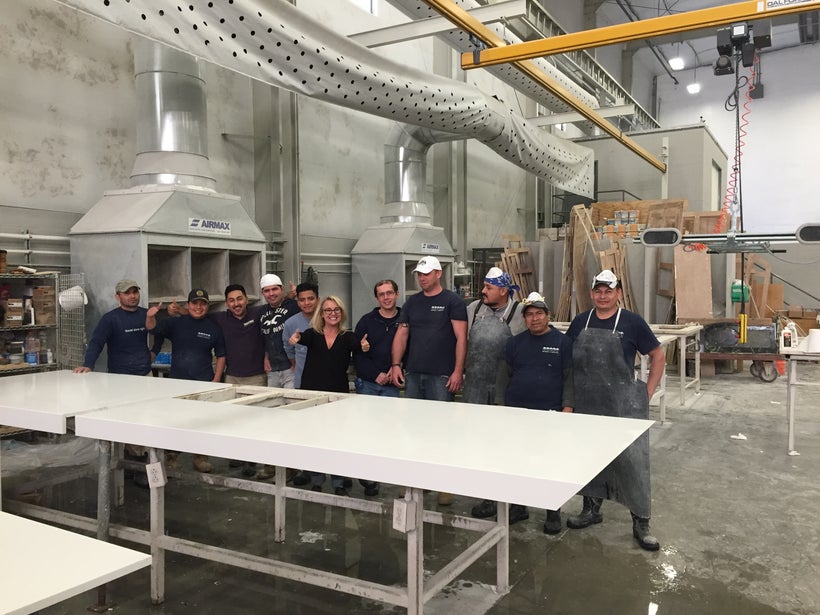 Together we created a movable kitchen with real stone and appliances in a few hours to fit within the tight filming schedule. After seeing the commercial, you would never know the slew of activity that took place to recreate "Brady's house." Many thanks to the amazing artists at Cumar Marble and Granite for making this set a reality.
As New England Patriots and Atlanta Falcons fans planned their Super Bowl tailgating food and parties for this Sunday's game, this design enthusiast was popping her popcorn, waiting in excitement to see our fabulous kitchen counter debut on national TV having no idea I was about to witness something so mentor-centric-fabulous.
Why am I so proud to be a part of this commercial? It's because at Cumar Marble and Granite and Clarke Living, mentoring is valued. This commercial is about greatness, and without a doubt, Tom Brady is the greatest quarterback. While my fiancé is a super fan who thinks Tom Brady is naturally the "GOAT," I noticed something more- something that many people overlook. Brady is the GOAT, because of his mentors.
Brady wasn't one of those kids who grew up as a stellar football star who everyone knew would make the to the NFL. He was molded by his life-long mentor, Tom Martinez, the man who taught him how to throw a football.
As this beautiful mentoring story on CBS says, "Martinez was hired at College of San Mateo to coach football and teach physical education but added softball and women's basketball to his coaching load." As the article states Julian Edelman tweeted, "RIP coach Tom Martinez. He was such a great mentor to many in the bay area. His legacy will always live on."
When I see the challenges that Tom and the Patriots faced these past couple years, with personal and family issues, and with accusations and punishments from the NFL with Roger Goodell, I know that the grace, poise, and composure that Tom, Coach Belichick, and the team constantly models boils down to the strong mentors they have had guiding them along the way. Whether it's personal mentors, mentoring from Belichick, or even being mentors to each other as teammates, this unity and strength has created a team that won five Super Bowl championships.
Last night, when everything seemed to point to a complete loss, the team pushed through together to pull off something miraculous, breaking many first time records in Super Bowl history.
What's the overarching story? We don't succeed on our own. We succeed and win with each other. It's evident when you listen to the post-game conferences with Coach, Brady, and the players. Everyone highlights each other. Nobody focuses on themselves, nobody gloats, nobody keeps score against each other.
THIS is the power of mentoring. THIS is why the Over My Shoulder Foundation exists. THIS is the mentoring that we strive toward. THIS is how greatness is created. THIS is how we won our fifth Super Bowl and it shows how much success we can have is we strive to work together towards greatness.
For us at Cumar Marble and Granite and Clarke Distribution, we already won our Super Bowl! Personally, this entire story of the Patriots and their challenges and triumphs this year, stands as a reminder to take the high road, ignore the doubters, and never give up. Sunday night the New England Patriots became one of my favorite mentoring stories and Lady Gaga gave me a million reasons to believe in the impossible and never give up. We should learn from this entire season that we should always believe and celebrate in the power of mentoring, because mentoring moves us all towards a society of greater inclusion, integrity, and value.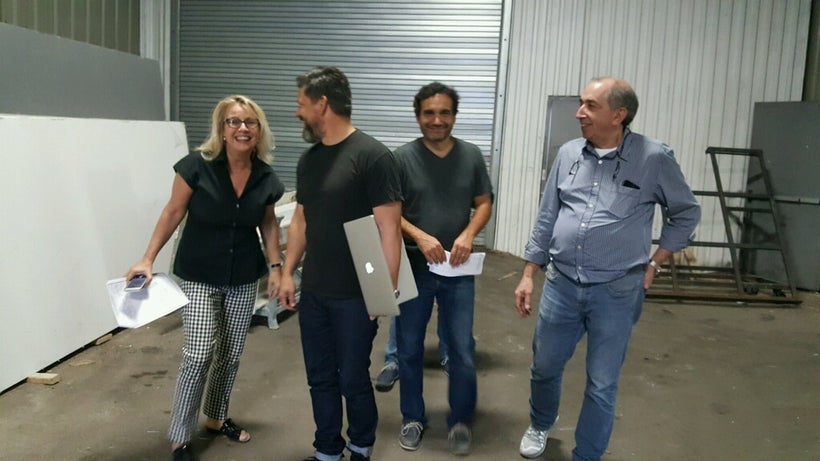 Calling all HuffPost superfans!
Sign up for membership to become a founding member and help shape HuffPost's next chapter
This post was published on the now-closed HuffPost Contributor platform. Contributors control their own work and posted freely to our site. If you need to flag this entry as abusive,
send us an email
.