Having taken over 10,000 portraits for his world-famous "Humans of New York" Facebook account, Brandon Stanton's something of a professional when it comes to understanding how subjects are presenting themselves. With that in mind, it's not without good reason that the photographer described President Obama, whom he profiled in February of 2015, as seeming "very genuine."
"It was a quiet moment," he said of meeting POTUS in a conversation with HuffPost Live on Thursday. "I guess that's kind of how you recognize what's genuine or not -- whether something is very ... kind of rehearsed, and very kind of stiff and seems like something that's practiced, or something is very quiet."
Having interviewed thousands of individuals since starting "Humans of New York" in 2010, the photographer recalled how easy it is to tell when a subject's being phony rather than authentic.
"When I meet somebody in the street who knows about 'Humans of New York,' a lot of times they might have a scripted answer, and that scripted answer is the first thing to come out of their month," he said. "Like, 'What is your greatest struggle right now?' 'My greatest struggle is figuring out how to impact the earth to achieve world peace!' ... like everything's kind of forceful and pre-arranged in the mind, and you can feel it that way coming out."
President Obama's words felt more like "the result of a real-time reflection than something that had been practiced before," explained Stanton.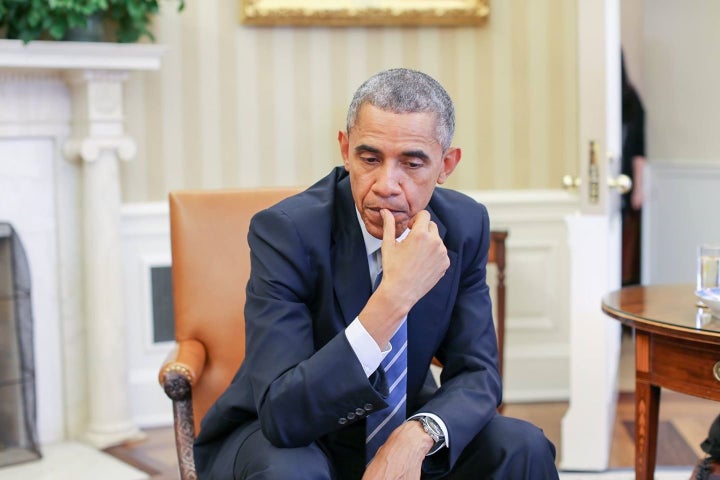 According to Stanton, the photo he took of the President for "Humans of New York," shown above, adequately portrays that.
"He was very contemplative at the time and so, you know, I like to think that was a genuine energy being put forth and a genuine statement that was being put forth," he affirmed. "Hopefully the question [being asked at the time] caused him to reflect on something that was maybe unlike the questions that he'd been asked before." 
Watch more from Brandon Stanton's conversation with HuffPost Live here.
Want more HuffPost Live? Stream us anytime on Go90, Verizon's mobile social entertainment network, and listen to our best interviews on iTunes.
PHOTO GALLERY
25 Street Artists' Works From Around The World
REAL LIFE. REAL NEWS. REAL VOICES.
Help us tell more of the stories that matter from voices that too often remain unheard.