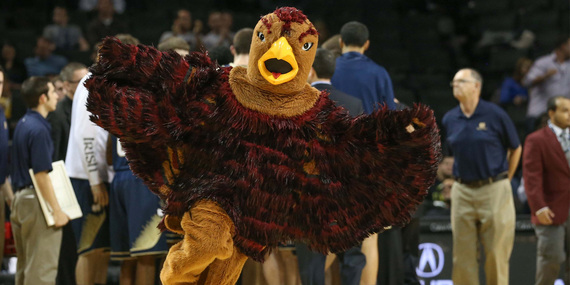 Anthony Panvini
Saint Joseph's University '16
Timmy Parks had to ice his shoulders after the first game of the 2015-16 Saint Joseph's basketball season. No, he wasn't playing in the Hawks' one-point win over Drexel, but his arms felt like it.
Parks, a junior at SJU, is the man inside the giant Hawk mascot found on the court at each St. Joe's basketball game. He isn't like any other mascot, though. He has to flap his wings continuously throughout the entire game.
Don't worry. For all the pain and suffering, Parks is entitled to free tuition (!) as the Hawk.
Growing up, Parks attended St. Joe's basketball games with his father, who graduated from the class of 1985. Being so young, the Wilmington, Del. native didn't recall every game. But the one thing he did remember was one of the most iconic mascots in college basketball: the Hawk.
It was clear to Parks that he wanted to not only attend Saint Joseph's University for college, but also wanted to don the iconic Hawk costume.
Freshman year, he wasted no time getting his feet wet and immediately joined several clubs and activities. He tried out to be the Hawk at the end of his freshman year, only to fall short to an upperclassman.
Sophomore year, Parks became manager of the basketball team. He believes that helped him establish a relationship with the program, and ultimately led to him becoming the Hawk for the 2015-2016 basketball season after winning the gig through a tryout. He also worked in the athletic communications office, which streamlined his candidacy.
Despite having to ice his shoulders after that first game, Parks explained that flapping for two hours comes naturally now and gave credit to playing baseball in high school to helping with having his arms in shape.
"It wasn't easy at first but. I probably did like 20 to 30 appearances throughout the spring kind of leading up to the school year so I kind of got used to it," he said. "Now that we're so many games into the season, it just comes naturally."
See him running and flapping there?!?
The flapping all started in 1956 when the Saint Joseph's student government raised money for the Hawk mascot suit. Jim Brennan was the first to step inside the suit and flap his wings on Jan. 4, 1956 against Philadelphia Big 5 rival La Salle, and the flapping has not stopped since.
One of the reasons the Hawk is such an iconic mascot is that it is one of the few mascots in the country that travels with the team to away games, and has their tuition paid for. In 2013-14, the Hawk mascot was named "College Basketball's Best Tradition" by NCAA.com.
"The Hawk is actually an endowed scholarship, so I get my tuition paid for which is awesome. I also get books paid for as well for each semester so my parents are definitely happy about that," Parks said.
But it's not just about the money. For Parks, being the Hawk is being part of team.
"It's beyond the dollars and cents," he said. "You get this experience where you get to travel with the team -- especially this year since we're doing so well. Just being a part of it and to have people like Coach [Phil] Martelli and Don DiJulia [the vice president for athletics/athletic director] in your network... that's something that will definitely last a lifetime."
REAL LIFE. REAL NEWS. REAL VOICES.
Help us tell more of the stories that matter from voices that too often remain unheard.