It's not too often one gets to meet a true cowboy, especially if that cowboy happens to be the legendary Bob Gimlin, the man who encountered Bigfoot on that fateful day of October 20, 1967.
The famous Patterson/Gimlin Bigfoot footage down in Bluff Creek is an image that has remained burned in my brain ever since I was a child. Little did I know that as an adult, I would come to meet and partake of a Sasquatch search with Bob Gimlin himself.
Another experience. Another story. Another chapter in my Book of Adventures.
I met Bob Gimlin at the "Willow Creek" movie premiere in Seattle back in June. At the end of the screening, Bobcat Goldthwait (the film's director), cast members, and Bob Gimlin were introduced for an audience Q&A. Wasting no time, I jumped on the opportunity to introduce myself to everyone during a break. A glass of wine, a chat, and a phone number on a napkin later, the spark was lit on what would become one of the most exciting moments in my life.
My travel partner Clay Ballard, joined me on this adventure. We both grew up with a deep fascination of the images and stories. To see a bigfoot has been a childhood dream for the both of us. True believers, we knew the chances of encountering a Sasquatch were slim, but to spend time with Bob Gimlin was a once in a lifetime opportunity and so we came with open minds and open hearts.
After a month of planning and anticipation, the day arrived. We drove to an undesignated camping area in the Wenatchee National Forest backcountry, or should I say...Bigfoot country. We set base camp and began working with the horses - two Arabians and one Halfinger.
From feeding the horses and learning knots, to jumping creeks and descending steep hills, we were in for a ride. At the end of the first day we settled in, broke out the bottle of bourbon, and shared stories well into the night.
Born in a log house in the Ozark Mountains of Missouri, Bob grew up in a time where going to school barefoot was common and getting in fights was just a fun way to pass the time. He learned that being a good Christian and working hard was the path to a good life. Bob has true grit -- Gimlin Grit. A man to be reckoned with, this rootin' tootin', gunslinging cowboy has built quite the reputation for overcoming despair and hardships. His ability to survive some of the worst accidents (to which for all accounts, he should be dead) is a testament of his courage and resolve. A man with no regrets, he considers his life blessed.
From serving in the National Guard at age 16 and boxing for the Navy, to bartending and surviving several massive horse injuries (one that left his right arm in decay because medics refused to work on him, considering him just another 'drunk Indian').
Bob is a true survivor.

Friends with Evel Knievel, construction worker, a rodeo cowboy, professional tracker, and Apache Indian. Bob is one of the last of his generation.
Two days of riding, two days of fantastic stories.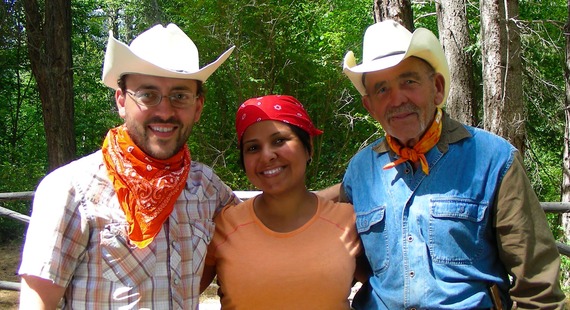 Bob shared with us the well known and lesser known personal details of his fateful encounter with Bigfoot -- and the repercussions thereafter. But Bigfoot is just a small chapter in the book of the life of Bob Gimlin.
50 years married, 5 children later, 82 years of experiences. Heck, who can compete with that? For Clay and I, this experience went well beyond our fantasies. Although we didn't find Bigfoot, we knew he was around. We aren't disappointed in the least.
We were reminded how short life really is, so live it with integrity. We learned that true friends are few and far between and it's never too late to say 'I'm sorry'. We learned that with every adventure comes a little bit of apprehension, but as Bob stated, "ain't no shame in being afraid, you just gotta work your way through it."
Meeting Bob Gimlin was no accident. We spent time with a man BIGGER than Bigfoot and that's One for the Books.
Related