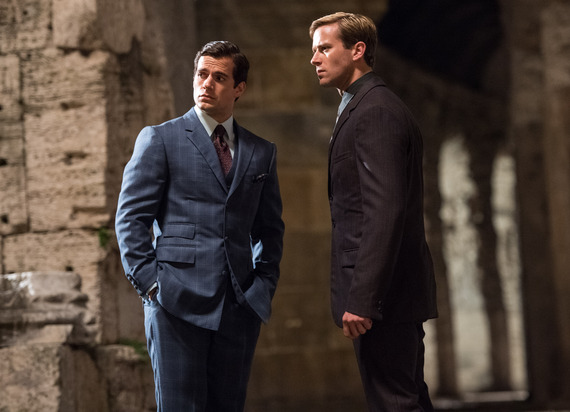 Photo Credit: Daniel Smith
(L-r) HENRY CAVILL as Solo and ARMIE HAMMER as Illya in Warner Bros. Pictures' action adventure THE MAN FROM U.N.C.L.E., a Warner Bros. Pictures release.
I grew up watching The Man From U.N.C.L.E. ("MFU") in the early 60s. I was eight years old and thought that CIA agent Napoleon Solo was the coolest guy on the planet. The show was wildly popular and our entire family actually used to gather around the television set to watch every week. My friends and I even collected MFU paraphernalia, so needless to say, I was excited at the prospect of a MFU feature film.
I was concerned that the MFU would be another botched Hollywood remake of a television series, but in the hands of Guy Ritchie, it's a stand-alone film with its own take on 1960s spy movies. Henry Cavill stars as CIA agent Napoleon Solo, along with Armie Hammer as KGB operative Illya Kuryakin. The two spies meet cute in East Berlin when they're both in pursuit of Gaby Teller (the adorable Alicia Vikander), daughter of a missing nuclear scientist. The CIA and KGB join forces to thwart evil villain Victoria (the exotic, but asexual, Elizabeth Debicki) who is soon to possess a devastating nuclear weapon.
Cavill is a very good actor, and his suave, smirking bespoke suited Solo is well done, although in no way a star turn. I'm not usually a fan of Hammer's work, but his take on KGB agent Kuryakin is that of a Terminator like strongman and he's extremely funny in the role. Cavill and Hammer have great chemistry and their bromance makes the movie very watchable.
The film boasts a good supporting cast that includes Jared Harris and Hugh Grant, but Ritchie and editor James Herbert's (Sherlock Holmes, Edge of Tomorrow) stylized set pieces always garner more attention than the actors. A visual gag in an outdoor café had the audience laughing out loud along with Hammer and Vikander wrestling each other in a Rome hotel room.
Guy Ritchie makes amusing, off-beat and quirky films that always laugh at themselves and The Man from U.N.C.L.E. is no different. It's a fun romp through the swinging 1960s, and worth seeing even if you've never heard of the television series.

Opens Friday August 14th
Calling all HuffPost superfans!
Sign up for membership to become a founding member and help shape HuffPost's next chapter