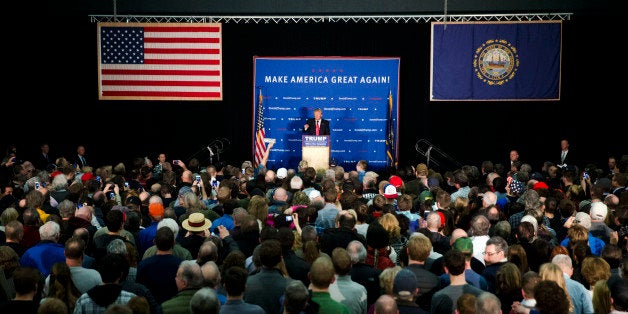 Mark Twain once wrote: "the only difference between reality and fiction is that fiction needs to be credible."
So let's take a look at the political scene we have today and set it against the backdrop of a movie studio. A writer is pitching a studio executive an idea for a new movie. It takes place one year ago. The writer nervously begins to lay out the story...
Writer: It's called "The Man in the Gold Tower." We cut to the interior of this golden building, 40... 50 stories high. A man is coming down an escalator; we'll call him "The Billionaire." He gets off the escalator, cameras swarming around him in a mall-like area. He announces he's going to run for President of the United States.
Movie Executive: So far I'm bored.
Writer: Just wait. So, he quickly goes through the beginning of a speech, and then he says that he's going to build a wall across the entire border of the United States to keep illegal immigrants out. It's going to be a beautiful wall, because our Billionaire is a builder, and he's going to get Mexico to pay for it!
Movie Executive: Okay, so right away, we got a political comedy.
Movie Executive: Who do you see playing this "Billionaire"?
Writer: A Will Ferrell type. You know, funny but not too funny? Even though he's got this crazy orange hair, and he's always wearing a little too much make up...
Movie Executive: Very castable then.
Writer: So now our Billionaire gets very popular. He's got a lot of traction because he's going to build a wall, a giant wall. He says if the Chinese can do it way back then, we can do it today. So, he starts offending all kinds of people. Latinos, women, Muslims, disabled people; he even puts down a war hero Senator who got captured in some war like Vietnam...
Movie Executive: Now hold it, that's a deal breaker. We lose an audience with that kind of attitude. That's not going to work.
Writer: No, you're missing the point. It makes him more popular, you see? That's the hook!
Movie Executive: Why is that the hook?
Writer: They love the Billionaire because he seems genuine! You see, he puts everybody down but that makes him fresh, unafraid to speak his mind. That rudeness makes our Billionaire even more popular!
Movie Executive: You can't make a movie with that kind of main character. I can just picture having a preview screening, people would be walking out in droves.
Writer: No, that's what makes people love him! He tells it like it is! He attacks like 30 media outlets, calls them dishonest, dumb, incompetent, but people still love him... He talks about how dumb everybody else is, and how smart he is... and how much money he's got. And he's always boasting that he's this great dealmaker, you see? That's how he got so rich.
Movie Executive: And people want him to be the President because of these positions?
Writer: Yes, that's where the laughs are. I'm telling you, this script will turn political comedy on its ear.
Movie Executive: You're losing me here.
Writer: Listen, tell me this isn't funny -- as his popularity grows he spends more and more time making speeches where he talks about himself. He talks about how every time he's on a new show the ratings go up, he talks about how much people love him... most of the talk is about him, and becomes very little about politics.
Movie Executive: Well I like a political comedy that doesn't have too much politics.
Writer: Right! I have a scene where he won't even attend a debate because he doesn't like one of the three moderators, because she was too tough on him in a previous debate. Say... 6 months earlier.
Movie Executive: Interesting... so the female moderator attacked him, she made things up about him?
Writer: No, she actually just reads quotes about all the negative things he's said about people, groups, that sort of thing.
Movie Executive: So, she was telling the truth.
Writer: Yes!!! What's she's saying was the truth, but here's what makes it so much fun: he turns it around, and says she wasn't fair.
Movie Executive: Well how can it not be fair if it's the truth?
Writer: That is exactly what makes him so much fun! He isn't always logical! Like, an example... one day he can take one point of view, and the very next day he can take the opposite point of view.
Movie Executive: Like taking a flip-flop position.
Writer: No, it's beyond a flip-flop position! One day he can say "I like someone because... blah blah blah," and the next day he can say exactly the opposite, blah blah blah, and he doesn't have to justify a completely different point of view. It's such a radical change of point of view, that he can't be held accountable for anything! He cannot operate within the laws of normal social interaction! We have never seen anything like this character before... It's sort of like a Marx Brothers comedy, but he's Groucho, Chico, and Harpo all rolled into one! But... we play it serious. That's what makes it so much fun.
Movie Executive: Okay. So what about this debate that he doesn't want to attend.
Writer: Big controversy, high energy, heightens the campaign.
Movie Executive: Preston Sturges craziness?
Writer: Get this... he holds another event at the same time as when the debate is taking place on TV. But his event is to raise money for veterans... and not an established organization for veterans, but it's just one veteran. And they created a Veteran's group that day, or the day before... just so he can compete against the debate, you see?
Movie Executive: Now you're losing me completely, this is so far-fetched that it has no credibility. They're all in town for the debate!
Writer: Hold on. Then, he blames the politicians who are in the debate for talking politics! He says something like... "Here I am, raising money for veterans, and these other guys are just talking politics." Something like that, so he's making it seem that he's above the other politicians, like he's doing something worthwhile. As if talking about the politics to become President is frivolous in comparison to what he's doing. See what I mean?
Movie Executive: Again... where's the logic? Give me logic!
Writer: What's wrong with that?
Movie Executive: Here's where this whole scenario falls apart for me. You say he's avoiding the debate because he's having problems with one of the moderators, this woman, you say. He's afraid to deal with her because she can be tough on him. But you tell me that he's this great dealmaker!
Writer: That's right, he's a great dealmaker.
Movie Executive: Well why can't he make some kind of deal with the Network, some kind of accommodation? There's always going to be back channel talks... I mean if our guy can't make a deal with the moderator, the Network, whoever... how's he going to make a deal with foreign leaders? Europe... The Middle East...? It doesn't make sense.
Writer: Wait! Let me get to the big ending. It's unexpected. Emotional.
Movie Executive: Hurry up, I've got another meeting.

Writer: He loses the primary in that state!
Movie Executive: He loses?
Writer: Yes! Every poll had him as the winner, and he loses. That's the twist! The big surprise. So our guy comes out to give a concession speech -- it's heartfelt, we feel for him. The man hates to lose. He even tweets once that if he loses in that state, then the whole thing would have been a waste of time -- you know, something like that. But now he's dropped the bravado. He says something like, maybe he made a mistake by not being part of the debate... It might have cost him a victory there... but he says something like, "I raised a lot of money for veterans and if I had to do it again, I would have made the same decision."
Movie Executive: What? That's crazy! He's running to win this primary! And it's a step towards the Presidency! If the character wants to raise money for veterans, he could drop out of the whole election process and just become a fundraiser for the veterans! If he believes that's the best thing he should do, but this is where logic fails once again. He could have had the fundraiser the next day. It didn't have to be at the exact same time as the debate. He could have done both.

Writer: But he--
Movie Executive: No, no, no. Logic. Logic! You want audiences to care about this character? This is a nonsense scene. That sequence is not an either/or -- our character can do both. He can debate and he can also have fundraisers. That kind of speech is not going to make me more sympathetic... not when it lacks logic!
Writer: Now hold on. Our guy reminds the audience that he is paying for his own candidacy. He's not beholden to special interest. He's spending his own money! And he says, quietly, "I just don't know whether voters appreciate it."
Movie Executive: So now he blames the voters? You can't blame the voters. At the end of the day, they're not going to vote on how much of his own money he spends, it's his ideas! You've lost me. This isn't going to play. You're showing me a cynical, petulant, vindictive character, and I don't want to hang my hat on that type of guy. Maybe he's a supporting character somewhere in the mix, but not the leading man! You've got a lot of work to do. You've got to give me a character and a story that doesn't completely defy reason. Even a good comedy, drama... or even a cartoon! It has to be logical, or at least somewhat logical...
Popular in the Community