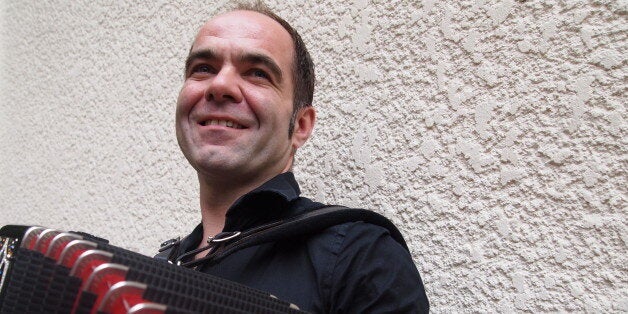 At the sound of the music, the 20 people drinking coffee on the terrace in the sunshine enter and sit down in small groups. Some of them already have smiles on their faces, as if they have just met an old friend. Others are more reserved, waiting to be charmed. Feet and hands timidly tap to the beat. Eyes stare at Sébastien Malherbe, who is in the center of the room. Holding his accordion, he is aware of his demanding public. Despite the heat, this professional musician will have to display every bit of his charm to please them in the short time he has.
His audience is made up of residents at the adult care facility Casa Delta 7 in the 17th arrondissement in Paris. On this day, a Thursday in September, it includes a group of Alzheimer's patients. Some of them don't speak, others have trouble walking. All of them are "in space," as Malherbe says. They don't know what day it is, where they are or who surrounds them. On the other hand, they hear, they listen, and sometimes they even remember.
On occasion, when a listener thinks he is someone else (a nephew, perhaps, or an old friend), Malherbe, a comparatively young forty-something, adapts and obliges. He plays along. "I'm not a therapist," he says with a big smile.
Music as therapy
"The musician can become a therapeutic ally," France's Minister of Health Marisol Tourraine said last February. And, in fact, musical activities are often found on the program in retirement homes. Today, Sébastien Malherbe and other like-minded musicians want to take things further. It's not about a simple concert. The effect of Malherbe's music on the 20 people gathered is pretty evident. Physically, during songs by artists from Tino Rossi to Claude Nougaro all the way through to creole chants, legs loosen and hips become more flexible.
To listen to Sébastien Malherbe's playlist, click the image below:
Mr. S, for example, sits down expressionless. He keeps his cane very close by. When the director of the center asks him to dance a few steps, he flat-out refuses with a simple shake of his head. A little while later, a nurse's aide takes his hand again. Mr. S accepts reluctantly, managing to stand and move nothing but the top half of his body very carefully. This little game continues many times. For the last song, "Ah! Le petit vin blanc," all of the residents stay seated, dizzy after too much dancing. Mr. S stands up with his cane. The aides jump out of their seats, thinking that he wants to go to the restroom. "No, I want to dance," he says. One of the workers, watching him shake his hips, chimes in, "And there you go, he went for it!"
Mission accomplished for Malherbe. His music provides an opportunity to move tired and worn bodies. Alzheimer's patients sometimes forget how to move. The five workers who surround them this afternoon take their hands and remind them of forgotten movements.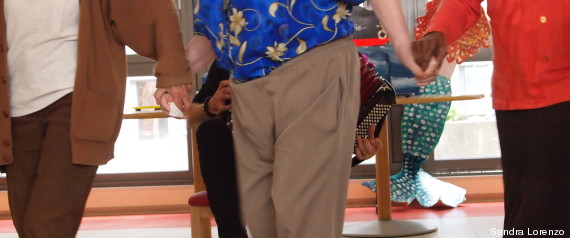 Music and memory
The benefits are not only physical. "Now, I am going to sing you a song from the Antilles. Remember, it's always the same," Malherbe announces. A professional accordionist, he still takes singing lessons so he can sing for an hour with losing his voice. A little while later, he gives a close reading of Claude Nougaro's song "Dansez sur moi." Malherbe doesn't hesitate to shout "Your turn!" to let the audience sing along to the chorus of Gainsbourg's "La Javanaise." It works. A few of them mumble, others remember certain words or hum the melody.
As stated in 2004 by a physician who cared for Alzheimer's patients in Le Calvados, late stage Alzheimer's patients are able to learn lyrics to songs they don't know. The results shocked doctors, who believed the patients were all but incapable of learning new information. But after attending one listening session per week, the physician found that her patients could retain about 10 lines of lyrics over eight weeks.
"Music makes them truly happy"
Malherbe arrived at his gig at Casa Delta 7 by accident. "The contemporary dance tour that I was in finished sooner than I anticipated," he explains. Suddenly without performing opportunities, he missed playing his instrument. "A friend told me to turn toward hospitals. I knocked on the door of a few institutions. They couldn't pay me, but I just wanted to play." Seven years after he played his first show at Casa Delta 7, Malherbe has put his professional musical career on hold to create "Notes de rappel," an organization that gathers "very high-level" musicians to play for Alzheimer's patients.
His dream? That the residents of the Casa Delta 7 in the 17th arrondissement could listen to the world's finest interpreters of Chopin. "Alzheimer's patients are the most demanding members of the public that I could stand alongside. They are in the moment. They react largely to rhythm," he explains. To those who believe he is wasting his talent by playing for such an audience, he has this to say: "Among them, there are former surgeons, lawyers, and other more modest individuals. But all of them react in the same way. If you start to mother them or to speak to them like children, they close up."
On this particular day, among the residents, you can distinctly hear a repeated "coucou." An hour earlier, one man, Mr. V, didn't want to raise his head from his newspaper. Now, however, he makes big gestures to keep the beat and accompany the rest of the group as best he can. As Dominique Rochard, the director of Casa Delta 7, puts it, "This doesn't heal them, but music makes them truly happy, and that's a first step."

This article originally appeared on The Huffington Post France and was translated from French.