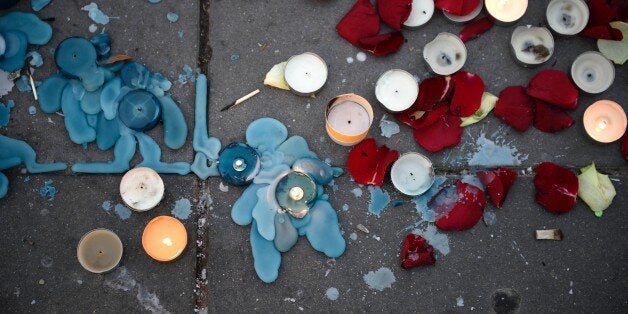 I was watching TV and sipping my Scotch whisky. I was feeling guilty about not taking my leftover dinner to the kitchen. I'll do it later, I thought. My daughter was sleeping, and my wife was out with a friend. I was having a nice and quiet evening on my own.
Just as Jeff Bridges was fighting an evil witch and her army of murderers, my phone started vigorously vibrating. It was Pat. There was probably a problem at the bar. He probably needed help with an emergency. I grew anxious... And I picked up.
- Hello? - Clem, any news from Édith? - Yes, she's at the concert. - There was an attack at the Bataclan! I will call you back if I have more news...
I started shaking. I could barely breath. I couldn't feel my fingers. I couldn't hold my iPhone. The phone rang. She did not answer. My heart was exploding. The second call I made was to a friend that I call when things are not going too well, or when I have good news; I called him when my mother died, when Édith was pregnant, and when I was at the hospital after our accident. My voice was shaking, and I was trying to speak without crying. He was at a restaurant. He paid the check, left his girl there, and jumped on his motorbike.
"I posted something on Facebook; it was like sending a message in a bottle in the social ocean and causing, without meaning to, a wave of touching solidarity."
My brother called me. He was with his fiancée, who had accompanied Édith to the concert. She was in shock, but she was safe. She discovered the next day that she had shrapnel in her back and thigh.
She had lost Édith in the crowd after the first round of bullets were fired. She was crying. They said that they would stay in the neighborhood to try to find her. Édith's brother joined them, along with Pat. My phone rang. My friends came over to support me, to be here, to support each other. Those who were at the scene decided to join us. Alcohol flowed freely -- we shared some drinks, and we smoked. We cried, we waited...
Édith. Her name appeared on my phone. It was her voice. We were both shaking: her from fear, and me from relief. She was alive!
She told me about the deaths, the blood, the injured friends, and the bar that became a makeshift hospital. And she told me about Bruno, the man who saved her life.
At around 5 a.m., she finally came home. Our friends were still there to hug her, to cry. I was sad and quiet for a few minutes. It was time to enjoy her presence.
I slept for a few hours, but she did not. Our daughter woke up. We sent her to her godmother, hoping that she would keep her away from all this shit. We wanted to protect her. We later understood that this horrific attack had also affected many of our loved ones.
"The pressure started mounting. I received messages from at least 30 journalists on the first day."
My brother and his girlfriend arrived. The two survivors re-told their stories. I tried to be strong. We were all glued to our phones. The attacks were all over the media, in a continuous loop. Édith said that she would love to meet Bruno again. And damn, I did too! I only wanted to do one thing: to hug him tightly and thank him for saving my wife. I posted something on Facebook; it was like sending a message in a bottle in the social ocean and causing, without meaning to, a wave of touching solidarity. I had no idea that the message would go viral.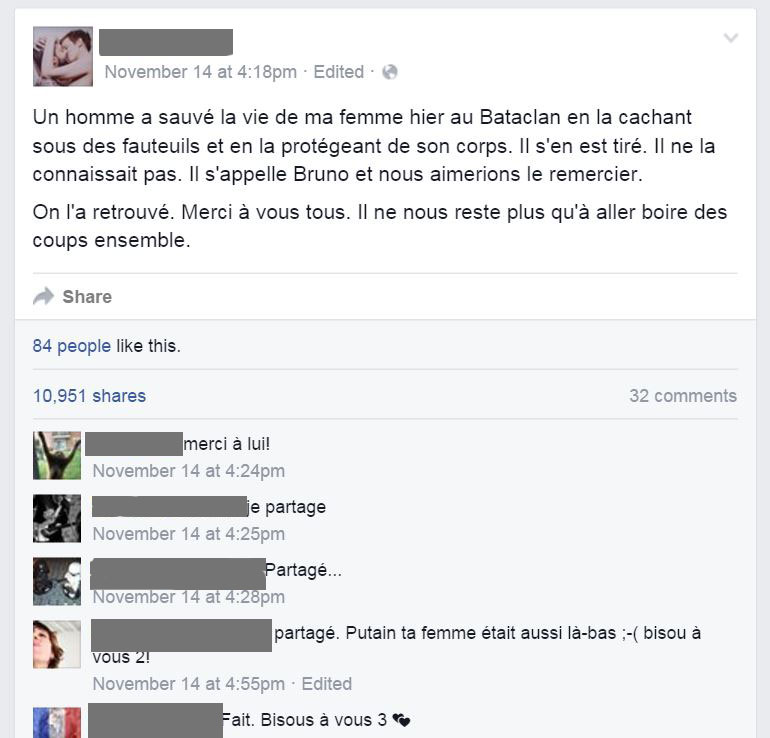 November 14 at 4.18pm Edited
A man saved my wife yesterday at Bataclan by hiding her under the sofa and by protecting her with his own body. He made it safe. He did not know her. His name is Bruno and we would like to thank him.
We found him thanks to all of you. The only thing left now is to go get some drinks together.
We needed to face an event that happened to others. We had to first recognize their status as victims of the attacks. We had to support them, to be strong, to be "men." I was a tiny rock they could hold onto. My brother is much bigger than I am. I listened to what they had to say, hugged them, held their hands, touched their faces, thrilled that I could do that again.
With one hand, I would pick up my phone, which would not stop ringing. The phone made all sorts of sounds, ringtones, and beeps. Calls and texts on Messenger, Facebook, and email... I answered tens of messages of support, and then I stopped. I no longer could; there were too many of them. There were messages from kind, affectionate people, which made me cry, and messages that insulted me. "I hope she will leave you. An idiot like you does not deserve her."
And there were a lot of interview requests. People seemed touched. "It's a moment of hope that needs to be shared," a "light in the middle of the night," they said. The pressure started mounting. I received messages from at least 30 journalists on the first day. They were all from TV and radio channels, nearly everyone asked us to tell our story or to ask for the contact information of the guy who saved my wife. I had access to the crème de la crème, but I will not mention names -- that would be unkind of me.
Media from Japan, Canada, Australia, Russia, the United States, England, Morocco, Belgium, and Germany, among others, also had correspondents who wanted to speak to us.
The requests were mostly courteous. "Sorry to bother you, that must have been very hard for you and your wife, but do you think that we could maybe meet and talk?" Others were much less courteous, disrespectful of our pain. "Hello, I'm a journalist, call me back!" or "Hello, could you give me Bruno's phone number? Thanks."
That made me laugh. I just imagined the more or less sarcastic responses that I could have sent, but didn't. I was a filter, a sieve. I only forwarded to Édith the messages of support and the names of the media channels. We kind of laughed about it, as if we were starting a collection of journalists.
"Journalists tried all the tricks, of course. They tried to make us feel guilty about not sharing our story."
I received so many of them, I read them all, and classified them. I started to wonder whether we should refuse their requests. The persistent requests started to undermine my convictions. We would decide to talk to a newspaper, then decide against it, then decide that we would. But which one would we talk to? Why only one? We could talk to all of them. I understand that it is easy to sink into this media circle, and to indulge in appearing on talk shows, to appear on all the available platforms and on all the radio channels. We could have spent 24 hours conducting interviews, going from a TV appearance to a recording studio, from one meeting to the next. Plus, who doesn't want that kind of attention? In a moment like this, many who made it out of that hell certainly needed attention. They must have had the urge to tell the world everything that's in their hearts -- they want to be seen and loved. However, that's not the case for everyone. Others prefer the illusionary security of anonymity.
Journalists tried all the tricks, of course. They tried to make us feel guilty about not sharing our story. "You represent something very important to people. You must talk about it," and "You have started something, the result must be as beautiful as possible (and preferably on our channel)" and "You owe that to those who shared your message." And the best one: "I would like to introduce you to a [a famous person] before the show."
"Once the storm passes and another event occurs, will you forget about us?"
It was a mix of manipulative tactics. "Before tomorrow, by tonight, tomorrow morning. The show will be recorded in 12 hours, and goes live at noon..."
"Hurry up. My editors are rushing me, my boss expects a scoop from me. I wanted to be the first to get you!"
We are targets, collectibles, and prestigious preys. Because what happens next? Will our story disappear? Once the storm passes and another event occurs, will you forget about us? Do we have time to think about it? Will tomorrow be too late?
Yes, the time is now. Otherwise, it will be as if you had never lived through it, they said. It will not be real as long as no one writes about it, or asks the good questions. What will remain if we say no? Only the pain...
I was lost and overwhelmed, so I did not respond to anyone. It was not up to me to make the decision. I could not and did not want to impose this on my wife, who was so close to death, or on Bruno -- I hadn't even met him yet!
Therefore, I took revenge on Facebook. I talked about the scavengers. I received more messages and insults. I deleted the post, but it was too late -- BFM talked about it on their website. A new burst of "words of love." Thanks to them...
The articles on the Internet kept multiplying. They were talking about us. Some tried to fill the holes, others tried to make their own interpretations, and most of them stuck to the facts. I was getting angry, and I don't even know why.
A woman sent me her article to read before it was published. The gesture was admirable, but too obvious.
I found it really nicely written. I cried, and I called her to tell her that, and she seemed to be moved as well. It was a relief, I was touched, and I cried again. The pressure was becoming less intense. Her article made me much less resentful, and I think that this message on Facebook had finally made an impact, maybe...
But life goes on, and reality catches up to me. I think about everything that's left to do: the paperwork to complete, the lawyer to call, finding a good psychologist for Édith, our traumatized daughter, school, our neighbors, our family, bills, my job, my family, my friends, those who surround us with their love, and those we must go visit at the hospital.
And the messages continued to come. Since I didn't answer, they reached out to my friends, tried to get my phone number from my relatives, and asked me to return their calls. For a purely technical reason, Édith was spared from all this. The texts she received were automatically classified as "unwanted" and disappeared. Fortunately, I found them. I did not tell her where. Besides everything we had to face, I had to keep responding to the most touching emails from desperate people, giving advice to people I didn't know on subjects I had no knowledge about. We should have never lived through all of this.
As if all this was not enough, I had to fight against the constant urge of short-lived fame. Choose your channel, your newspaper, your radio, and we will take care of the rest. We will come to your house, we can go somewhere else, we can talk on the phone, have you eaten? Are you thirsty? Is there anything you want? All you need to do is ask!
I should have asked for money, that way, I would be able to tell how far they would go.
-- Hello, could you give me Bruno's number? -- Sure, it's a hundred dollars.
That could have perhaps paid for a vacation.
However, a friend of mine who is a journalist recommended that we give only one interview, to stop all this. Another friend who is also a journalist recommended a third journalist, that Édith and Bruno could tell their story to, and recount the nightmare they went through. He would send them his article to read before it gets published.
Luckily, we have friends who are journalists...
It took me 48 hours to carry my dirty dishes to the kitchen.
This post first appeared on HuffPost France. It has been translated into English and edited for clarity.
Calling all HuffPost superfans!
Sign up for membership to become a founding member and help shape HuffPost's next chapter