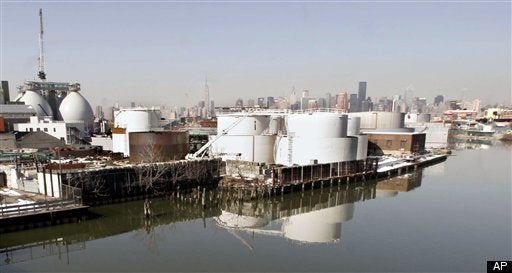 When we're young, we build castles in the sand. And when we grow up, some of us build empires.
One fella intimately familiar with the empire-building process, a relatively unknown name to the masses, unlike such nationally known empire builders as Warren Buffett and Bill Gates, is 67-year-old Dick Heckmann. Not only has he done it before, but he's busily engaged in pursuing an encore.
"I want to be an $800 million gorilla again," says Heckmann, a one-time Fuller brush man who's convinced he's off to a solid start in achieving that goal.
The Old Testament says dream no small dreams, and that surely applies to our would-be gorilla, not only an achiever who dreams big, but one who doggedly follows up with the necessary action to make sure his dreams will come true.
That was the case in 1990 when Heckmann, together with the aid of a secretary, founded United States Filter Corp., a New York Stock Exchange-listed company that treated waste water and water that went into manufactured products. Though the subsequent acquisition of 260 water firms and internal growth, he built a booming business with annualized revenues of $5 billion over the next nine years that was sold in 1999 to Vivendi for $8.2 billion.
In the process, the sales of U.S. Filter under Heckmann's leadership doubled every year for nine straight years, while the company's shares ballooned from $0.75 to $33. So any investor who plunked down a few bucks on Heckmann wound up making a bundle as he literally turned water into gold.
The latest project for Heckmann, who has amassed an estimated net worth of about $200 million, which includes a part ownership in the Phoenix Suns basketball team, is big board listed Heckmann Corp. Launched in November 2008 and headquartered in Palm Desert, CA., it buys and builds companies in the water sector.
Once again, our empire builder is off and running. In a little more than two years, Heckman has developed a host of water-related businesses and has become a dominant player in water treatment related to energy (notably getting rid of excess water coming out of gas wells).
Among the operations and investments are a 100% ownership of China Water & Drinks, one of the largest suppliers of water to Coca-Cola in China, a 100%-owned produced water pipeline and disposable company based in Tyler, Texas, a 50% ownership of a water solutions company, a joint venture between Heckman Corp. and big board-listed Energy Transfer Partners L.P., and a 7% stake in Underground Solutions, a supplier of PVC pipe with patented technologies.
You can invest in chips, toys, cars and steel, Heckmann notes, and everyone knows the name of the biggest player. But not so, he points out, in water, which is probably a trillion-dollar business and is the only industry he knows in which he wouldn't have to fight an 800-pound gorilla. Heckmann aims to fill the void. Within five years, he figures, his firm will be the largest independent pure water company in the U.S. and the only one at that time with annual sales of more than $1 billion.
Maybe so, but he's got a long way to go. In its first full operating year (2009), Heckmann Corp. posted sales of $35 million, accompanied by a whopping $395 million loss. Late last year, the company acquired a firm with $70 million of sales, raising overall volume to $105 million. Heckmann wouldn't discuss 2011 prospects, but expectations in some quarters have it that the company, which is believed to have turned profitable in last year's fourth quarter, will record $140 million in sales this year and an EBITDA (earnings before interest, taxes, depreciation and amortization) of about $20 million.
At the moment, says Heckmann, the company has $200 million in cash, no debt and a team that has done it before (a reference to his hiring of a number of former U.S. Filter employees).
An obvious question: Why, given his age and his hefty net worth, is Heckmann looking to build another empire? "Because," he quipped, "I started playing golf, I'm never going to make the senior tour, and I love the water business."
Whether indeed Heckmann can pull off a spectacular encore is anybody's guess. At least some market players are skeptical, as evidenced by the company's stock performance (the firm went public at $8 a share, rose to as high as $10.74 and is now selling at $4.96). Likewise, there is a current short interest (a bet the stock price will fall) of more than 3 million of the company's roughly 108 million shares outstanding.
"Heckmann is a big maybe and this is the wrong environment for maybes," says one short seller, who is making money on his Heckmann short position.
Neil Weisman, a former hedge fund manager who ran Chilmark Capital between 1987 and 1993 and turned in some dazzling showings, disagrees. "Heckmann is only in the second inning," says Weisman, who expects strong growth and the shares to trade north of $10 over the next 12 months. Apparently, he's putting his money where his mouth is, reportedly holding, I'm told, somewhere between 2 and 3 million shares in his own personal account.
As Weisman sees it, "H20 is the way to go and Heckmann is the best way to do it."
What do you think? E-mail me at Dandordan@aol.com.
Popular in the Community