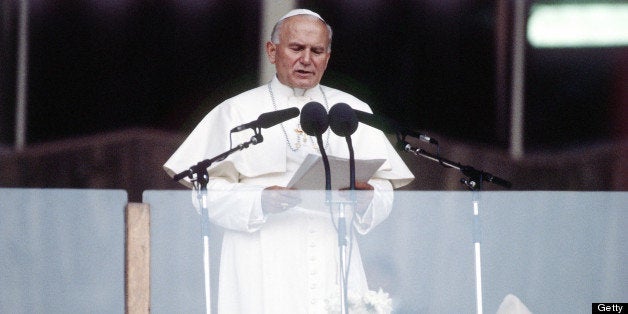 In 1993, more than seven years after the Catholic sexual abuse crisis began, John Paul II acknowledged it for the first time. He called it evil, and expressed his concern for how much his brother bishops and the faithful "are suffering because of certain cases of scandal given by members of the clergy."

It was the scandal, not the rape and molestation of children that was the main problem, according to the Pope. Indeed, he didn't mention the pain, suffering and loss of faith among victims, nor did he use words like "abuse" or "rape." Instead he referred to "certain offenses" and "sins" and he said that America's bishops had two responsibilities in the face of the crisis -- to deal with problem priests and their victims and to address the damage done to society when the Church is swept by scandal.
By any measure, John Paul II's sentiments were focused primarily on the welfare of the Church. The problem of clergy abuse was, he said, a product of an American society that "needs much prayer -- lest it lose its soul." Prayer was the primary remedy recommended by John Paul II, but he also suggested temperance on the part of the mass media. "Evil can indeed be sensational," he wrote, "but the sensationalism surrounding it is always dangerous for morality." This point, echoed repeated complaints by priests and bishops who said the media and plaintiffs lawyers were exaggerating claims, stirring public animosity, and singling out Catholicism in a bigoted way.
Anyone who missed the Pope's point could turn to his spokesman Joaquín Navarro-Valls for clarification. "One would have to ask if the real culprit is not a society that is irresponsibly permissive, hyper-inflated with sexuality and capable of creating circumstances that induce even people who have received a sound moral formation to commit grave immoral acts."
The media came in for more papal scolding when John Paul II visited Denver in August 1993. At outdoor services for an international youth conference the Pope made his first public remarks on sexual abuse by clergy, acknowledging "the pain of the suffering and scandal caused by the sins of some ministers of the altar." In the same speech he also denounced abortion and euthanasia as a "slaughtering of the innocents." Turning to the scourge of urban violence, he noted that the media was partly responsible. Overall, he concluded, "America needs much prayer, lest it lose its soul."
In Denver the Pope was met by huge, adoring crowds of fervent Catholics who had come to Colorado from around the world. His criticism of the press prompted much applause, as did his attacks on alcohol, drugs, pornography, and "the moral evil which flows from personal choices." At various points he was interrupted by cheers of "John Paul II we love you" and, as usual, he responded by offering his love in return. In all, the visit was a triumph of inspiration for believers and a demonstration of John Paul II's persistent popularity. It also obscured the few signs of caution, if not dissent, expressed by American Church leaders. Cleveland bishop Anthony Michael Pilla actually rejected the idea of holding the Pope's youth rally in his diocese out of concern that a visiting youth might be sexually abused.
What Pilla knew was that the problem of sexually abusive clergy was much bigger and more widespread that anyone outside the church hierarchy imagined. Indeed, Catholicism had already entered an era when thousands of priests would be, in its own judgment "credibly accused" and tens of thousands of children would be identified as victims. In time, the scandal would encircle the globe. More than $3 billion would be spent on legal fees and settlements and more than 500 priests would be jailed.
After he appeared in Denver the Pope would receive Milwaukee Archbishop Rembert Weakland in Rome at one of the "ad limina" visits that all bishops are required to attend. As bishop Weakland told me, he used that visit to personally lobby the pontiff for action against accused priests in his diocese. He received no response. In July of 1996 Weakland wrote to John Paul II's second-in-command, Cardinal Joseph Ratzinger asking for help with two priests who were the subjects of sworn statements accusing them of sexually abusing minors. One, Lawrence Murphy, had long worked at a residential school for the deaf where he had sexually abused about two hundred boys. Weakland said that he had become aware of these cases within the past year and was turning to Ratzinger because the offenses were "under your jurisdiction."

Anyone considering the news that the current pope, Francis I, has approved John Paul II for sainthood, should also consider that more than anyone, John Paul II had access to information about the full scope of the abuse problem and the greatest power to address it. For more than two decades he granted clergy a kind of due process that is unseen in civil courts, allowing them years to resist efforts to strip them of their priestly rank. Too often, more children were victimized while the pope's bureaucracy moved slowly, and invisibly. Too often, abusers like Murphy died before being held accountable.
Following John Paul II's death, Joseph Ratzinger succeeded him as Pope Benedict XVI. He went much further in his public statements regarding sexual abuse by priests and under his watch Church authorities in some countries improved their response to complaints. However the scandal continued as lawyers and the media forced a stream of incriminating documents out of various ecclesiastical offices. Most recently we learned that Weakland's successor in Milwaukee, then-Archbishop Timothy Dolan, received approval from Benedict's curia to shift $56 million in funds in order to protect it from the legal claims made by Catholic men and women who, as children, were molested and raped by priests. Dolan, now cardinal of the Archdiocese of New York responded to charges of wrongdoing with a single word: "malarkey." Benedict, exhausted by the crisis that he would not resolve, became the first pope to resign in five centuries. He now lives as pope emeritus.
Francis I succeeded Benedict amid the hope that he would breathe some humanity into the papacy. He has done so, in a halting fashion. His decision to elevate John Paul II was probably inevitable, given the man's popularity among the faithful and the fact that the former pope began his journey along the official road to sainthood before his failure in the abuse crisis was widely and fully understood. Today we have the forces of the secular society -- the media and the judicial system -- which John Paul II regarded with frequent disdain, to thank for a fuller, understanding of the moral failings of the Church and its leaders. They have been brought down to size by the truth, even though some might become saints.
REAL LIFE. REAL NEWS. REAL VOICES.
Help us tell more of the stories that matter from voices that too often remain unheard.