In the 1920s, as an unwanted fourteenth child on a remote North Dakota farm, Lawrence L. Thomas found an escape in books. Because reading anything but the Bible angered his father, Thomas took his books to solitary fields or the outhouse. And it paid off.
He was the first member of his family to complete high school, then went on to attend the University of California, Berkeley on the G.I. Bill. After earning a Ph.D. at Berkeley, he became a professor of Slavic languages at the University of Wisconsin-Madison. Following his wife's death in 1976, he devoted himself to books -- in unprecedented fashion. When he died in February, at 88, his modest 2,514-square-foot Madison house contained more than 59,000 books.
"The living room had a fortress of books around where he sat and read -- new books which had arrived but had not yet been shelved," says Mary Winchester, the youngest of Thomas's three children. "Many rooms didn't have furniture; they had books, stacks of books. But it wasn't like you walked into the house and thought, 'Holy crap, he's a hoarder!' The books were very well cared for -- lots of dehumidifiers running all the time -- and extremely organized. He listed the books in spiral notebooks with entries like, 'blue room, northeast wall, northernmost stack, fourth book from the bottom.'"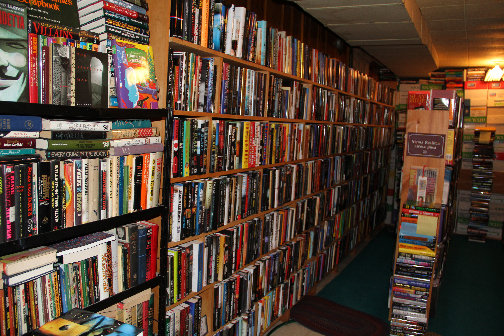 A small portion of the stacks in the basement (PHOTO: Mary Winchester)
In accordance with Thomas's wish that a posthumous sale of the books benefit his three children, the collection went on the block in March. Collectors were astounded by its magnitude. The proprietor of New York's Mysterious Bookshop, Otto Penzler, has his own collection of 57,000 crime novels, and he is perhaps the world's leading authority on collecting in that genre. He says, "The Lawrence Thomas collection is the largest I've heard of -- aside from my own obsessive accumulation."
The book market had slumped since Thomas began collecting, however. On top of that, the collection's record size proved an impediment. Booksellers were either daunted by the immensity of the job, or wanted to cherry-pick the best thousand or so titles, leaving Winchester to contend with liquidating the remainder. Her husband suggested, only half-jokingly, that they advertise "LIBRARY FOR SALE; COMES WITH HOUSE."
Mike Bursaw, 62, says, "The best thing that ever happened to me was a bookmobile stopping across the street from my family's house in Minneapolis when I was a boy. I got seven books, read them all that week, and got seven more each week after that."
Bursaw entered the book business at 15, when he convinced a local book wholesaler who'd only hired college students to try a high school student. Bursaw now runs the Carmel, Indiana-based MysteryMikes.com, which sells rare and out-of-print books. When private book collections are offered for sale, Bursaw routinely finds himself on a plane or a road trip. "It's like treasure hunting," he says. "You have to go and look because you never know what you're going to get."
Sometimes he encounters damp, musty rooms filled with stacks of deteriorating books poised to collapse onto the single narrow aisle winding in and around them. "It's not a question you can ask ahead of time," Bursaw says. "'Hi, are you a hoarder, and is my life going to be in danger if I come there?'"
But in Lawrence L. Thomas's collection, Bursaw found his El Dorado. Amidst the stacks were prizes like Sue Grafton's "A" Is for Alibi (Holt, Rinehart and Winston, 1982), worth as much as $1500. Most everything was in mint condition. "You could tell [Thomas] cherished books by the way he kept them," Bursaw recalls.
He reached an agreement to purchase all of the crime novels -- 49,000 in total -- and then, in August, he brought in noted crime novel collector Mike Dillman and George Easter, the editor of Deadly Pleasures Mystery Magazine, to Madison to help him sort through the books. "For three long days we sorted, boxed and counted books, books, books," Easter relates. "The thrill of the hunt to find the gems among the 'dross' was what made this experience all worthwhile. And that was a frequent occurrence."
Adds Dillman, who bought 300 books on the spot, "It was like Christmas when we opened some of the boxes to find complete runs of authors books in mint condition."
Next Bursaw employed five members of a local high school hockey team to load the books onto pallets. "They had better backs than George and Mike and me," he explains. "We're all over 60 and needed extra Courvoisier in the evenings as it was."
The hockey players packed 28 pallets, each 53 cubic feet, and nearly enough in total to fill two semi tractor-trailers.
From September 19-22 in Albany New York, at the World Mystery Convention -- also known as Bouchercon -- collectors swarmed the Mystery Mike tables to purchase books from the Thomas collection. The singular story of their provenance, the collectors felt, added value to the books that couldn't be measured in dollars and cents.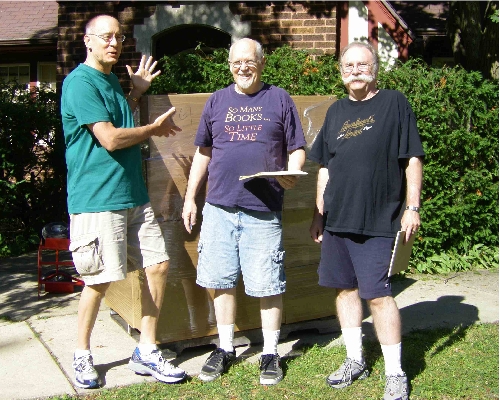 Bursaw, Easter, Dillman, and one of 28 pallets (PHOTO: Mary Winchester)
Support HuffPost
The Stakes Have Never Been Higher
Related
Popular in the Community