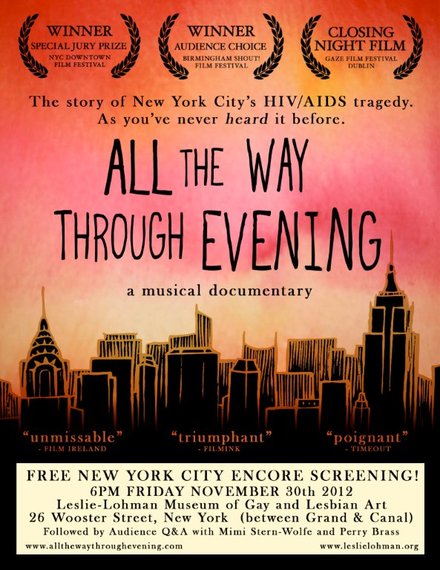 Young Australian filmmaker Rohan Spong's love letter to New York and a generation of young composers who died of AIDS, "All the Way Through Evening," opens at the Village East Cinema, 189 2nd Avenue at 12th Street, on Friday, Dec. 6 for hopefully a long run. It's a beautiful, moving film about a very tender subject: artists who die young but leave us an extremely important part of themselves. How do you preserve this? How do you keep this beautiful "self" alive when it's a piece of art?
The piece of art in this case is music, and, sadly enough, it's "classical" music. That is, it ain't hip hop. It ain't electronic dance music, and it definitely ain't cool. It's just gorgeous, beautiful, and heart rending.
I know because I was a part of this now almost gone world. As a young poet, I became crazy about having my work set to music--and I'm still crazy about it, so by now I have about 70 poems set to the work of a dozen composers. The first one, the one who infatuated me with his work was Chris DeBlasio. I met Chris about 1985 -- he was in his mid-twenties; he looked like a young Kevin Klein, with smoldering dark looks. He was an exquisite talent. You knew it instantly. He had that "certain something," as Norman Maine (played by James Mason) said to Judy Garland in A Star Is Born. (I'm talking about the great version, not the one with Babs in it.)
Chris went on to set 12 poems of mine, and the last group, a 5-song cycle he entitled "All the Way Through Evening," after the last line in the last poem, "Walt Whitman in 1989," was Chris's letter to the world: He was dying of AIDS and its various infections and executioners. Chris died in 1993, about two years after the premiere of our cycle. He was 34. I was 45 when he died.
But "All the Way Through Evening" had already made him famous in the rarified world of classical composers. It was immediately performed dozens of times. Older composers like Lee Hoiby (known for setting MLK's "I Have a Dream" speech) and John Corigliano whose opera The Ghosts of Versailles captivated the Metropolitan Opera, befriended and praised him. "All the Way Through Evening" was done in London, L.A.,Berlin, Tokyo, all over. Singers lined up to sing it.
It was terrible: Chris was poised -- and knew it -- on the edge of musical immortality. He was starting to get big paid commissions to compose new work. But he died too fast.
So many of my friends were in the same sinking boat then. I talk about that in Rohan's All the Way Through Evening. What's it like to lose dozens of friends, many of whom were extremely talented -- and too forgotten now.
For the past 22 years, a pianist named Mimi Stern-Wolfe who has lived in the same East Village walk-up for decades, has been producing an annual concert devoted not simply to composers who have died of AIDS, but to a culture itself and a moment in time. I was a part of that, too. On camera in Rohan's film I say, "It was a time of high art and low sex." I'm talking about New York in the 1970s into the 1980s; a time when we just breathed art. We couldn't live without it.
Fun sex. Really. Lots of it. And oodles of amazing, romantic sexual and emotional connections like we just don't... well, just don't have enough of now. They've pretty much disappeared, along with low rents on the Lower East Side. Maybe those sexual/romantic interludes died with the introduction of the $12 martini. But the truth is, for better or for worse, New York is not what it used to be. Still, we need to keep some of that "used-to-be stuff" too. The sheer glamour of the kind of talent young Chris DeBlasio and his friends had.
I have seen All the Way Through Evening several times and each time I'm moved by it. The exquisite music. The stories -- all these young men who died, and what they left behind. The fragility of it. But it's not simply a story about death and AIDS; it's about people who still adore music for the sheer, soul-nourishing love of it.
Not money and fame -- classical music doesn't have that anymore. There is more PR power in 10 minutes of Beyoncé than in the entire New York Philharmonic's catalogue. And that's sad. That says some evil things about life now that I wish were no longer true. Still, as Mimi says at the end of the film, she'll continue to produce concerts like the ones for these composers. She's slower now. But she still has breath in her, and the will.
In 1972, Perry Brass, with three friends, started the Gay Men's Health Project Clinic, in New York's Greenwich Village, the first health facility specifically for gay men on the East Coast, still surviving as the Callen-Lourde Community Health Center. He is the author of 16 books, the most recent is King of Angels, a Southern gay Jewish coming-of-age novel set in Savannah, GA, in 1963, the year of John Kennedy's assassination; and previously The Manly Art of Seduction, a how-manual on living life positively and achieving your goals. He can be reached through his website www.perrybrass.com.
REAL LIFE. REAL NEWS. REAL VOICES.
Help us tell more of the stories that matter from voices that too often remain unheard.