Lady Gaga is certainly not the first spandex wearing pop star to fancy herself a performance-artist-cum-musician. Long before Mother Monster came Ziggy Stardust in a cloud of glitter, curve hugging bodysuits, and platform shoes.
Now, the sexually ambiguous space invader has his own retrospective at the Museum of Arts and Design. The show, evocatively titled "David Bowie, Artist," seeks to re-frame the glam rocker's artistic output as a lifelong performance piece of sorts. The museum's press release claims, "Bowie has crafted a powerful fusion of music, culture, and other performance practices -- one that has become the blueprint for contemporary artists working in performance."
(Story continues below slideshow)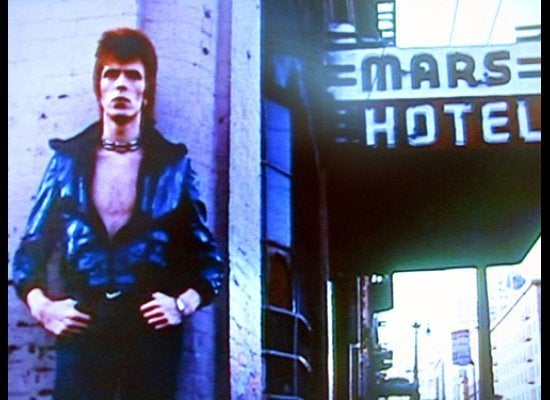 Gallery
The exhibition wants visitors to look beyond just his musical career to examine Bowie's "total artistic output" which means that his music videos, interviews, and concert footage will be on display, as well as a series of film screenings of Bowie's most notable film appearances, including Ziggy Stardust and the Spiders from Mars, The Hunger, The Man Who Fell To Earth, The Labyrinth, Merry Christmas, Mr. Lawrence, Basquiat, and The Linguini Incident. (The only question is: who forgot to include Zoolander?)
While claiming Ziggy as a "blueprint for contemporary artists" may be a bit hyperbolic (I don't see him sitting for three months in the atrium of MoMA), his pop-cultural influence is undeniable (see here) and in recent years his cult following has seen a resurgence in the iTunes libraries and Hot Topic tees of a whole new generation. Plus, MAD has to do something to try to compete with the rock-star crowds for Alexander McQueen!
"David Bowie, Artist" will be on view until July 15, while a two-week run of "The Man Who Fell to Earth," begins at Film Forum June 24-July 7, in conjunction with the exhibition.
Related
Popular in the Community