Harry Lennix is an actor's actor, and 2013 is proving to be a banner year with a string of starring roles including NBC's highly anticipated new series The Blacklist alongside James Spader. This summer alone, Lennix has appeared as General Swanwick in the blockbuster, Man Of Steel, as well as in the soon-to-be-released suspenseful found footage feature, Evidence, and on September 6th, Mr. Sophistication, a film he executive produces/stars as fictitious comedy legend, Ron Waters -- in a tour de force performance that's sexy, subtle and commanding.
Danny Green, director of Mr. Sophistication calls Lennix, "one of the most consummate artists we have in America today. He becomes the characters he's playing."
And what a pantheon of characters it is. I've been a huge fan of Lennix ever since his robust, should've-been-Oscar nominated performance as Aaron The Moor in Titus, Julie Taymor's edgy 1999 big screen adaptation of Titus Andronicus, one of Shakespeare's most controversial plays. It's a rare actor that is as adept with the Bard as with comedy (Little Britain, Barbershop 2: Back In Business), science fiction (Dollhouse, The Matrix Revolutions), drama (Ray, E.R., The Five Heartbeats), and action (24, Collateral Damage).
Harry Lennix and Jessica Lange steaming up the forest in Titus:
I had the pleasure of sitting down with this multifaceted talent last week to chat about his current projects.
Let's start with Mr. Sophistication. The character of Ron Waters is a complicated protagonist -- tell me how he came to be. My friend Danny Green, who wrote and directed the film, came up with him. I think that he must've seen me as a kind of alternate ego to Mr. Sophistication, to Mr. Ron Waters. Most of the time people sort of forget that I'm actually a kid from the south side of Chicago. I have a sort of upright bearing, but in fact I'm actually a kid from the 'hood. So he wrote this character as a kind of amalgamation of Jon Edwards (one of the producers), me, and himself.
I had heard that Mr. Sophistication was somehow partially based on Richard Pryor, but that's not really true, is it? No, it's not really true, in the sense that it's not a historical fact -- but, ethically speaking, sort of poetically speaking, temperamentally speaking, it is true. You know if you think about somebody like Richard Pryor, you know: extraordinarily nuanced, wasn't really going to be a candidate for sainthood, but who was able to use his real life neurosis and pain and spin that into a funny yarn. You know, same with Lenny Bruce, same with a lot of our favorite comedians. They are able to take real life pathology and turn it into those things that we find... True or true enough. And I think that Ron Waters spiritually, artistically speaking is the descendant of a Richard Pryor type of character.
Mr. Sophistication Trailer:
So, you executive produced Mr. Sophistication, but you don't normally executive produce stuff do you? Well, that was my first foray into it, and I've since done another movie, H4, an adaptation of Henry IV parts 1 and 2.
You'll be playing King Henry IV alongside an ensemble that includes Keith David, Heavy D, Angus Macfadyen, Faith Evans, and Terrell Tilford. And as far as we know, it's the first black Shakespearian film. There are a lot of people who would think that Othello is a black Shakespeare film, but it's not. Othello is about one black guy in the midst of a bunch of people in Venice. So it's not really a black Shakespeare film. What I mean by black Shakespeare film is that for the first time, to my knowledge, on film, we have taken a Shakespearian play and placed in a recognizably black world experience. It's from the perspective of black people, acted primarily by black people, and it's from the black point of view. A year ago, during the time of the London Summer Olympics, we were in Stratford upon Avon where we presented H4 to the International Shakespeare Conference, and it was very enthusiastically received.
The Blacklist starring Harry Lennix coming to NBC this fall:
So what's the next big step for H4? The next big step is to finish it, and to get it into the hands of a distributor. We intend to enter into festivals of all kind, and to distribute it as widely as possible, because we think that this is a necessary tool for educational and cultural purposes.
Has your take on Henry IV changed the original story at all? When you have a white character played by a black person, the way that they arrive at a destination may be different, but the ultimate end is the same. It doesn't change the story because the story is historical fact. You know, there was a guy named Henry IV, and he was a king, and his son came along after a wayward beginning to become one the most heroic figures in the British monarchy. Though no black person has ever been the king of England, within our own culture we have a kind of... aristocracy. For example you look at someone like Martin Luther King, he was a king in the black community. His family were treated like royalty within that community. And even to this day, that name carries a lot of weight. Same with Adam Clayton Powell, Harold Ford, these are black legacies where people kind of step into a position, an inherited position, pick up the mantle, not in a dissimilar way from what happens with the British monarchy. It still rings true. If Shakespeare must be studied by every student in the English speaking world, and beyond, because of its universal relevent themes and characters, then if it is truly universal, why do I so rarely see anyone black doing it? So with H4 I'm saying that it is universal.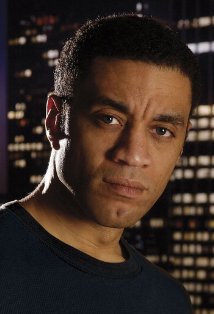 Do you approach acting in a movie like Man Of Steel as you would Shakespeare -- or is it night and day? That's an interesting question. It's not night and day. There's a rigor and a formality that a superhero film requires. You have to have gravitas and chops. So there are similarities. I am proud to be part of Man Of Steel. It's a real thrill with how people responded to the film. Looking forward to seeing what's coming.
I heard that God and religion are a huge part of your foundation. And that you are adapting Biblical works for the stage including The Gospel Of John and a modernized version of The Book of Ruth set in the American dustbowl. This is true. I began studying to be a priest in Chicago. Somehow through twists of fate I was sidetracked and became an actor, but I think in some ways, I do the same kind of work. Looking for the deeper spiritual questions to see where they fit in. The arts deal with spirit and so does religion.
Mr. Sophistication is released September 6th on Netflix, RedBox, and everywhere. mrsophisticationmovie.com For more on Harry Lennix, check out harrylennix.org
Calling all HuffPost superfans!
Sign up for membership to become a founding member and help shape HuffPost's next chapter