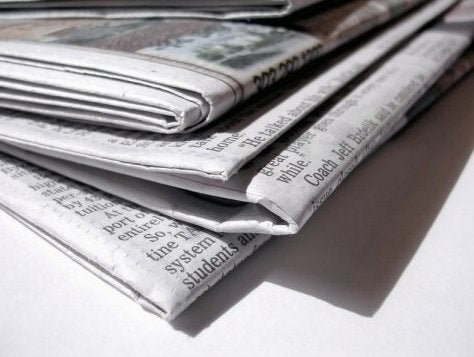 One month ago today, Ethan Axelrod -- The Editor of HuffPost Denver -- and I began a journey through the state that had us crossing the Rocky Mountains four times in four days. Before I make it sound as if we are the second coming of Lewis and Clark, I should point out that we traveled in prop planes that took only an hour to get across the massive mountain range. We crisscrossed the state to ensure that HuffPost's first local vertical in a western state would launch with a wide variety of local partners showcasing the best collection of news from all parts of Colorado. We also set up a number of deals to share HuffPost's citizen journalism tools with local news sites and reporters. This is a brief overview of our journey ...
Ethan and I started the trip in Grand Junction the day President Obama landed there for a town hall. Ethan is based in Denver and has lived in the state for the last four years. I had flown in from New York for two weeks to help facilitate the partnerships. The reason we started in Grand Junction -- a town closer to Utah than Denver -- was to experiment with HuffPost's new crowd-sourcing tool by engaging the throng of health care protesters outside the town hall. Two days before, we had asked the HuffPost community to tell us what they would ask town hall protesters. Ethan and I asked those questions in Grand Junction and quickly discovered that the protesters were angrier about the Obama administration's perceived government takeover than proposed changes to the health care system.
The value of having the HuffPost community pose questions directly to people making news was readily apparent. To expand this initiative, we've given outside news organizations access to the HuffPost community. We'll be posing questions to Coloradans via The Watch in Ouray and Telluride and State Bill Colorado based out of Denver. Reporters from these local news organizations will be able to write up pieces using the questions -- and resulting answers -- posed by HuffPost users.
Combining our citizen journalism tools with local sites isn't the only way we're building a one-stop-shop for news in Colorado. Ethan and I spent most of the two weeks traveling to local papers, television stations and websites to discuss them feeding their content directly into HuffPost. We met with everyone we could. We had lunch with the editors of the Rocky Mountain Independent, a new site founded by former Rocky Mountain News Editors. We went to KOA, the conservative radio station on the outskirts of Denver that has a banner across one of its walls showing a younger, brown-haired Glenn Beck. We met with the Denver VOICE, a paper distributed by homeless people. While in Boulder we sat with the editors of the Daily Camera and discussed the numerous projects we could do with the paper. They agreed to feed in content for now. We had drinks with Westword Editor Patricia Calhoun and Web Editor Joe Tone who shared some great Colorado stories that made this Manhattan-raised news girl blush. We even met with one media executive whose office window overlooks an airfield. The benefit? His company's private jet is only a few minutes walk from the office. And when we were in Aspen, visiting the Times staff, we were greeted by about four dogs and two cats before we saw a human.
All told, we met an amazing group of journalists in Colorado who are dedicated to delivering the best coverage of the state's cities, politics, culture, opinion, sports and more. That group has chosen to feed in their content into the Huffington Post via a box on the right hand side of the page showing their logos. It's a simple plan that took a ton of travel to kick off, but it was all worth it since HuffPost Denver And All Things Colorado can now showcase the top news stories from throughout Colorado, produced by the state's best writers, editors, and publishers.
For more news and commentary from Colorado, check out HuffPost's just-launched Denver section.
Calling all HuffPost superfans!
Sign up for membership to become a founding member and help shape HuffPost's next chapter