More than a million students, teachers and activists across the country took to the streets on Saturday to demand that something be done about lax gun control laws.
On Feb. 14, a gunman stormed Marjory Stoneman Douglas High School in Parkland, Florida, killing 17 and wounding more than a dozen others. It's an all-too-familiar story in a country that has already seen more than a dozen school shootings in 2018 alone.
But this shooting was different. The students who survived the slaughter stood up, demanding that those in power act to stop making it so easy to obtain assault-style rifles.
During the main protest in Washington, D.C., on Saturday, teens carried signs blasting the National Rifle Association and calling for common-sense gun reform. Half a million protesters were expected to be at the D.C. rally alone.
"Our parents didn't do lockdown drills in schools," Fiona Coffin, 17, told HuffPost. "We shouldn't have to grow up with this."
In New York City, Stoneman Douglas student Megan Bonner spoke to a crowd of thousands about her friend, Alana Petty, who died in the shooting.
"We called her Little Petty," Bonner said. "She always had a smile on her face."
"The adults have failed us," she said.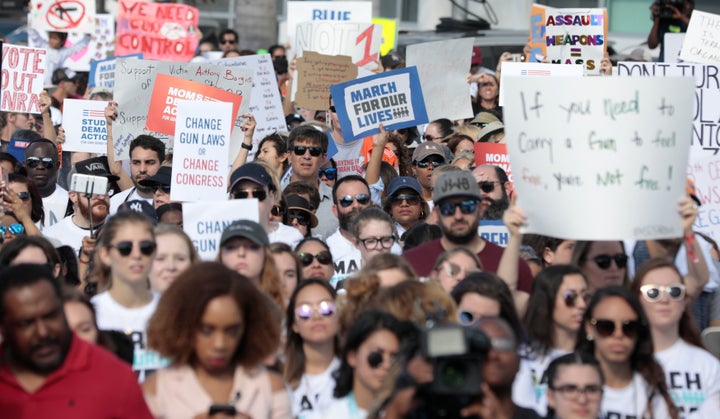 Stoneman Douglas high school senior Delaney Tarr gave an impassioned speech in the nation's capital, calling on Americans to fight against the NRA.
"This is a movement reliant on the persistence and passion of its people," Tarr said. "We cannot move on. If we move on, the NRA and those against us will win. They want us to forget. They want our voices to be silenced. And they want to retreat into the shadows where they can remain unnoticed. They want to be back on top, unquestioned in their corruption, but we cannot and we will not let that happen."
Edna Lizbeth Chavez, a 17-year-old from South Los Angeles, spoke of her brother, Ricardo, who lost his life from gun violence.
"I also lost my mother, my sister and myself to that trauma and that anxiety," she said. "If the bullet did not kill me, that anxiety and that trauma will. I carry that trauma everywhere I go."
One of the leading voices of the movement, Stoneman Douglas student Emma Gonzalez, first made her voice heard at a protest in Fort Lauderdale days following the shooting.
"If the president wants to come up to me and tell me to my face that it was a terrible tragedy, and how it should never have happened, and maintain telling us how nothing is going to be done about it, I'm going to happily ask him how much money he received from the National Rifle Association," she said at the time.
Generation Z is here. It's time to listen to them.