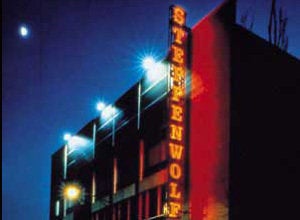 Simon Callow's one-man show, Being Shakespeare, took the U.K. by storm and is now making a short stop at Chicago's Broadway Playhouse, courtesy of Chicago Shakespeare Theatre's World's Stage Series.
The multi-talented Callow is a deeply compelling performer, who clearly revels in the Bard of Avon's prose and poems. At various points Callow, who's 62, sprints across the stage with youthful vigor reciting verse while recounting the formative points in Shakespeare's life that made him into the world-famous playwright. In Jonathan Bate's dutiful biographical play, we learn how Shakespeare gained foundational writing technique at the demanding Stratford grammar school and get insight into his somewhat unconventional relationship with his somewhat older wife, Anne Hathaway. Callow explains the possible inspirations behind characters such as Macbeth and Hamlet and that he invented the work "puking." And so on.
The audience eats it up, but I was left a little cold.
A confession: As much as I love theatre, Shakespeare has always proven intimidating for me. I often find myself focusing on interpreting the meaning of phrases rather than the drama at hand, which grows wearisome. I wish that wasn't the case, but it is. So, at times, Being Shakespeare felt like a bombastic university lecture with the occasional lighting or sound cue. And, if anything, I wanted to learn more about this writer's life (especially considering the evocative opinions that Shakespeare's works may have been a conglomeration of other authors), but just as I was getting engaged, Callow would jump to the next phase of Shakespeare's life, or dive into a sonnet or poem for a fleeting moment. Shakespeare for the ADD set.
An amusing and admirable evening worthy of a hearty ovation, but not entirely revelatory.
The March | Steppenwolf Theatre | Through June 10
Frank Galati's two hour, 45 minute stage adaptation of E. L. Doctorow's 2005 novel The March tries to do a lot, and while the effort is admirable, it leaves you wanting more. Which is a pity, because the combination of Galati and Doctorow resulted in one of my favorite shows ever: Ragtime. But no such magic here.
The March is inspired by Civil War Union General William Tecumseh Sherman, who infamously marched 62,000 Union soldiers through Georgia, destroying everything in their path. But the play actually features little of Sherman (played with weary charm and unconventional command by Harry Groener). Instead, we're taken to the periphery of the March to see the impact this landscape- and life-altering event had on various people.
Fine. That's a novel and potentially theatrical approach, and true to the spirit of the source material. However, Galati's dutiful script is so heavy handed you rarely feel drawn into the trenches of this historical event. Instead, we get lots of actors standing in the spotlight and telling us about their experiences and feelings in stuffy and unconvincing speeches. And, for a company that prides itself in fierce ensemble work, the acting is all over the map -- some are giving authentic, gritty performances (Groener as well as Ian Barford and Stephen Louis Grush as war comrades who flip sides depending on how the wind blows) while others come off as stylized, nearly characterized, archetypes.
Still, there are some thrilling moments throughout, mainly during Groener's scenes, which again are few and far between.
Calling all HuffPost superfans!
Sign up for membership to become a founding member and help shape HuffPost's next chapter