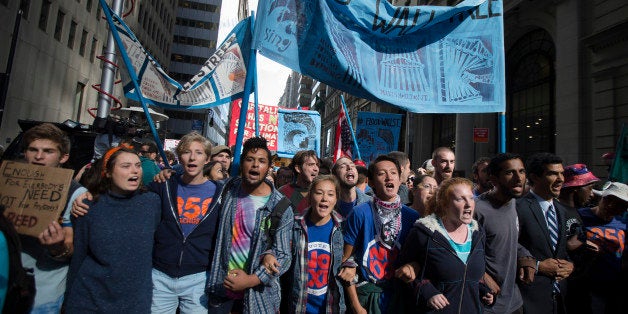 At 12:58 on Sunday afternoon, 400,000 singing, chanting, dancing people -- stretched across 3 miles of Manhattan -- fell silent in an instant. We put down our smartphones and megaphones and raised our hands in remembrance of those who've lost their lives to climate disasters. A different kind of tweeting filled the air: bird song from Central Park's feathered friends.
In the silence, it felt as if we were gathering our energy and strength for the march ahead. We were connecting with each other across the 25 blocks of the march and the thousands of miles of Planet Earth. We were readying ourselves to move forward together.
At first I thought it was a jet flying overhead, roaring toward us. Then the sound hit like a wave. We hooted and hollered, shaking the windows and walkways of Central Park West. For a moment we were invincible - completely capable of facing down the climate threat and moving into that beautiful, renewable future. Oh, the power of collective action to move our hearts and stiffen our spines!
So where do we go from here?
How do we find our way to that better future? And, how do we stay connected, stop feeling alone in the face of this overwhelming threat, and exercise some of that new-found collective strength?
We've learned enough from the 2009 UN climate talks in Copenhagen to know that there's not one answer to that question. On the one hand, we need to take responsibility and not simply wait for governments to solve the problem for us. The climate crisis is woven into so much of our lives -- the electricity we use, the food we eat, the financial investments held by our universities and pension funds. And that's good news, because it means there are so many ways to make a difference. We need them all.
But as Leonardo DiCaprio said in his powerful speech at Tuesday's Climate Summit, this problem is so big now, we can't solve it alone. We need our governments to act -- all of them. And more good news: nearly every head of state at the Summit committed to a strong global agreement in Paris in December 2015. So we have a process already in place where governments can start walking the walk. Now we need to make sure they deliver.
Do you know the way to Paris?
One of the mistakes of the Copenhagen conference was assuming that a two-week summit could deliver all of the hard political decisions needed. This time around, the road leading to Paris will be as important as what happens in Paris itself. Think of it as the "Tour de France du Climat." To succeed in Paris, we need to win each of the key "stages" over the next 15 months.
Stage 1 was this week in New York. We needed to flood the streets with 100,000 400,000 people demanding action. Check. Next comes a key meeting in November when countries make pledges to fill up the Green Climate Fund to help the most vulnerable and build trust in within the negotiations.
From there, we move to the UN climate talks in Lima, Peru, where nations in Latin America will show the world what real climate leadership looks like. Success in Lima includes creating a good first draft of the Paris agreement, so countries have a text to work from and complete by Paris.
But perhaps the most important stage -- and the one where we can make the biggest difference -- is the stage after Lima when the heart of the Paris agreement will begin to emerge. This stage is built around a March 2015 deadline for countries to put new national targets for cutting climate pollution on the table. Once these preliminary offers are made, we will be able to see how far we are from the global cuts called for by scientists. Then we can work together to close any gap.
These next six months leading up to March will be among the most important 180 days of the climate movement.
These new national targets won't emerge from thin air. They'll be created domestically by governments. So no matter what country you call home, at this very moment your government is trying to figure out whether to meet the March deadline and what target to set. The decisions they make over the next 6 months will shape our future.
And that's where we come in. They need to know that we are watching. Strong national offers won't happen without strong public support. It's time to hold leaders accountable for the promises they made in New York.
In the United States, for example, the well-funded climate deniers will do everything they can to derail a strong US offer. From attacking the President, to activating their allies in Congress to cry foul, to arguing that US leadership doesn't matter. Our opponents don't want a strong US pledge because it will start the dominoes falling in early 2015 -- leading to stronger action from China, Japan, Brazil and the list goes on.
A strong US target will require much tougher EPA standards for electric power plants (the largest source of US climate pollution) than what's currently proposed. Add your voice to the call for a better rule. Then get 5 friends to do the same.
And then write to the President directly. Tell him you are glad that he heard the call from Sunday's climate march. Tell him to stay strong in the political headwinds that are sure to come. Tell him you support a strong US climate target and a bold agreement in Paris.
We created something beautiful and powerful -- millions of hearts feeling strong and connected can accomplish almost anything. Don't forget that feeling. It is the truth of who we are and what we can do together.
This post is part of a month-long series produced by The Huffington Post in conjunction with a variety of events being held in September recognizing the threats posed by climate change. Those events include the UN's Climate Summit 2014 (that was held Sept. 23, 2014, at UN headquarters in New York) and Climate Week NYC (Sept. 22-28, 2014, throughout New York City). To see all the posts in the series, read here.
Calling all HuffPost superfans!
Sign up for membership to become a founding member and help shape HuffPost's next chapter