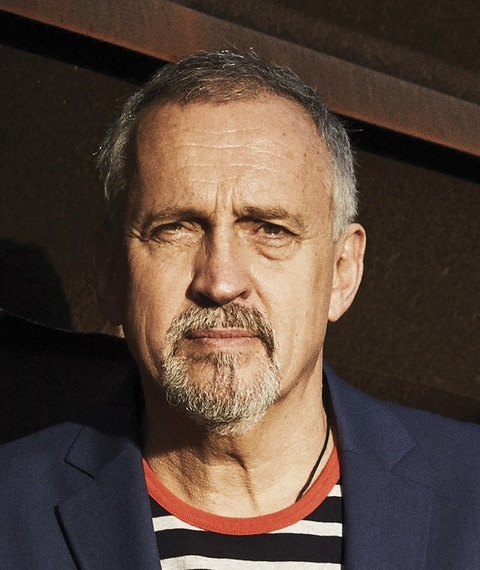 Photo credit: Bjarke Johansen
Jussi Adler-Olsen is the internationally bestselling author of the Department Q series, which has sold almost fifteen million copies worldwide. That number is approximately three times the population of his home country, Denmark. His is one of the biggest names in Scandinavian crime fiction, along with Jo Nesbo, Henning Mankell, and Stieg Larsson.
The Marco Effect focuses primarily on two figures: Copenhagen detective Carl Morck, head of "Department Q," a unit specializing in unsolved crimes, and Marco Jameson, a fifteen year old member of a gypsy clan ruled by his tyrannical uncle Zola. Marco's story intersects with Department Q's investigation into a missing man. The result is a gripping tale of high stakes financial intrigue, stalking, murder and mayhem.
Over the past few years, the popularity of Scandinavian crime fiction has exploded in the U.S. Why do you think that has occurred?
The sad story of Stieg Larsson's early death has been an important factor in creating an awareness of Scandinavian crime novels. In fact, we have a very strong tradition, but now it's internationally recognized. Scandinavian crime literature explores more than the elements of the crime; society itself is under intense scrutiny. Scandinavia is an exotic area of the world with spectacular nature. And we Danes have a keen sense of humor. Who can resist that combination?
There seems to be a certain flavor to the protagonists in Scandinavian crime novels, whether it's Mikael Blomkvist in Stieg Larsson's Millennium trilogy or Carl Morck in The Marco Effect. Will you talk a bit about this?
I can't really talk about protagonists in other writers' novels, because I purposely avoid reading novels similar to mine. Put simply, I don't want to be 'contaminated' by my colleagues' writing styles. My main characters inhabit a grey area where good and evil exist side by side in the same person. I try making my heroes and villains, complete and complex human beings to whom we can all relate. And I hope the reader's imagination rounds out the characters even more.
The Marco Effect is the fifth in the Department Q series. What advantages do you find in writing a series?
It's more than a series. From the very beginning, I intended to write a very long novel whose elongated plot uncovers the secrets of the main characters. I view each of the five novels as a "chapter" in an overarching story, where each one can also be read as a stand-alone novel. Once all the novels in the series are completed, the overall story will have been told. Over the course of the novels--or if you will, the long story--I've developed and expanded the background of each character.
The Marco Effect, while telling a suspenseful story, also comments on Danish society. Are crime novels a fertile ground for these observations?
The thriller writer usually describes society's wrongs and tries to right them. The crime writer usually describes the wrongdoing of an individual against society. I do both. When you combine the crime/thriller genre with a story that stems from the zone between the tortured human being and society, you often find a compelling story waiting to be told.
Many Americans view Copenhagen as a crime-free and homogeneous city. The novel depicts Copenhagen having a seedy underbelly, and as not being completely Danish. Will you talk about that?
We Danes live in a relatively peaceful society, but like anyplace else, we have our share of crime. I think it's important to be aware of what takes place right under your nose, even though on the surface, things may look idyllic. As regards The Marco Effect, we also have our share of immigrants as described in the novel--some of whom we don't treat very well.
You studied medicine, sociology and film science before becoming a publisher, editor and a non-fiction writer. Since 2005, you've focused fully on writing crime fiction. How did that transition come about?
When I was around thirty, I realized I wanted to write a novel. My wife and I took a half-year off, and spent time in the Netherlands where I wrote my first novel, Russian Solitaire It was well-crafted, but I realized I needed more life experience, and put it in my drawer where it remains.
I began writing my first published novel at 39, but due to my work as managing director in a publishing house, it wasn't published until I was forty-seven. But from then on, there was no turning back. I've been a full time author ever since.
Over your years of writing fiction what, if anything, has surprised you?
It's been a pleasure to discover how much fun I get from creating a fictional universe. At the same time, I've discovered just how frustrating it can be because my brain races ahead with the story while my fingers can only move at a certain speed across the keyboard.
Your novel, The Keeper of Lost Causes, was adapted for film and became last year's top-grossing movie in Denmark.
I'm very curious to see how the novel translates into a motion picture. In my opinion, my writing universe is much better suited to a television series than a movie. We're currently working on creating a US-based television series with three main characters as the dynamic focal point. Right now, we're considering Boston as a possible location, but time will tell how and where this project will end up. I'm keeping my fingers crossed.
Which crime fiction writers have influenced you?
Like all Scandinavian writers in this genre, I must pay homage to the couple Sjöwall and Wahlöö, who during the 70's, published a ten-volume series demonstrating how psychological and socially-orientated thriller novels with a wonderful gallery of characters could be done. I've also found the great American and British crime and thriller writers to be sources of inspiration. Ira Levin's A Kiss Before Dying was an eye-opener. Authors John Grisham and Frederick Forsyth have also been favorites of mine. But I get the greatest inspiration when I watch a fine movie. It's no wonder, since I have a degree in film science.
Which authors do you read now?
I no longer read crime fiction since I want my own writing to be original and uninfluenced by colleagues writing in the genre. So, for integrity's sake, I lean towards other genres. 'Literary' fiction is full of crime stories and thrillers--look at The Cider House Rules by John Irving, which is a great thriller, not to mention The Count of Monte Christo. To me, the modern thriller is an evolutionary extension of the classic suspense novel.
What's coming next for you?
I've completed Department Q, number six, The Boundless, which will be published in Denmark this October and in a number of other countries during 2015. Now I'm working on a stand-alone novel, a psychological and international thriller which hopefully will ruin many people's sleep. It will be called The Illustrated Chinaman. Next year, I intend to write the seventh novel of the Department Q series and finish what I set out to do--write a series of novels with the longest interrelated plot ever seen--at least to my knowledge.
Congratulations on writing The Marco Effect, a Scandinavian crime novel with intersecting and multiple points of view. It's an engrossing thriller with a great deal to say about Scandinavian society, and people all over the world.
Mark Rubinstein
Author of Mad Dog House, Mad Dog Justice, and Love Gone Mad.
Related
Popular in the Community