Augusta National Golf Club finally accepts its first women members, and so a Leviathan of gender discrimination at long last makes a move in the right direction. Conversely, Todd Akin falsely states that a woman's body has biological mechanisms to prevent pregnancy in cases of something he refers to as "legitimate rape." One step forward, two steps back in our battle for women's rights. Sadly though, the marginalization of women has been going on for a long time. Some 2,000 years ago, a Hebrew sage named Ben Sira wrote "the birth of a daughter is a loss" and "better is the wickedness of a man than a woman who does good." Modern readers rightly label such words misogynistic. But they're part of the historical record and Ben Sira wasn't alone. From Mesopotamia to Egypt, women in the ancient world were considered property -- valuable property, but property nonetheless. And it's true of the Bible's view as well. Yes, there were biblical women who flourished in spite of the patriarchy, women like Ruth, Esther, Lydia and Priscilla. But women in the Bible were normally viewed as second class, if even that.
The Decalogue is a case in point. "You shall not covet your neighbor's house, you shall not covet your neighbor's wife, or his male slave, his female slave, his ox, his donkey or anything which belongs to your neighbor" (Exodus 20:17; Deuteronomy 5:21). Because the Ten Commandments are so well known, it's quite easy to miss the assumptions in them about gender. But the marginalization of women is clear. The wife is classified as her husband's property, and so she's listed with the slaves and work-animals. There's also a striking omission in this commandment: never does it say "You shall not covet your neighbor's husband." The Ten Commandments were written to men, not women. There's even more evidence, linguistic in nature. Hebrew has four distinct forms of the word "you" and these are gender and number specific. The form of "you" in every single commandment is masculine singular. The text assumes its readers are men. True, mothers are mentioned in the Decalogue as deserving of honor, but even here the Hebrew grammar assumes a male readership: the Hebrew verb for "honor" is masculine singular (Exodus 20:12; Deuteronomy 5:16). The Ten Commandments embody much that is foundational for modern society, but egalitarian they aren't.
Women are marginalized in the book of Proverbs as well. Quite a number of times Proverbs uses the phrase "my son." The phrase "my daughter" does not occur. And the commands in Proverbs are consistently second person masculine, never second person feminine. And the readership of the book of Proverbs is warned to beware of the evil seductress (e.g., Proverbs 5), but the reverse doesn't occur: never does the book warn women to beware of a male seducer. The authors say living with a contentious woman is terrible, but never say the same about a contentious man (Proverbs 25:24). The book was written to men, not women. True, there is a famous text in Proverbs which praises a "noble wife" (Proverbs 31:10-31). She is wise, benevolent, hard-working, an entrepreneur, and loved by her sons and husband (daughters are not mentioned). Readers are encouraged to find such a wife. But there is a subtle problem: there is no counterpart to the "noble wife" text, nothing in the book that encourages young women to find a noble husband. After all, men were the intended readers, not women.
The New Testament contains texts that marginalize women as well. Among the harshest of these texts is 1 Timothy 2. The author is discussing worship and begins by stating that "men should pray" and then says "women should dress themselves modestly and decently." So men are to pray and women are to dress modestly. That's quite a contrast. But there's more: "Let a woman learn in silence and full submission. I permit no woman to teach or to have authority over a man; she is to be silent." The author's rationale: "For Adam was formed first, then Eve, and Adam was not deceived, but the woman was deceived and became a transgressor" (1 Timothy 2:8-14). So, according to this text, women were to be silent in worship because they were created second and sinned first. And the final blow is this: a woman "will be saved through childbirth, if she remains in faith and love and sanctification with modesty" (1 Timothy 2:15). This text is not too different from a Saying in the Gospel of Thomas (114) that says women can be saved once they become males. In any case, for the author of 1 Timothy, eternal salvation comes obstetrically.
Of course, there are even more difficult texts, with men said to be willing to surrender women to horrendous violence. For example, Genesis says the patriarch Lot was willing to force his two daughters out the door to be raped, and the book of Judges says a Levite actually did force his concubine out the door to be gang raped, and after she died he cut her corpse into twelve pieces (Genesis 34; Judges 19-21). And an unmarried woman could be compelled to marry her rapist, as long as the rapist could pay the standard bride price and the woman's father was comfortable with the marriage (Deuteronomy 22:28-29; Exodus 22:16-17). And some fathers were comfortable, if Jacob is any indication (Genesis 34). And polygyny (a man having multiple wives) was approved of (Genesis 4:19-24; Deuteronomy 21:15; 2 Samuel 3:2-5). Some narratives even have wives referring to their husbands as "lord," such as Sarah in Genesis 18:12. And a woman's religious vow could be nullified by her father or her husband (Numbers 30:3-15). Within the "Household Codes" of the New Testament, husbands are commanded to "love their wives" and to avoid treating them "harshly," but women are commanded to "submit to" their husbands (Colossians 3:18-19; Ephesians 5:22-25). And the custom of a marital "bride price" (money given by the groom's family to the bride's family) reveals that marriage was, at least in some respects, a property transfer, as payment had been made to acquire the bride (Genesis 34:12; Exodus 22:16; 1 Samuel 18:25; Genesis 24:53).
Thankfully, some biblical authors who pushed back against the marginalization of women. For example, according to the Bible, Job had seven sons and three daughters and the writer of the book of Job actually names those daughters but not the sons, a reversal of standard practice. Also, these daughters "received an inheritance along with their brothers," wonderfully subverting the standard legal practice of not giving daughters a share of the family land (Job 42). And the ancients who penned the stunning narratives about Deborah (Judges 4-5) and Huldah (2 Kings 22:14-20) were pushing back against patriarchy as well. The New Testament Paul was quite progressive for his time, as he considered Phoebe to be a "deacon" and Junia to be "preeminent among the apostles" (Romans 16:1, 7). He also wrote: "there is no longer male nor female" (Galatians 3:27). But these voices were the exception, not the rule.
People today often wish to turn to sacred literature for timeless trues about social norms. This impulse is certainly understandable. But that impulse can be fraught with certain difficulties. After all, to embrace the dominant biblical view of women would be to embrace the marginalization of women. And sacralizing patriarchy is just wrong. Gender equality may not have been the norm two or three millennia ago, but it is essential. So, the next time someone refers to "biblical values," it's worth mentioning to them that the Bible often marginalized women and that's not something anyone should value.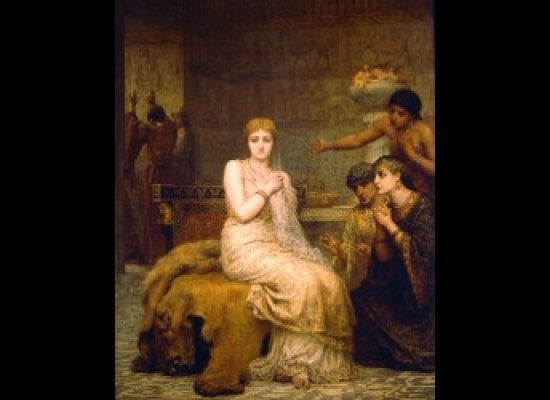 Badass Women in the Bible
Related
Popular in the Community