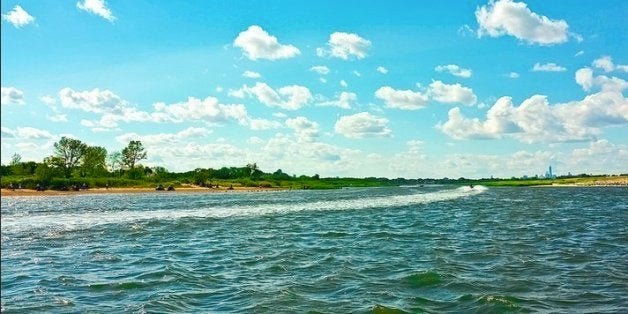 My parents weren't athletes but they were runners. My father picked up the habit from a student of his during his late twenties -- come on Mr. C, the kid said, he was a body building enthusiast -- you gotta take care of yourself a little. Saved my life, my dad says sometimes, reaching for another Oreo. My mother played basketball when she was in high school, right at the dawn of female sports and Title IX; in college she was the manager of the basketball team, and some of her friends who still hung around Brooklyn by the time my brother and I hit the scene were old basketball hands, guffawing and prowling, who taught us how to shoot, take layups, and do crossovers from both sides. Her real sport, though, was running.
We would run with her, at first, around the oval in Marine Park. There's not much to the park other than the oval, a .84-mile biking path which circles a few baseball fields and a lot of green. The problem with running there is you can see exactly how far around the circle you still have to go. My mother put on her fanny pack and my brother and I slogged to keep up with her. We wore AND1 basketball tank-tops that quickly got soaked through. Make it once around, she cajoled us. Make it one more water fountain, she compromised. The water fountains come every second baseball field. My father was way up ahead of us. Too slow, he joked.
Lots of people run in the park -- it's a neighborhood of fitness enthusiasts, plenty of firemen and cops. Some days, it's a little like a race is happening, everyone with their fire house or New York Mets t-shirts on. People run blindly, just around and around. Our next-door neighbor, who used to run marathons, ran the park endlessly, it seemed, wearing big yellow Walkman headphones, and carrying his cassette player. His firehouse was one of the first at the World Trade Center on Sept. 11th, and when I got older, he left the fire department, but he kept running.
The September when I entered high school, my mother convinced me to try out for the cross-country team, "to stay in shape for baseball," she said.
"What about basketball," I asked? I was, I don't know, 5 feet 7 inches tall.
"I think you'd be really good at cross-country," she said carefully.
"She means you suck at ball," my brother said.
I went to the first practice in Central Park, miles and miles away, where the track coach said to run once around the reservoir, and we'd see how we did. We started in a whole pack of freshmen. A lot of them dropped out immediately, but it was all familiar to me. Look how far it is, they said before they paused, grabbing their legs. At least there was water in the middle, not waves of heat over the green.
There were bright options, though, for running in the Marine Park vicinity, which I did on our off-days. Our team won the freshman city championships that year, and I started feeling like a real runner. That summer I trained every day by myself, early in the morning. It felt like the most serious, grown-up thing I'd ever done, the way some people, somewhere, were signing up for the Army; setting my alarm to beat the sun, running the blocks around the park itself, which gave you a 1.5 mile square perimeter, nearly to the second decimal. I started running in the Nature Center, across the street from the park past Avenue U, which was a 1.6 or so mile trail through the marshes and high cattails that felt like real nature to me.
Before my senior year of high school, I was pretty high on my running abilities. I expected to personally win, or come close to, City Champs that year. I'd run to the park, do a lap of the oval, then one of the square outside, and on to the Nature Center. There was a small hill there which I might run up and down triumphantly. When I shockingly didn't turn out to be the fastest runner in the city that year, and my final cross-country season ended in a cramp and a crawl across the finish line ("you gave it everything, at least," someone told me, as if you know what that means at 17), all that was left was indoor season, which had never been my strong suit. But somehow that year it came together for me, and I trained happily in the biting air through the snow on the oval, the unshoveled path next to the plowed one.
The east side of the oval was the windy one, the other side was fine. When baseball season started, I stopped running altogether. In the fall, before I left for college, I went on one last run through the Nature Center, full of self-satisfied melancholy, self-consciously breathing in the marsh air. When I got back the car was still unpacked.
College was revisiting runs, which got shorter and shorter. Marine Park's oval was always waiting, a little unknown now, full of unfamiliar faces and different kinds of t-shirts, kids my age training for the fire academy tests. Sometimes my brother and I ran a lap together, but he was usually busy with his high school basketball team. Soon I was back full-time, working a job, "commuting." I was too lazy to get a gym membership, so running was all there was. I ran just the oval like I used to, tiredly, desperately, too bored for creativity in route plan, the flagpole rising in front of my eyes again and again.
On some nights though, the park surprised you -- the sun coming down over the Gerritsen half of the green, the water a few blocks away fragrant and fresh. The streetlights muttered on at the same time, when people might be opening their front doors and sitting on stoops, either to get away from whatever was inside their houses or to barbecue or talk to neighbors or watch the day die around them. Always something to escape from.
My parents ran less, or they walked, but they kept at it as much as they could. If I didn't run for a week I could feel my body reforming in strange ways, a thickening neck and chest. In many ways, I began to look like my father had, the way he does, perhaps when that former student cajoled him into starting a lifetime of running. But for me it is always the park, empty and stern-looking, reminding me to lace up my shoes.
Calling all HuffPost superfans!
Sign up for membership to become a founding member and help shape HuffPost's next chapter