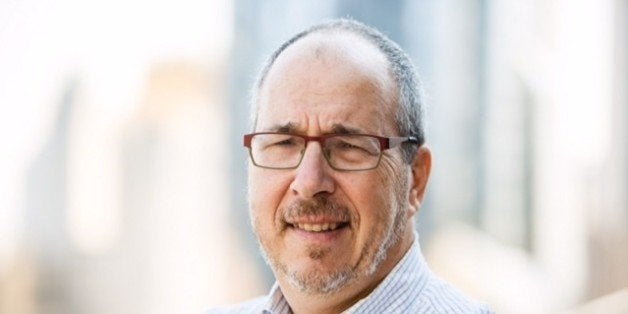 NEW YORK –- Neil Barsky has taken on varied roles over the years, from Wall Street Journal reporter to Wall Street analyst, hedge fund manager to documentary filmmaker. Now he has returned to the newsroom as founder and chairman of The Marshall Project, a nonprofit news organization covering criminal justice and edited by New York Times veteran Bill Keller.
Barsky's interest in criminal justice and the inequities of the U.S. system was ignited in recent years by two books: The New Jim Crow, which tackles mass incarceration and the over-representation of African-Americans in prison, and Devil in the Grove, which focuses on a 1949 rape case fought by Thurgood Marshall, then head of the NAACP Legal Defense and Educational Fund and later the first black Supreme Court justice. The project gets its name from Marshall -- and for Barsky, its inspiration.
In an interview at The Marshall Project's midtown New York offices before Sunday's launch, Barsky said he wants to push criminal justice issues into the national spotlight. There's a lack of urgency in dealing with the system's flaws, he said, despite "how abysmal the status quo is."
"Nobody in their right mind, if they had to start a criminal justice system from scratch, would come up with what we have in America. Nobody," Barsky said. "And yet ... it is not front and center of the national debate. For me, journalism is a great way to break through not only the complacency but the tolerance we as a society seem to have."
Barsky, who is funding about 20 percent of The Marshall Project's budget himself, is now focused on raising several million dollars from foundations and individual philanthropists to pay for a staff of roughly two dozen. In February, he tapped Keller, a former top editor of The New York Times and most recently an op-ed columnist, to oversee the project's journalism. The media industry suddenly took notice of the venture, and according to Barsky, so did potential backers.
The Marshall Project is nonpartisan but mission-driven in looking to shed light on injustices that could spark calls for reform. Keller said part of the appeal of joining the project was that criminal justice "is one area where there is a little common ground and therefore the potential to see things change." For instance, he said, there's already broad consensus among many Democrats and Republicans about reducing prison sentences for low-level drug offenders.
The Huffington Post reported last week how, even in gridlocked Washington, the Democratic White House and Republican Congress could come to the table over criminal justice reform. In one example of bipartisanship, Sens. Cory Booker (D-N.J.) and Rand Paul (R-Ky.), a likely contender for the Republican presidential nomination in 2016, teamed up this past summer to introduce sentencing reform legislation.
"I would hope that by 2016, no matter who the candidates are -- whether it's Hillary Clinton or Rand Paul or Jeb Bush or anybody -- that criminal justice would be one of the more pressing and important topics," Barsky said. He also hopes The Marshall Project can play a role in making that happen.
Like the investigative journalism nonprofit ProPublica, The Marshall Project plans to partner with more established news organizations to maximize the impact of its reporting. Before officially launching, it had already published two deeply reported pieces through partnerships with Slate and The Washington Post, the latter of which is also involved in Sunday's full rollout.
On Sunday's front page, the Post published the first part of reporter Ken Armstrong's two-part series detailing the harm caused by a 1996 law intended to speed up the time between a person's being sentenced to death and being executed. Since then, lawyers in some 80 cases have ended up missing deadlines to make final appeals for their clients. "People are going to die as a result of those blown deadlines," Keller said.
Keller said he likes coming out of the gate with Armstrong's piece because it shows readers that The Marshall Project won't expose flaws in the system only when they concern the wrongly convicted.
"The easiest way to get reader sympathy is to write about people who are innocent," Keller said. "Everybody feels a sense of unfairness if the law sends somebody away to jail for something they didn't commit."
Keller recalled how early on, he and Barsky visited different advocacy organizations, including the Innocence Project, which fights to exonerate those wrongly convicted through DNA evidence. After their meeting, Keller recalled that Barsky said, "You know, we're sort of the Guilt Project."
"Most of what we're going to write about is people who are not innocent," Keller said. "But people who are not innocent are entitled to a fair trial. They're entitled to not being raped when they get to prison. They're entitled to competent defense. They're entitled to prosecutors who don't withhold exonerating information. They're entitled to cops who follow Miranda. All these things that are built into our criminal justice system are there for the guilty as well as the innocent. That's one of the reasons I particularly liked this piece as a debut."
Beyond lengthier investigations, Keller said he wants The Marshall Project to become part of the ongoing conversation on criminal justice. There will be a daily email newsletter that mostly aggregates stories, and staffers will be expected at times to follow up with quick reported pieces. Gabriel Dance, a highly regarded digital journalist who joined from The Guardian in May, is overseeing a team that will produce interactive and multimedia projects.
With only a handful of reporters, Keller will have to pick and choose where to put his resources. For instance, he said he wouldn't have flown a reporter to Ferguson, Missouri, in August to cover the unrest in real time alongside a flock of other journalists. He suggested that The Marshall Project would have followed up on topics like the militarization of police forces in America or the history of unrest in predominately African-American communities with largely white police forces. By focusing exclusively on criminal justice, Keller said, the project could be "a jump ahead of the rest of the press [on a story like the Michael Brown shooting] in identifying the issues that are at the heart of it."
Keller said he has spoken to television outlets such as "60 Minutes," "Frontline" and "48 Hours" about potential partnerships, but for now, The Marshall Project isn't doing original video. Barsky noted that the organization is still being built "brick by brick," and he guessed it would have a video component in a year.
"There's no template for doing what we're doing," Barsky said. "There was no template for Vox or FiveThirtyEight or First Look. There are all these new enterprises that I feel, maybe I feel, some kindred spirit with them, but everybody should be given a little time because it's difficult. It's not like a newspaper where, for the last hundred years, all newspapers more or less had the same model."
Keller, who spent 30 years at The New York Times before joining the journalism start-up, said he's enjoying "being part of the great experiment that our business has become."
Popular in the Community