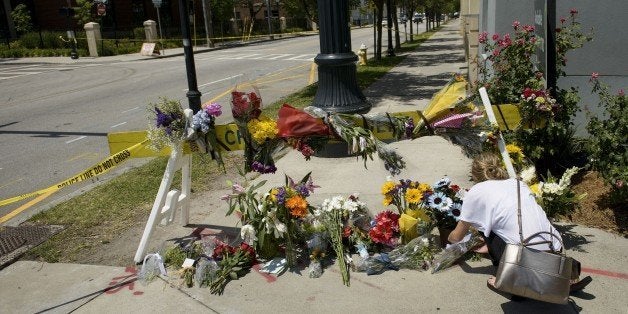 Maybe there's no better way to die than to die in church. You don't have to worry about those nine beloved children of God who were shot at Mother Emmanuel AME. They went home. Our faith tells us they are with God in glory.
There might be no more perverse thing than to shoot people in a sanctuary. In the Christian tradition a sanctuary is a holy, set apart place of special safety and vulnerability.
In some traditions soldiers and workers take off their fire arms and knives and leave them at the door to enter the sanctuary. In some traditions, even shoes come off to step into those holy places.
Dylann Roof walked into a church that would have welcomed him as a beloved child of God. He asked to meet their pastor who was also a state senator and then had the honor of sitting next to him for some Bible study.
Bible study is when you take a portion of text and try to unpack it. You read around it and consider what it might be referencing and you play with it. You let it speak. Some scholars hate this, but it has deep roots in the Protestant understanding that the Word is revealed in these words and has something to say to us here and now. It is intimate and can be rambling and disjointed, even funny.
It is hard for me to imagine how you could sit with people engaging such a tender practice together and then shoot them. I wonder what text they were reading. I wonder if it was about love or forgiveness or maybe liberation. It is often about liberation. The Bible tells us stories of the cast out being raised up and the rejected given the place of honor. I wonder what they were reading Wednesday. I wonder if it was the love and tenderness of those black people in conversation with their God that confirmed for Dylann Roof that they were a threat to the world as he wanted it to be. I wonder if the spirit of Denmark Vesey was in that place.
The iconic moments of violence in the civil rights movement were not staged. They were like June 17, 2015 at Mother Emmanuel. A hate-filled armed man or group of men seeking out a boy or a Sunday school class or a little girl. Looking back at history we tell these stories as a linear narrative of events that lead to a tipping point at which change comes.
I'm ready to look back already.
I think it's time to look back at Oklahoma City, Tamir Rice, Columbine, Trayvon Martin, Sandy Hook, Walter Scott, Aurora, and now Mother Emanuel and say it went too far a long time ago.
We as a nation must face racism and reject it --decry it boldly and change it in ourselves. And we must disarm. Even if you can't let yourself believe that your gun-collecting hobby is lethal, haven't enough people died for you to find another way to have fun? Humor us. Collect something else: knives or shuriken perhaps?
This kind of violence doesn't happen in other countries like ours, our president reminds us. There is only one difference between them and us, access to guns.
And, race, the most real unreal thing in American life. What would an anti-racist United States look like? All it would mean is the freedom for all people to pursue a life with dignity and to be protected from harm by the state.
To do that we would need to dismantle the prison industrial complex, substantively reform policing, raise the minimum wage, and insure that all of our kids have a decent education, the usual stuff but for everyone. The storyline seems clear to me. Let this be the last time not the new normal.
Calling all HuffPost superfans!
Sign up for membership to become a founding member and help shape HuffPost's next chapter