We all love mashed potatoes, but most of us don't love the often unhealthy way they're made. (So. Much. Butter.) To get all the comfort and flavor of mashed potatoes without the fat, registered dietitian Megan Roosevelt suggests swapping that main ingredient with a much more nutritious option: cauliflower. It's low in calories and carbs while being high in fiber, she says, and, yes, it still tastes like the real thing.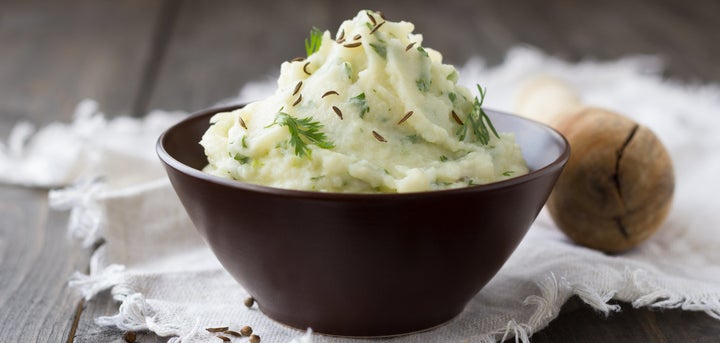 1 Tbsp. organic unrefined coconut oil
1/4 c. canned coconut milk
Pinch of freshly ground pepper
Fresh herbs (like parsley or dill) for garnish, optional
Pour the water into a large pot and boil over high heat.
Chop the cauliflower into even-sized pieces and transfer to a vegetable steamer over the pot of boiling water. Let the cauliflower steam for about 10 minutes.
Place the steamed cauliflower into a blender. Add coconut milk, coconut oil, sea salt and pepper. Blend on low speed. (If you blend on high speed, the consistency will be more like a smoothie than mashed potatoes.)
To serve, sprinkle with fresh herbs like parsley or dill.
Calling all HuffPost superfans!
Sign up for membership to become a founding member and help shape HuffPost's next chapter