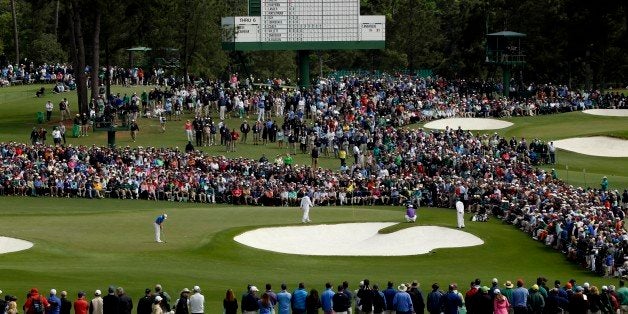 There are certain phrases in life one never expects to hear. Among them:
"The IRS made an error in your favor."
"The Kardashians have quit social media."
"This Donald Trump rally is so peaceful."
"Welcome to the men's room!"
I can't state with certainty that the last one hasn't been uttered at some unlicensed, underground sex establishment, or a male only social club similar to the one Gene Hackman busted halfway through Mississippi Burning. Perhaps it has. But I heard the phrase spoken outside an actual restroom facility, by a teenager working at one of the world's most prestigious sporting events, the Masters golf tournament.
Each year the Masters always seems to produce at least one never-before-seen TV spectacle; Jordan Spieth obliged this year with his spot-on impression of every Sunday hacker as he dunked two balls in a creek on the par-3 12th hole, effectively handing the tournament to Englishman Danny Willett. But only by visiting the hallowed Augusta National course in person can one witness the Masters' attention to even the most minute detail and its determination to let every patron experience, to quote the soon-to-be-trademarked Jim Nantz catchphrase, "a tradition unlike any other."
Yes, the grass is impeccably groomed; yes, everyone happily respects the no-cell-phone policy; and yes, autograph areas are reserved for spectators under 16. But nothing prepared me for the young man greeting hordes of male golf fans who had stepped away from the action solely to relieve themselves of $4 beers and $2 soft drinks. (Yes, one can visit the Masters on the cheap providing one stays far away from the souvenir shop, where $75 T-shirts await.)
Not only was this young man assuring those with full bladders that this would indeed be a restroom trip unlike any other, but he was handing them off to another group of equally polite workers stationed inside the facility. Their purpose was to continuously clean the urinals and stalls while delivering creative, comedic one-liners that needed no rim shots.
"I've got three over here. No waiting on the tee," yelled one, gesturing to a trio of empty urinals.
"No mulligans allowed," shouted another.
"Keep your head down at all times," proclaimed a third.
The "urinators," myself included, were all too eager to join in with their own lines, combining golf cliches with bathroom humor. Surprisingly, not a single Caddyshack movie reference was uttered, although I resisted the urge to loudly whisper, "Cinderella kid peeing from out of nowhere at Augusta National ..."
Were Phil Mickelson not approaching the tee box near the restroom facility, I might have been tempted to hang around, for I was witnessing customer service unlike, well, unlike anything.
Tired of reading Twitter rants from airline passengers incensed that their luggage is still unaccounted for, bored with watching YouTube hidden camera footage showing what REALLY happens to your food as it's being prepared, and uninterested in hearing another recorded audio call between an irate customer and the cable company, I wanted to shout, "YES, IT'S POSSIBLE! PEOPLE CAN BE NICE TO ONE ANOTHER. IF YOU DON'T BELIEVE ME, HEAD TO THE MEN'S ROOM."
Of course that would have sounded creepier than a Dennis Hastert criminal complaint. I elected to keep my emotions in check.
But may I suggest the following events be held at Augusta National, so feuding parties from all parts of society can learn the basics of cordiality, agreement and manners:
The next GOP debate moderated by Megyn Kelly.
The April 29 to May 1 Red Sox-Yankees series. (The Augusta parking lot could easily be converted into a baseball diamond.)
President Obama's upcoming meeting with the Gulf Cooperation Council.
A discussion on women between Los Angeles Lakers' teammates D'Angelo Russell and Nick Young. Guys, the no-cell-phone policy will serve you well.
Once inside the grounds, everyone must adhere to those unwritten but strictly followed Masters rules, which include not raising your voice, waiting patiently in line and telling complete strangers to have a nice day.
Finally, save a good joke for the men's room.
Popular in the Community