Some of the most poetic, prophetic, and truthful words ever written about war can be found in the lyrics of Bob Dylan's Masters of War. It sums up the differences between the people who fight our wars with the people who receive the untold benefits. As I write this post, the song swirls in my mind with incessant ruthlessness. I suppose I just know too many victims to be able to ignore this imbalance of power.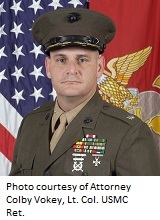 War is a spectacle of killing, horror, injury, and death.
This is what criminal defense attorney Colby Vokey said during a recent conversation - and he should know. As a retired Lt. Colonel from the Marine Corps, he has been at the forefront of military justice cases that have gone down in the annals of history. One such case was that of Omar Khadr, a 15-year-old Canadian national who was arrested and held at Guantanamo Bay (Gitmo) for years. Khadr, the youngest prisoner on the infamous island, was tortured mercilessly before he eventually confessed to killing an American soldier. As Khadr's lead attorney, Vokey recounted the abuse on NPR. His description of Khadr being chained to a floor in a stress position that caused him to fall over repeatedly, is heart wrenching. After many hours of this, the boy urinated on himself. His guards squirted Pine-Sol on the ground and used Khadr as a human mop before walking away and leaving him in the mixture of his own urine and Pine-Sol. I know there will be some people who will read this and say "So what? He's a terrorist." But think about this; how believable is his confession when it was made under torturous conditions?
This incident, along with countless other military justice situations, including the trials following the Haditha Massacre, are characterized as "shams" by Vokey and prompted him to retire. Imagine that - a combat seasoned Marine with 20-years under his belt (not to mention being the Chief of all Corps defense attorneys of the Western United States) left the Corps he loved rather than continue to be part of a system he felt was ethically compromised. Today, he spends the majority of his career defending service members in deep trouble with the military and facing a public who only wants them to be locked up and forgotten. I normally advocate for bereaved military families, but knowing Colby Vokey has broadened my view to other types of victims.
These "others" were blinded in the fog of war, where the line between right and wrong is not so visible. They made poor, split second decisions, and committed crimes that landed them in jail and with permanent stains on their records; not to mention their souls. Some of these service members were diagnosed with severe PTSD and Traumatic Brain Injuries, yet were deployed anyway. One young soldier, PFC Cory Clagett, joined the army in search a stable life. In 2007, his squad took a few insurgents prisoner during Operation Iron Triangle. But the command operations center radioed the message that they didn't want them captured, they wanted them killed. As a result, Clagett's sergeant ordered him and a fellow soldier to release the prisoners and then shoot them as they ran away. Clagett was convicted of murder and spent almost 10-years in prison, until Vokey helped him get paroled in March 2016. By the way, Clagett's sergeant received a slap on the wrist and was returned to duty. This leads to the question: Just how fair was the judicial process?
The Combat Clemency Project
The Combat Clemency Project (CCP) at the University of Chicago School of Law is seeking an answer to this question. The CCP is led by Professor Mark Heyrman and a team of law students. They have put together clemency petitions for seven combat veterans convicted of crimes and submitted them to the President for consideration. Vokey is the attorney for four of the seven cases. He is careful to point out that going strictly by the rule of law; they were guilty and rightfully tried and convicted. However, according to the findings of the CCP the methods in which these convictions were obtained raise concerns that should be taken seriously.
Many of our clients were suffering from severe PTSD, Traumatic Brain Injury, and other mental health issues at the time of their crimes. Some of our clients maintain their innocence, while others accept their guilt.


The seven include: Staff Sgt. Robert Bales, PFC Corey Clagett, SPC Franklin Dunn, Staff Sgt. Calvin Gibbs, First Lieutenant Clint Lorance, Sgt. Derrick Miller, Infantryman/Ranger Michael Williams.
And yes, the first name listed above is the same Robert Bales who killed 16 Afghan villagers in 2012. However, it is important to note that not all of the clients are seeking pardons. For example, Robert Bales is asking for mental health treatment, and either life with the possibility of parole, or reduction to a term of 99 years. Bales' case is perhaps the most widely known and disturbing because of the sheer number of innocent people who were killed during his rampage. But, according to CCP, most people are not aware that Bales was proven unfit for combat before he was deployed for the fourth time. Even his jury was not informed of his mental health and brain injury.
These petitions for clemency are not about excusing the crimes, forgetting about the victims, or passing the blame. They are about forgiveness and closing a chapter on the wars in Iraq and Afghanistan. However, I must admit, with some of these cases, I don't believe forgiveness is necessary. These are not cold, calculating killers. They are victims of a systemic problem involving a lack of accountability for poor leadership and poor medical care.
Closing the Gitmo Chapter
As promised, the long awaited closing of Gitmo is underway at this writing. When President Obama presented his plan in February 2016, he stated: "This is about closing a chapter in our history."
Gitmo has been mired in controversy, lies, and deceit from the outset. So much so, that it is hard to know fact from fiction. Were all the detainees wrongly accused? Were they all guilty of terrorism? I believe it is a blurry mixture of both scenarios, but I don't believe we can cite the fog of war for the colossal mess that was/is Gitmo. The difference between broken soldiers in battle, and the people responsible for Gitmo comes down to intent and awareness. The masters of war pulling the strings at Gitmo weren't dealing with issues like PTSD or a TBI. They weren't staring down an enemy soldier as they sat in the comfort of their plush and air-conditioned offices where clear and legal agendas should have been easier to put into place. So, if the masters of war can forgive themselves and close the Gitmo chapter, as President Obama stated, there is no viable reason as to why they can't forgive these seven soldiers and grant their clemency petitions. We can't just lock them up and throw away the key. Likewise, we can't continue to ignore the imbalance of power between the masters and the servants of war.
You fasten all the triggers, for the others to fire
Then you set back and watch, when the death count gets higher
You hide in your mansion. as young people's blood
Flows out of their bodies, and is buried in the mud.
Masters of War ~ Bob Dylan

Popular in the Community