Most works of contemporary art that you find in galleries and museums are finished by the time they're on view; in the case of performance art that unfolds in real time, a "work of art" isn't really an object but an experience or an interaction. This summer, the Philadelphia Art Alliance has invited a group of artists called the Miss Rockaway Armada to create something that is part performance, part salvage operation and part sleight of hand. It demonstrates that the processes of designing and building something can tell a story. And what's their story? Well, the name "Armada" isn't a metaphor: they really do take their sculptures out on the water, and they really do float. Their mission is to show us that creativity paves the road to sustainable solutions in the face of the urgent, global problems of resource depletion and wastefulness. And it might be the most patriotic cultural attraction in Philadelphia right now.
The Miss Rockaway Armada is a group of artists and performers who worked together for the first time in the summers of 2006 and 2007 in Minneapolis, where they designed and built a flotilla of rafts that sailed down the Mississippi River. Musical and theatrical performances in towns along the river were all part of the fun, and since that time, the Armada has taken its unique mission and method to Exit Art in New York City, MASS MoCA in Western Massachusetts, the Van Abbemuseum in the Netherlands, and Chicago's Smart Museum of Art. The Philadelphia Art Alliance, located in historic Rittenhouse Square, is the latest organization to collaborate with the Armada. Supported by the Pew Center for Arts & Heritage through the Philadelphia Exhibitions Initiative, the Art Alliance is presenting the Armada's latest project, entitled "Let Me Tell You About a Dream I Had," as it unfolds this summer all across the city, and will display the sculptural components of the flotilla in its galleries through December.
For an institution that has recently decided to focus on contemporary craft and design after decades of multidisciplinary programming, the Armada project is a challenge and an inspiration. For many people the phrase "craft and design" might conjure up images of hand-thrown porcelain tableware, avant-garde jewelry, studio furniture and "fiber art," and indeed the art fairs, museums and galleries that focus on contemporary craft and design present quite a lot of this kind of work. Particularly in the commercial sphere, it's much more likely that a gallery will sell a brooch or a tapestry than a flotilla of rafts that were once part of a performance piece, however dazzling the performance may have been.
The Armada project at its core is, in fact, all about craft and design, but not in ways that necessarily lead to the creation of a product for sale or an object for the home. It's about craft as performance, showing people what they can do with materials they find, instead of materials they can buy. The process has been a little like watching a Jacob's ladder unfold. "It's like curating in reverse," says PAA Director of Exhibitions Melissa Caldwell, who spearheaded the project. Instead of organizing an exhibition around a compelling group of objects, the Armada's works would not even be complete, much less designed, when the project began in July. Rather than drawing up plans for a project on paper or on a computer and then sourcing the right materials for the job and building it, the Armada artists start each project by scrapping demolition sites, scouring Craigslist and partnering with other non-profit organizations. Here in Philadelphia, they teamed up with the Resource Exchange and Recycled Artist-In-Residence.
This method, in addition to being practical and enormously fascinating to watch, is a rebuke to our wasteful handling of materials and resources, particularly in current construction practices. Armada artist Anna Ialeggio notes that construction tends to privilege time and money over sustainability, like most industries, and that when mistakes are made, it's easier to throw something out and make it again rather than try to fix it.1 This is true of most of the household and industrial goods that populate our landfills -- when was the last time you called someone to come fix your DVD player? Rather than paying for new materials with their attendant carbon footprints and packaging, the Armada artists choose to take what they can find from the vast repository of goods and materials that other people have cast off. The estate of a recently deceased South Philadelphia sculptress named Antoinette proved to be an especially rich source of fabulous baroque décor. It is heartening to think that her cherished possessions will delight so many people this summer when they take on new life as sculptural flotilla elements.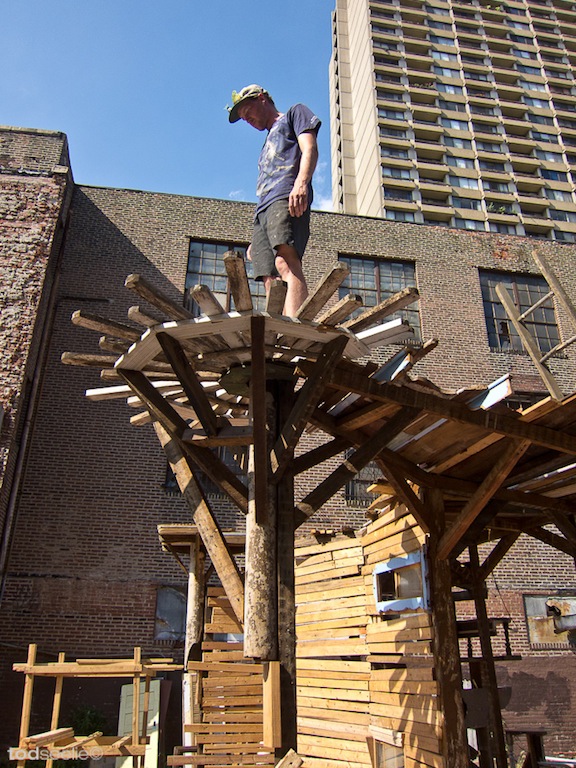 Armada Artist Ian Page at the build site on Broad Street, July 28, 2011. Photograph by Tod Seelie.
Having endured the humiliation of a once-unthinkable credit downgrade late last week, we can't deny anymore that we need to rethink how we spend money and consume resources in this country. The beauty of a project like this one, which preaches to the unconverted with humor and joy rather than scolding, is that it shows viewers that the challenge of making something special from materials you find can be even more satisfying than stockpiling "supplies" for some later craft project you'll never get to. Faythe Levine, the writer and director of "Handmade Nation" who contributed an essay for the catalogue accompanying this project, notes that the Armada will impact scores of observers who may not yet consider themselves "do-it-yourself" builders or makers. "That sentiment that 'she can do it, and I'm just like her' can be a very powerful thing, and the Armada project is a perfect example of this, reshaping the way people view their surroundings and what they can create with what's around them."
It helps to have 20 or so co-conspirators who know their way around a cordless drill, a devoted curator to steer the ship, and a visionary funder, and it never hurts to have a flair for musical theater. I hope you will join us if you're visiting Philadelphia this summer or fall. You already know that you'll find many patriotic historic sites around town, but at the various Armada events, you will find an inspiring display of the kind of creativity and resourcefulness we need to make this country the world leader in sustainable building and design that it ought to be.
Tiny Flags Craft Night
SPACE 1026
Aug. 13 at 6 p.m.
Location: 1026 Arch Street, second floor
Miss Rockaway Armada Flotilla Journey and Performances on the Schuylkill River
Aug. 20 from 6:30 to 8:30 p.m., and Aug. 21 from 6:30 to 8:30 p.m.
Location: Walnut Street Dock
Tiny Portraits Craft Picnic
Aug. 20 from 2 to 4 p.m.
Location: Walnut Street Dock
Story Picnic
Aug. 21 from 2 to 4 p.m.
Location: Walnut Street Dock
Miss Rockaway Armada Procession #1: University City
Sept. 3 from 5 to 10 p.m.
Location: Spruce Street from Broad to 43rd, ending at Clark park
Miss Rockaway Armada Procession #2: Kensington
Sept. 10 from 5 to 10 p.m.
Location: via York and Front Streets, ending at FLUXSpace
Miss Rockaway Armada Exhibition at PAA
Opens Sept. 30
Reception: 6 to 8 p.m.
References:
1. A.D. Amorosi, "All Float On," Philadelphia City Paper, July 28, 2011.
REAL LIFE. REAL NEWS. REAL VOICES.
Help us tell more of the stories that matter from voices that too often remain unheard.