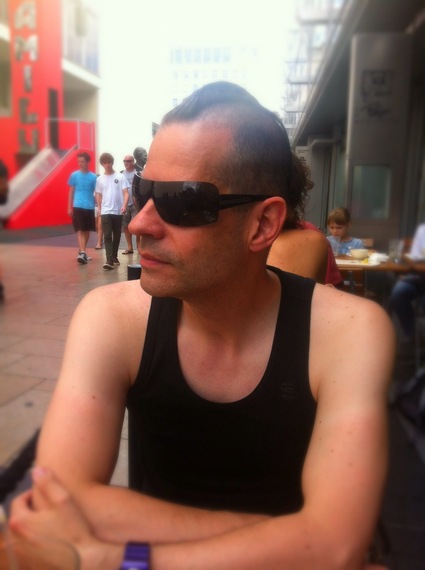 John R. Gordon (image courtesy of Team Angelica Press)
The maverick genius of John R. Gordon lies in the fact that he does so many things so well. He is an incredibly gifted novelist and playwright and an award-winning screenwriter, editor, visual artist and publisher. This astonishing list of accomplishments is anchored by modesty and an elegant, razor-sharp approach to every creative project that he takes on.
The last few years have been fruitful ones for Gordon, who, with powerhouse filmmaker and playwright Rikki Beadle-Blair, has set up the critically acclaimed Team Angelica Press, a publishing firm in London dedicated to outsider artists and writers, especially LGBT voices of color.
His latest novel, Souljah, focuses on the life of a gay former child soldier and his harrowing experience of exile in South London. Gordon did extensive research for the novel, and what became clear to him was how any of us can be programmed to commit appalling acts. Souljah, he says, "is the exact opposite and repudiation of Heart of Darkness narratives which 'other' those who commit such acts." He adds:
I was also struck by a discourse that arose after the notorious murder of ten-year-old African schoolboy Damilola Taylor [in South London in 2000], that his gentleness and implicit effeminacy made him a target, and so he could be seen as a victim of homophobia. Souljah is about defiance, finding yourself and fighting back.
Gordon grew up around books and always thought of writing as something natural. He says:
In the blank suburbs of my childhood, I had no subject, no content, and so was initially drawn to fantasy -- Mervyn Peake, Tolkien and Lovecraft. In my teens, as I realized I was gay, in psychological analogue I began obsessively to read radical '50s and '60s black writers -- Richard Wright, Stokeley Carmichael, Amiri Baraka, Huey Newton, Chester Himes and, above all, James Baldwin, who became my model as both a writer and an activist. To me race and sexuality are in permanent dynamic analogic interplay: The latter doesn't exist without the former, and this is embodied in all my work.
Other writerly influences he cites are Faulkner, Chandler, Burroughs, Capote and Genet.
As an editor, he says, he is most interested in original voices:
Otherwise, in a world already groaning with books, why bother? I'm currently very excited to be reading a novel by a young gay writer in Nigeria about the fallout from the homophobic laws there. You then have to see if you can work with the writer to push them to realize their vision as strongly as possible, [and] also to inhabit their mindset so your editorial suggestions serve and amplify that vision. It's a particular skill, and quite an odd one to have, given the definiteness of my own prose voice.
Having just published an extraordinary and powerful anthology of gay, black British writing that features essays, poems, fiction and memoirs from some of the brightest talent in the UK, Gordon is also actively involved in discovering and mentoring new exciting playwrights. He says:
We try to empower unheard voices -- black, Asian, Muslim, disabled, street-level, LGBT -- and push our writers through a grueling process of rewrites and table reads with excellent actors, which instantly lays bare whether a line, a scene, a character works. Ridiculous as it sounds, the fact that we have basically a 50-50 mix of men and women is still radical in theater.
His mission statement as the co-publisher of Team Angelica Press is simple: "Starting small, we aim to punch above our weight." He explains:
We're looking for outsider, maverick voices with a particular emphasis on the queer of color. Your own book, Fairytales for Lost Children, is a good example of the work we want to bring out. And next spring we publish Roz Kaveney's roman-à-clef account of her rackety life as a trans woman in New York and Chicago in the late 1970s, Tiny Pieces of Skull.
Ambition, drive, graft and risk taking married with imagination make for a potent cocktail, and John R. Gordon and his creative team know this. Here's to many more years of literary and artistic excellence.
John R. Gordon's novel Souljah (Team Angelica Press) is out now and available on Amazon. The anthology he co-edited with Rikki Beadle-Blair, Black and Gay in the UK (Team Angelica Press) is also out now and available on Amazon. You can connect with John R. Gordon via Twitter.