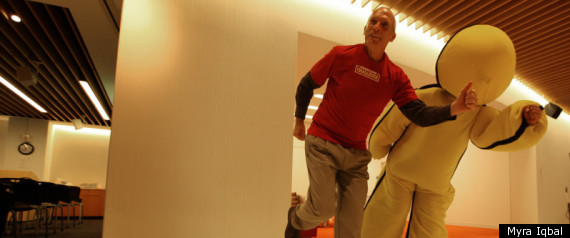 18 days until the New York City Marathon.
Well, as promised, here it is:
Last Wednesday night, the AOL Marathon Team and other running enthusiasts got some major one-on-one time with the "Mayor of Running" when we hosted Bart at our Manhattan office for an evening of inspiration, a group run through the city and, most importantly, some fundraising for the Leukemia & Lymphoma Society (LLS).
As I previously confessed (and told him to his face last week), the name Bart Yasso meant absolutely nothing to me up until about a month ago. I wasn't even sure how to properly pronounce Yasso. (Watching a few YouTube videos remedied that problem.) Now that I'm a "real runner," though, the name means plenty. For anyone still unfamiliar, here's a primer on the man, the myth, the legend:
Bart Yasso is the Chief Running Officer of Runner's World, a title that basically means he has the best job ever. He is the face of the magazine, attending races all over the world and connecting with as many runners as he can along the way. Part of his job description must also include "guinea pig for the world's craziest running adventures." There's no exaggeration when I say that Yasso has really done it all. He has completed more than 1,000 races, run marathons on all seven continents, is a five-time Ironman, biked across the country, finished the Badwater Ultra 146 and even raced with a burro named Taco Bell. In his spare time, he invented the Yasso 800s training technique, wrote My Life on the Run: The Wit, Wisdom, and Insights of a Road Racing Icon and is an incredibly active Twitter user. (Impressive for a 55-year-old, Bart!) Oh, and he is absolutely one of the nicest people you'll ever meet. He has a reputation for not only remembering your name, but your marathon PR time, too.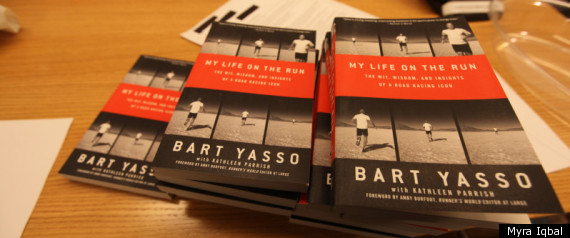 Through this blog about my training for the New York City Marathon, I had the opportunity to connect with Runner's World and an even greater opportunity to meet Bart Yasso at the Runner's World Experience media event last month. We only talked very briefly at the end of the day, but in that five minute conversation, I told him about my training as a newbie and about the AOL Marathon Team's goal -- to raise $100,000 for LLS in memory of Detroit AOLer Rory Wheeler, who lost his battle to cancer earlier this year.
I asked if he'd be interested in partnering with our team (thinking of an event like this as only a pie in the sky idea) and I have never heard someone say "yes" so fast. Not only that, he leaned in and said, "Let's be sure to raise a bunch of money for that charity of yours, too." I'd like to think it was my charm that convinced him so easily, but really, that's just the type of guy he is. He emailed me the next day and we started planning straightaway.
As the team was setting up before guests arrived last Wednesday night, I turned around and Bart was standing right there, greeting all of us as if we were old friends. I told him to call me when he arrived, but not surprisingly, he found his own way up and walked the 37 blocks from Rodale's New York office. Obviously.
His slideshow presentation kicked off the evening and he shared stories and photos of the amazing adventures of his career -- about the crazy things that happen to you during those 146 miles in Death Valley in July, about his own running heroes like Sarah Reinertsen, an amputee, marathoner and Ironwoman, who Bart calls "the greatest athlete on the planet" and about his personal uphill battle against chronic Lyme disease, which might slow down his pace, but not his spirit or love for running.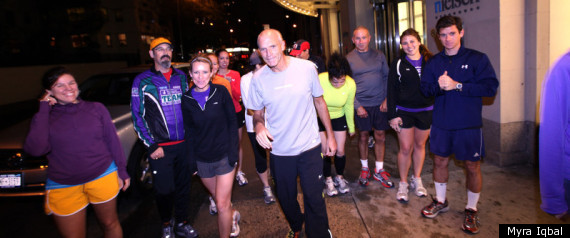 The point of the presentation? Bart's mantra says it best: "Never limit where running can take you." Running literally changed his life -- from a trouble-making teen who was only interested in booze and pot and only started running in his 20s, to one the most well-known and well-respected icons in the sport. That, and it sure made us feel as if that little New York City Marathon we're all doing in three weeks is nothing compared to some of the challenges he has taken on -- like, I don't know, running a marathon in Antarctica!
While the hilarious stories and some fun photo ops with the AOL Running Man mascot (get it?!) were the highlights of the night, Bart was sure to connect everything back to a bigger message -- to honor people like Rory Wheeler who no longer have the opportunity to run and to remember that beyond the personal health benefits it can provide, running might even be the way we find a cure for cancer through organizations like Team In Training (TNT) and LLS. While lacing up our sneakers before the run, we gathered for a TNT tradition and welcomed honored teammate, Alfredo Axtmayer, to share a "mission moment" to give everything some even greater perspective.
Two years ago, Alfredo was diagnosed with stage IV Hodgkin's Lymphoma at age 27, and went through five different regimens of chemotherapy, radiation and a stem-cell transplant. Both his mother and sister completed half-marathons with TNT while he was sick, and the first thing he did when he was healthy enough was sign up with TNT to run the New York City Marathon, which he raced last year.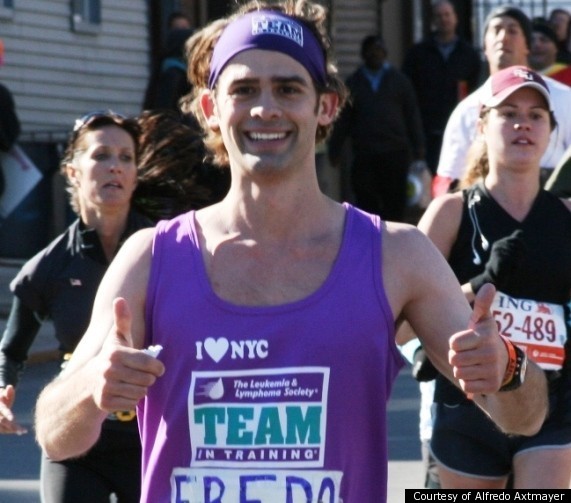 "Everything about TNT helps me believe more and more that one day we will be running not in search for a cure, but rather, in celebration of the cure," says Alfredo, who will be two years in remission next week. "Hearing about Bart's experiences made me realize that running can take you all around the world and at the same time running can also take you one step closer to a cure."
With that additional motivation, the group took off on a short trot down to Washington Square Park and up to Union Square and back to our office in Astor Place. The small pack chatted the whole time and everyone fought for the chance to run right alongside the Mayor (or maybe that was just me?). It was like an extended Q&A session out there on the road, as Bart told us stories about other races like the Bare Buns Fun Run at a Washington State nudist camp (he edited those X-rated photos out of his slideshow) and the Hood to Coast Relay, which I must do! (Who wants to be on my team?)
Because of his struggle with Lyme disease, Bart runs with a noticeable limp and says he's not sure how many races his body has left. The one left on his bucket list was the Comrades Marathon -- 56 miles through the hills of South Africa and the "greatest footrace on the planet." He finished it last year and says it was the most pain he has ever felt in his life. He has to really pick and choose what runs he does nowadays, which is why I felt so honored to go stride for stride with him for just a short loop around New York City.
As Bart signed copies of his book, My Life on the Run, and inscribed "never limit where running can take you" onto the cover page, I really started thinking about what the mantra means for my own life. When I started out on this road to the New York City Marathon, I just felt like a lost 20-something (who doesn't?), and never could have imagined where the journey would take me. I assumed I'd either quit or get so hurt by now that actually running the marathon itself would never happen. Looks like I surprised myself.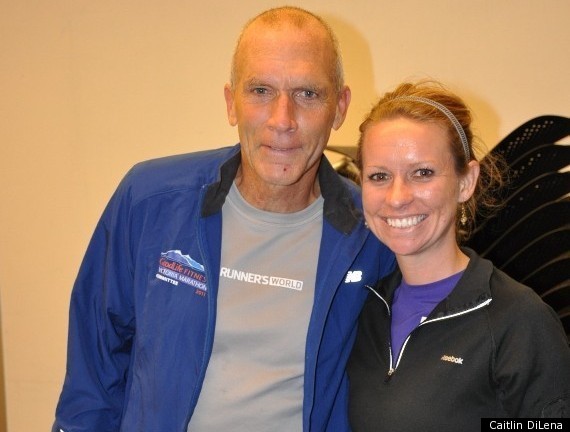 When I pitched this silly blog idea to my editor (admittedly to keep myself motivated!), I definitely didn't realize it would open me up to this new (and very supportive) running community that has already impacted my life and will continue to do so -- God willing -- for many years to come. I set out to learn something about myself and I've learned that I have some major guts. What an incredible thing to discover as I look toward the future and know that the possibilities of what I'm capable of achieving (with hard work and the right attitude), are endless. I'm almost done this rant, so bear with me, but as lame and corny as it sounds, I have honestly never been more proud of myself.
Not only has running taken me from having a great butt to having an awesome butt (just making sure you're all still reading!), it has given me to a better understanding of myself and what (and who) is most important to me. It's connected me to some fantastic new friends, including Mr. Bart Yasso (seriously, we just became Facebook friends, which I'll be bragging about for a while). It has helped me inspire family members and friends little by little, running related and otherwise. It has me planning trips to races months and even years from now -- Catalina Marathon, anyone? And ultimately, running is helping us all inch one step closer to a cure for cancer.
I know exactly where running is taking me next, too. It's taking me to the finish line of the New York City Marathon on Sunday, November 6. So, Bart, I'll see you there! I expect a high five. And for you to remember my first-ever marathon PR the next time we meet again.
Maybe it was the inspiration from Bart Yasso, or a fun Friday night dancing to the B Street Band (a Bruce Springsteen cover band, of course), or the amount of carbs and Gatorade I consumed on Saturday, or hearing about this 100-year-old dude who completed a marathon, but I totally rocked my 20-mile training run on Sunday morning -- the most I have ever run in my life and my last really long run before tapering for the big day. I've never felt better out there (thanks to Catherine New, another running buddy, AOL Daily Finance reporter and soon-to-be marathoner at the Marine Corps Marathon). It was, no doubt, exactly the confidence boost I needed after a couple of challenging weeks of hip pain. Also, I'm officially addicted to ice baths. Bring it on, 26.2. I'm ready for you.

Click here to read more "Countdown to the New York City Marathon" blogs.
Click here to donate to the Leukemia & Lymphoma Society.

Calling all HuffPost superfans!
Sign up for membership to become a founding member and help shape HuffPost's next chapter