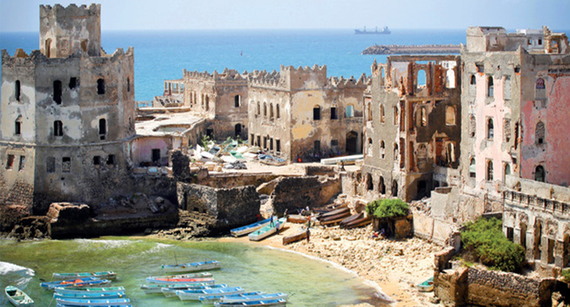 By Andrew Harding
Abdirizak Fartaag is a Canadian Somali who returned to Mogadishu in 2009 and worked in the prime minister's office in charge of public finances. He was the man who had authorized Tarzan's first official check in 2010.
In 2011, Fartaag was quietly relieved of his duties. He left Somalia in a hurry and proceeded to publish, in forensic detail, allegations of grotesque corruption that he said he'd uncovered during the years he'd worked at the heart of government. His allegations were breathtaking. Hundreds of millions of dollars had, he claimed, been systematically pocketed by officials at the very highest levels.
And he wasn't just making vague allegations. In the tax year of 2009–10, he said that precisely $72,725,000 in foreign bilateral assistance had been "stolen."
No wonder Fartaag was now receiving death threats.
When I first contacted him by email and told him what I was writing about, he wrote back almost immediately and with refreshing frankness. His email was full of words in capital letters and highlighted text, and it reminded me, in its indignation and its brusque certainties—though not its content—of the way Tarzan talks.
"Why [is] a thug like Tarzan . . . news worthy? It's amazing how people . . . with no pedigree of government assume these offices with the sole purpose of enriching themselves while playing clan politics to remain in power. All the hope and aspirations of 3 years ago seem like a fart in the wind."
No punches pulled. And Fartaag's email roared on, capturing the essence of something I'd heard from many other Somalis, particularly in the diaspora. "Why isn't positive news being reported from Somalia?" he demanded, and then proceeded to give me a list of worthy, well-known doctors and human rights workers—"the true heroes of Somalia"—whom I should be writing about instead.
I could well understand his frustration. Still, I could also see a certain irony. Here was a man who had risked his life to expose massive government corruption demanding that outsiders focus on the good news instead.
Fartaag walked into the Nairobi café nodding and smiling at a few other Somalis sitting at nearby tables. He was wearing a white shirt with dark brown stripes, and his tousled gray-black hair sat toward the back of his scalp, leaving a large forehead exposed above his metal-rimmed glasses.
He sat down and systematically unveiled his qualities, like a doctor setting out his implements. Charm first, then a probing intelligence, followed by skepticism, blistering indignation, self-doubt, contempt for lazy conformity, and finally a wry, half-amused sense of gloom.
"Frankly speaking, everybody was corrupt," Fartaag said of his time in Somalia's transitional government.
"Everybody." He grimaced and tapped the side of his head. "Up here . . . We're mentally poor. Just a bunch of nomads."
Fartaag described how the president or prime minister would routinely come back from trips to one of the Gulf states carrying briefcases full of cash. Sometimes $1 million. Sometimes up to $5 million. Sudan's government would send $2 million every month.
"And it was your job to keep track of it?" I asked.
"It was my job. It was hell. At the beginning . . . I don't want to give myself excuses, but at the beginning I did not understand exactly what was going on."
He described taking two black suitcases containing $5 million to the central bank. The deposit was formally acknowledged, but without mentioning where the cash had come from. From time to time, an official would take the suitcases out and disappear with them.
Fartaag's description chimed with an anecdote I'd heard from another source, about the way blocks of cash would, it was claimed, be handed out during governmental cabinet meetings. On one occasion a minister allegedly accused a top official of pocketing nearly $1 million from the suitcase before the money was shared out. There was a huge row, but in the end, everyone took his or her stake.
You could interpret such a scene, charitably, as business as usual—a clan-based government, in a system shorn of any credible bureaucracy, dividing the wealth between those same clans in an open way that encouraged a degree of trust. Or you could see it as a Mafia-like move to establish collective guilt and to make it harder for anyone to blow the whistle.
Over time, Fartaag said, he came to understand that the corruption was an uncontrollable force. And he was clear about where the bulk of the blame lay: the diaspora.
"Everyone who came there had one thing in mind. How to rob the system," he claimed.
Sign up for more essays, interviews and excerpts from Thought Matters.
ThoughtMatters is a partnership between Macmillan Publishers and Huffington Post
At which point, I raised the topic of Tarzan.
It was a strange, uncomfortable moment for me. In some ways I was ready to hear the worst about him, to find out that he was, after all, no different from any other corrupt politician, spoiled by the temptations of working in such an opaque system and fueled, perhaps, by a sense of entitlement—after all, he was risking his life, surely he deserved to profit somewhere along the line, too.
But I was also worried. The more I'd learned about Tarzan's life, and about his family—all those hours together at their modest council flat in London, in Mogadishu, and on the phone—the more inclined I'd become to believe him and Shamis, and Yusuf.
Given what he'd already said, I was expecting Fartaag to be blunt and damning. What I wasn't anticipating was his own discomfort—his own reluctance to topple a statue.
Fartaag began with the "facts." Before Tarzan had taken over, the mayor's office had been "idle and dysfunctional." There were no records of any government funding. When Tarzan arrived in 2010, his office received $50,000 from the prime minister's office, but the accountant general never declared it. Soon afterward, $1.5 million was reportedly allocated to the mayor's office by the Ministry of Finance, but in an annual statement, only $682,504 was declared. In other words, in Tarzan's first few months in the job, over $800,000 appeared to have gone missing.
Conclusive? No. The Finance Ministry was, itself, profoundly corrupt and was blocking the government's auditors at every step. Fartaag had discovered large-scale misappropriations in almost every corner of government.
"Where did the money go?" Fartaag asked. And what about the subsequent income the mayor's office received as a share of the revenue from Mogadishu's seaport?
"What has been done with that 15 percent share?"
Fartaag let the question hang in the air for a while. He had no answer to it.
"Show me the documents," he said, as if Tarzan was at the table with us. "Just show me. Allow me to vouch for your books."
And it was only now that Fartaag's frustration became tinged with something more melancholy, with a sense of having been let down.
"I don't know if I'm being unfair here. But I was expecting someone like him, someone who has lived in England—the beacon of democracy—to do the right things. He could have established a committee and said, 'This is what I get—15 percent from the port. This is not my money. I'm going to go to England and get external auditors and I'm going to open my books. If you find anything wrong, expose me.' "
Fartaag ran a hand through his hair. I could see him picturing how things might have been.
"Oh, oh, that guy would have been a hero! He had all the possibilities to do the right things. He never did them. All these years I was hoping he would come to me and say, 'Fartaag, you're wrong,' and show me the documents."
And now I could see his anger returning, along with something close to self-loathing.
"We're all useless. Mediocre." He spat the words out. The diaspora were weak, greedy, and divided. The Islamists in the government were strong, driven, but utterly ignorant of Mogadishu's culture and history.
"It's really sad. Really sad. I try to be fair to Tarzan. He's not the only one. We've given a bad name to the diaspora. Each and every one of us is pathetic."
Fartaag's thoughts began to ricochet. How could Somalia be fixed? The UN were "rubbish," but maybe Britain and America could get together and set up some sort of "soft colony," putting their own officials in to oversee each ministry. He began criticizing Somalia's new president, a quiet professor named Hassan Sheikh, who had chosen to stay in the country during the wars, working for several international aid organizations. Some believed the president was now beholden to Islamists.
"Honestly speaking, I still prefer Tarzan to Hassan Sheikh," Fartaag said abruptly.
The comment came out of the blue—as if he couldn't get the mayor out of his head.
"You mean you'd vote for Tarzan, after all you've said about him?" "I swear to God, I would vote for Tarzan. Because . . . Now I'm going to contradict myself." Fartaag paused for a moment to collect his thoughts. He wanted to make it clear that he could only support Tarzan if he could prove he hadn't stolen any money. But still, by saying that, he was now admitting it was a possibility.
"The guy has guts. He's lived abroad. He's enlightened. He's someone I could . . . I could . . . I could . . . I could accept to be at the helm of the government."
It was dark by the time I walked outside. I caught a cab by the petrol station across the road and we crawled off into Nairobi's traffic. I sat in the front seat, trying to work out what I'd just learned. Fartaag's vivid, self-flagellating sense of disillusionment rang true. Somalia had lived by its own set of rules for so long that corruption seemed almost hardwired—like a logical, functioning system rather than an aberration. But where did that leave Tarzan? Again, Fartaag's own furious ambivalence seemed to make sense. Maybe it was as close as anyone could get to the truth. It would be several months before I would sit down with Tarzan in London and try to get some answers.
All this time, Mogadishu continued to grapple with its own feverish contradictions. Impromptu cement block factories were popping up in empty courtyards to cater to a housing boom. New universities and dozens of small private schools were opening up. Modern hotels, too. But Al Shabab seemed more active than ever, launching a string of bloody assaults on government buildings and hotels and taking the blame for the hit-and-run assassinations that erupted almost daily on the city's increasingly traffic-clogged roads.
From THE MAYOR OF MOGADISHU by Andrew Harding. Copyright © 2016 by the author and reprinted with permission of St. Martin's Press, LLC.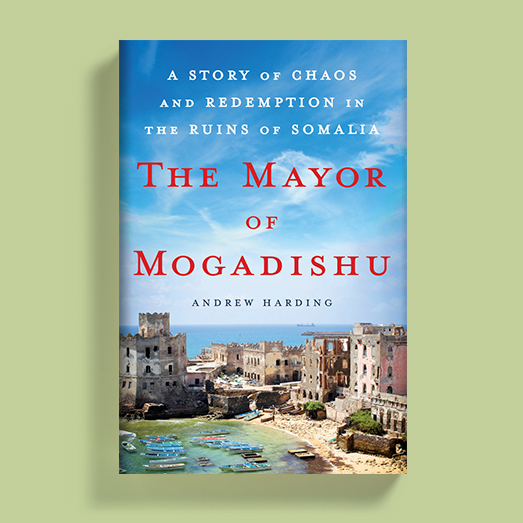 Andrew Harding has been living and working abroad, as a foreign correspondent, for the past 25 years, in Russia, the Caucasus, Asia and Africa. He has been visiting Somalia since 2000. His television and radio reports for BBC News have won him international recognition, including an Emmy, an award from Britain's Foreign Press Association, and other awards in France, Monte Carlo, the United States and Hong Kong. He currently lives in Johannesburg with his family.
Read more at Thought Matters. Sign up for originals essays, interviews, and excerpts from some of the most influential minds of our age.
Calling all HuffPost superfans!
Sign up for membership to become a founding member and help shape HuffPost's next chapter