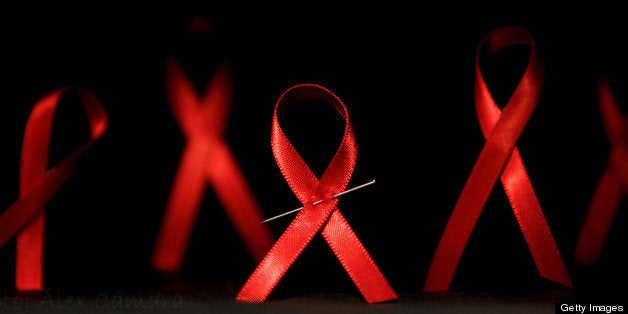 I have lived in the US for 25 years but somehow I am still resolutely British. Its good because I get much more airtime being British than fitting in. Indeed at least 20 times a week someone "loves my accent" and gives me special attention.
As an AIDS and Child Rights activist I am bored senseless with the standard charity events and for that reason my new glorious fundraiser will be held at Sleep No More.
I think of myself as someone who is always looking for the next creative thing to be excited about and look to break the rules. When President and Founder at Keep a Child Alive my campaigns were always controversial, from "Drug Dealer" to "I am African" to "Digital Death" and "Buy Life." Sleep No More totally fits the criteria. It's probably the most original thing I have seen in 10 years, an extremely creative mash up of Macbeth and Film Noir. The Creative brains behind this production are British too, an amazing outfit called Punchdrunk and frankly that's how you feel at the end of it.
Again, I wanted to reinvent the way in which the two organizations I reside over now fundraise. I managed to persuade the amazing producers at The McKittrick Hotel, the home of Sleep No More, to let us take it over for one night to spread our message and prove that charity chicken events do not have to be the norm. They graciously agreed and on May 30 we will be asking friends to dare to wear the mask and go on the journey that is so original one has to gasp for breath at the end.
Full of outrageous twist and turns and mystery, Sleep No More is just exactly what most people don't want at a fundraiser -- anonymity. People like to be seen to be doing good. But that's what makes it so cool. You may have taken that journey with Bono or Hugh Jackman but you will never know until the masks come off. After being immersed in the most aural, visual immersive genius of the "play" you then get to chill out or dance your ass off to some very cool music and spend all your savings at our Auction.
But I can assure you will not be bored. You'll be transported to the 30's big band era, or to a Castle in Scotland or to Bed Stuy in the 70's or to the luscious rhythms of Santigold in the now.
So if you want to see the best thing happening in New York City just a week or so away, and help us end AIDS, TB and Malaria at the same time as we launch our new endeavor, Endgame, be there. It's curtains for AIDS if we all get involved.
Leigh Blake is the President of ACT V: The End of AIDS and Arms Around the Child. Both organizations are launching Endgame -- the campaign to defeat AIDS, TB and Malaria.
Related
Popular in the Community