Are meal kits just a trend?
Delivered meal kits have been around a few years and I'm really not an early adopter of the concept. Some of my friends subscribe to meal kit plans and like it. Even some college students (friends of my son) are doing this, so I agreed to give it a try.
Each shipment contains fresh ingredients that are delivered to your door so you can have a home-cooked meal that is prepared by you. There are a lot companies that offer this service -- the most commonly known are BlueApron and HelloFresh. The field is competitive and the market is growing.
So which company did my family try out? FreshRealm. They were founded in January 2013 and are based in California. The three things that make FreshRealm stand out to me are: (1) a membership is not required; (2) the ingredients for the recipes are prepped: pre-cleaned and pre-measured; and (3) the ingredients are delivered in a reusable vessel (17" cube) with 5 drawers that are insulated. Each drawer includes an ice pack. It's basically a square cooler/mini-fridge.
The recipes come from partnering with "Tastemakers" that have existing content to share, such as Real Simple, Cooking Light and MOMables. The food is prepped at two distribution centers right now. The first center is in Sacramento, CA and the other is New Jersey. There are plans to expand into the Midwest.
The manner of packaging didn't require me to pull out some scissors to open a corrugated container. I just removed the tamper bands, opened the latches and the door came off easily (held on by magnets). With the first order you get a reusable carrying bag to unpack the prepped meal ingredients and simply leave the vessel by your front door so that FedEx can pick up the next day.
It's not a big deal for me to clean and chop everything, but receiving the ingredients already prepared did save on time. You do have to recycle the individual plastic containers that the ingredients are shipped in, but don't have to recycle a big cardboard box each time with FreshRealm.
My family used the "filter" feature to choose and order our meals. It's a great idea and speeds up the recipe search. The filters currently search by type of meal (dinner, lunch, breakfast), meal cook time or by type of protein. I opted for a vegetarian falafel meal that I have never made at home before. FreshRealm doesn't offer a filter for organic or non-GMO lifestyle options right now.
Four meal plans were ordered, one chosen by each of us. The recipes were closely followed, except me of course because I have to Brigittize everything a little bit. My oldest son did have a little mishap with the blender while he was making his cream of mushroom soup. Let's just say the heat made the lid pop off and we had some mushroom soup spray on the cabinets and counter. Oops!
My sons haven't been enthusiastic about cooking before. It turns out this was a great experience to teach them about cooking. This was an opportunity to let them try different types of food and be in charge in the kitchen too.
We actually talked about the process after, what they learned, and how they might tweak the ingredients like mom did. They liked knowing which ingredients went into their meal and want to try again.
I don't see this meal kit movement going away anytime soon. Especially if college students and twenty-somethings find it beneficial.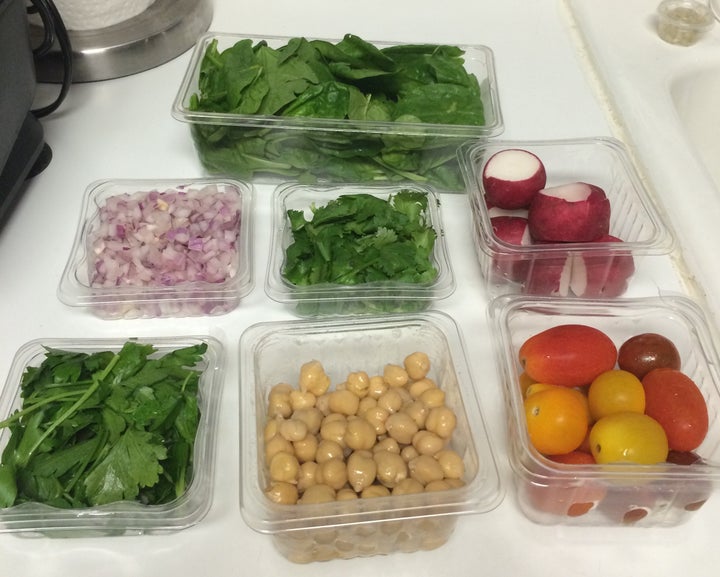 Support HuffPost
The Stakes Have Never Been Higher
Related
Popular in the Community