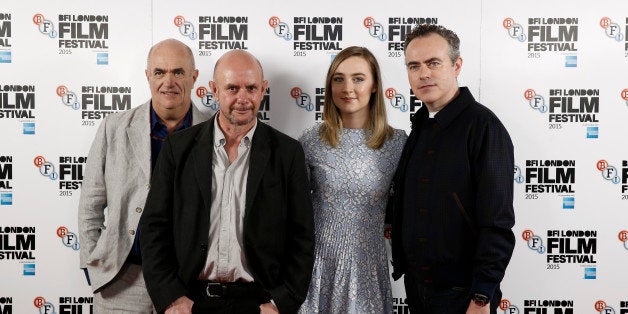 If you want a reminder of what America has always been about, and may be in danger of losing, you should watch Brooklyn. You may have to wait now for it to arrive via video on demand or DVD, but it's worth the wait. It's based on an excellent story by Colm Toibin set half a century ago. An Irish woman in her early twenties is forced to leave her home in Ireland to seek work in Brooklyn. It's not only a deeply moral tale about making good choices in the pursuit of happiness, it's also a beautiful portrait of Western culture's vital cultural fiber in the years following the Second World War.
The story in the foreground is very moving. It draws you into the sense of this woman's immense personal sacrifice involved in choosing to come to America. She must leave her sister with full responsibility for the care of their aging mother. And as she arrives in America, she already mourns the loss of them both. The gravity of her loss runs throughout the entire movie as she struggles with homesickness and self-doubt. It is no easy thing to leave everything and everyone you know for a strange new land, even if your new land is full of opportunity. Her move is driven by the need for a job--Eilis can't find work in Ireland. In Brooklyn, she begins working as a clerk in a department store almost immediately and slowly learns the ropes. In an economy where such opportunities were plentiful, there was no reason for her to expect anything but a better future once she was admitted into the country. For anyone willing and hard-working, a new and better life was almost inevitable; it was taken for granted. This movie is a time machine that puts you back into the middle of that world, full of hope and growth and a real chance for happiness. In other words, what used to be the essence of America.
You can't help but feel your own heart ache with a sense of loss when you peek back at the way people lived--and wish it were still true in the 21st century. This nation was growing and thriving at the outset of our cultural and economic golden age (roughly from 1945 to 1975). Jobs were plentiful, our sense of right and wrong far more refined, and people drew guidance and hope from family and faith. It formed a matrix of personal responsibility and economic growth, each sustaining the other. The boarding house where Eilis finds a new home is almost a substitute for her family. The woman who runs it rules over her dinner table with a strict but friendly sense of order and becomes a respected figure who keeps a close eye on the mores of her female boarders. None of them find this oppressive. They enjoy her company and her care. Ellis begins dating a young Italian plumber whose family is portrayed as funny, smart, caring and full of life and hope, Before Eilis returns to Ireland after her sister dies unexpectedly, she marries her boyfriend in secret, so that back in Ireland she's faced with an excruciating choice of abandoning the husband--and returning to the village where she grew up--or returning to her new life, fully committed to a new future. I've rarely seen such a quietly convincing picture of America's unique role in the world as a place where someone can make a new life, become a new person, and find a sense of personal freedom and responsibility not available elsewhere.
In our current, jaded culture, all of it may sound as if this old-fashioned story might be low on drama and action, but it's immensely suspenseful. Saoirse Ronan's portrayal of the protagonist is arresting and it draws you deeply into her anxieties and concerns. It's a deeply felt performance that allows you to sense depths of character and compassion in Eilis through the young woman's slightest gesture. And through this one character's moral strength and determination, you glimpse an entire way of life that's been slipping away over the ensuing decades. This movie is a wake up call for anyone concerned about the loss of America's engine of economic opportunity or our drift from the most basic cultural values. You'll leave the theater wanting to make America a place of genuine opportunity again both for those now out of work as well as for all the immigrants who desperately want the chance to work hard for a better life here.
REAL LIFE. REAL NEWS. REAL VOICES.
Help us tell more of the stories that matter from voices that too often remain unheard.