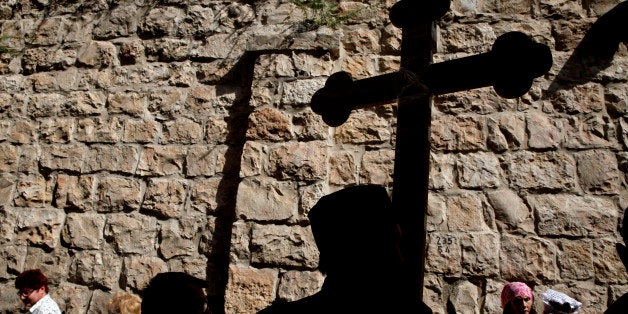 This is the most difficult day in the Christian liturgical calendar. We are asked to stop and bear witness to the suffering figure on the Cross. Bloody and pierced, Jesus hangs with onlookers staring in grief and fascination. Our gut wants us to look away, even if we can't stop staring. Our hearts want us to move as fast as possible to the hope reborn on Easter. But the discipline of this day, is not to move past it -- not to let it go as quickly as we can. It's to allow it to seep into our hearts -- to face the reality of the death before us. Redemption in the story comes later -- but this day marks not hope, but clarity. Not relief, but purpose.
What is this death? The Cross returns to us again and again in our lives. When we bear witness to the child or the teen shot dead because of the wrong time, or the wrong place, or the wrong color, or the wrong class. The Cross is there when society looks on in fascination or horror and stands paralyzed to act -- only enabling the crime to occur again and again. There is no hope when we see this -- but we can pray for purpose.
The Cross returns to us with our culture of shame -- our culture of rape. Women being blamed for the very crime that was done to them. Voices that seek to silence her worth to save the faces of other men who's lives might change because of their crime. There is no hope when we hear the propaganda, but we can find clarity.
The story of the Cross is not a myth to ease our fears of the afterlife. It is not solely a tale of someone making a sacrifice for our good -- or our ease -- for our comfort. The trial of the Cross is an indictment to each of us. Horrors happen in this world. The lynching trees of our history and our present can't go away by just wishing them so. We must first face them. We must first accept that they are here -- in our lives -- in our neighborhoods. There is a cross that hangs on the corner of the street -- on so many streets.
Inertia. Apathy. Numbness. They can plague us sometimes. With the barrage of so many stories of grief, of loss -- we can succumb to hopelessness. We can ignore them all, by throwing up our hands, and saying, "Not one more thing. Not me. I can't fix it all. So I won't begin anywhere." That's the warning of the cross. You won't be able to fix it all. ... That's the truth. The Christian message doesn't say we can fix it all. It says we have to act where we can. It says -- "On this day -- Don't look away. You need to see this. There is something that can be done for the person before you. For the Cross on this street corner." You can choose to be the soldiers dicing over the garments of the man on the Cross, or you can be the onlookers gaping in mute horror, or you can be the women at his feet who care for the body and quietly resolve to change the world as best they can -- to live their life in memory of a man killed by worldly powers and worldly privilege.
This is why we commemorate the life and death of Jesus this day. There are some things worth living for; there are some things worth dying for; and there are some things worth remembering.
REAL LIFE. REAL NEWS. REAL VOICES.
Help us tell more of the stories that matter from voices that too often remain unheard.