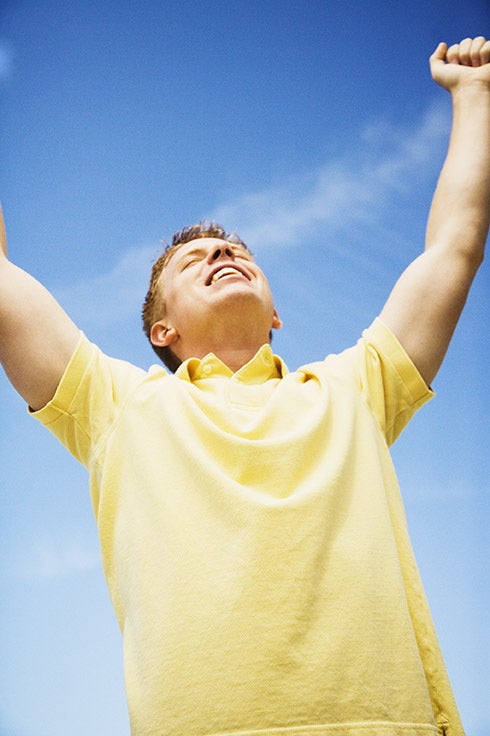 The final line in my book about life balance for physicians is "Balance is knowing that today is a good day to die; that you have lived fully, lovingly, and without remorse." Since I wrote this many years ago, I have taught this notion that today should be a good day to die; yet what you say and what you do when the rubber hits the road might be different. When I was diagnosed with a "bad" cancer, I was somewhat pleased with the fact that I didn't have fear of death and that, in fact, it might just be a good day to die.
I began to ask myself , "Why wasn't I afraid? Was I deluding myself with new age sounding spiritual B---- Sh--? Was I in denial about my own mortality? Or, was it real? Over the next week, as I dove into being the 'cancer guy', I realized that this wasn't a delusion, BS, or denial. I really was OK with it all.
The next question for myself was; how did you get this way? I know I was born an anxious guy from New Jersey and this mentality was not part of my upbringing, so I must have learned it. The teacher inside of me got excited. Anything that can be learned can be taught.
So what are the magic ingredients that can be taught? As I sat with this question, two simple ingredients came to mind; Gratitude and Acceptance. Gratitude for the people, things, memories, emotions, and events of your life and acceptance that you really have no control over most of it. (You can choose what is for diner tonight.) I will address acceptance in the next newsletter/blog and will focus on gratitude here.
Most people experience gratitude in their lives, either around gifts, friends, kind acts, or sometimes just a good meal, but how much time do you spend, each day, being grateful for these things? Do you make it a practice? If not, a very simple suggestion; each night write down 3 things that happened that day that you are grateful for. It might be someone you met that day, a simple conversation, a hug , or a polite act on the part of another. It may even be that you are grateful that you had the chance to do something for someone else. Practicing gratitude at this simple level trains your mind to find gratitude in the simple things. Once your attention is on things to be grateful for, you automatically stop looking for things to be pissed off about. Over time, this becomes a way of being, not a practice.
By practicing gratitude each day sweet things begin to happen. A few weeks ago, a friend of mine in North Carolina (Mark R.) and I had a sweet late night text message conversation, which led to us each toasting each other, 3000 miles apart. Another friend (Saori K.) is bringing over sushi to Kathy and me tonight, while I lay in this crumpled up bed. And the funniest of all, my sweet friend Mark S. in Pittsburgh asked me a few weeks ago what band I would most like to see. My response was the Beatles (not likely at least until I am on the other side.) He said, "Would you like to meet Paul McCartney?" I said, "Sure," knowing that this was an impossible task for a guy who is not in the music industry and a difficult one even for those who are connected. He called me yesterday to tell me that he was working on it and had a plan. I was laughing my butt off with delight. What I realized was that whether I met McCartney or not was not important . (Sure it would be a blast!). What was important was that I had a friend out there who would go to this length to do something for me. So meeting McCartney may be cool, but going with Mark to meet Paul would be the best. Worst case, sitting and watching a McCartney DVD together and laughing about how Mark tried would also be a hoot. These are a few examples of the many sweet moments of the past few weeks.
If you find yourself saying something like, "Well you just have great friends. That's why you can be grateful!" I would agree, but I also know that I have great friends because I am a great friend. I cherish and nurture my relationships, I make people laugh and I am there for fun and sorrow. Most importantly I know that anyone of us can do this. I also know that sometimes being a great friend is to be firm with someone and not be co-dependent. Being a great friend also means being vulnerable, being human and letting people take care of you when needed. This can be a challenge for some.
My belief is that if you become a great friend, each night you too can go to bed and count your blessings. Give it a try. What is there to lose? What if you could also begin to let go of a need for control (acceptance or letting go) to this mix? All of a sudden, life becomes lighter, more fun and pleasurable.
This, then lead to an important question - is more better? If I see one more great rock show, does it matter? If I have one more great meal, does it matter? Does one more hug matter when life is already feeling complete? If I live on more year, does it matter? When each day is full, more might not be needed. Then today might, in fact, be a great day to die, but it will also be a great day to live! And you may never know which it will be...
If you are interested in interesting data pertaining to the practice of appreciation/gratitude, see HeartMath.org. They have done years of research in this area and I won't go into it here.
I also want to extend my heart to Dean, Marty, Mitch G., Andy W., the Silberman gang, Sandi and Sandy, Glenn and Ronna, Toni and Jaime, Mike K., Joanne and Bon, Lisa and Al, Bertrand, Peter L., Julio, Zjelko, the students and residents who have reached out, my fellow board members at ABIHM and IONS, the family medicine department at Touro, Arch, Katie, Tom, Kaye, The gang at AFRMD, Kate, Rick and Katherine, Peter and Allison, Nita and Lou, Ron and Ron, Mimi, Rauni, the Julie and the Scripps conference team, Anne and Eric, the rest of the biker chicks, Sally, Clifton and Ziggy, Barry, Larry K., Scott and Sue, Quinne and Kari, The Drake parents, The AHMA crew, Ron, Steven and The "q-tip" man, JONBENCH and his lovely wife, Suzi A., Ricardo, Lenny and Mel, Melanie, Will L., David G., Bernie S., Sam K, Mike S. and to my the many others who have extended a hand in this time of need. And of course, my folks, my sibs and Kathy, Cheryl and Will.

Related