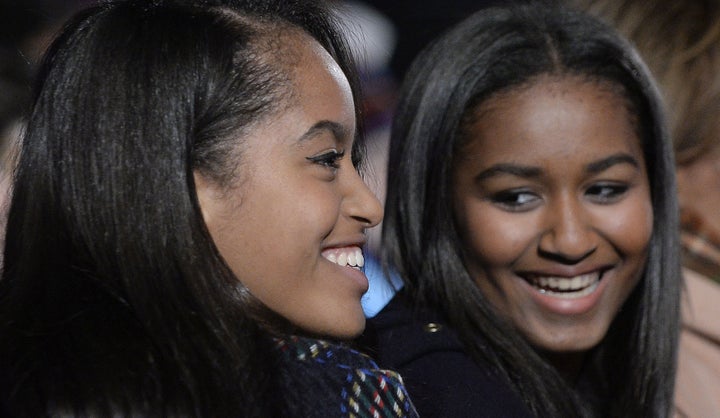 The sisters shuffled their feet and crossed their arms while their father carried out the novel ceremony. They sighed and rolled their eyes at his corny Dad jokes. They acted like two normal teenaged girls.
But everything from their demeanor to what they were wearing was unacceptable to Lauten, who wrote in an open letter:
"Dear Sasha and Malia: I get you're both in those awful teen years, but you're a part of the First Family, try showing a little class. At least respect the part you play."
Lauten chided them for "making faces during televised public events," and criticized the above-the-knee skirts they wore (over tights), advising them to "dress like you deserve respect, not a spot at a bar."
Two years later, in September 2016, footage of Malia Obama smoking an unknown substance at a concert, drinking and dancing suggestively drew instant criticism. Malia, a young women who graduated high school at the top of her class and is gearing up to attend Harvard this year, was suddenly public enemy #1, a deviant and a bad role model. There were calls for an apology.
Days after, her tongue-in-cheek response was wearing a snarky t-shirt that said "smoking kills." (This got criticism too).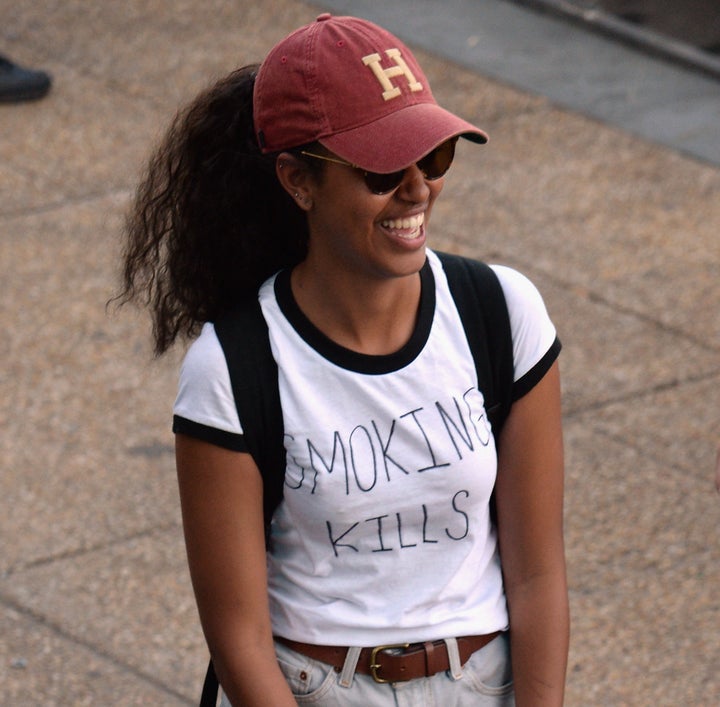 Welcome to being a young black girl. Black girls, whose bodies are sexualized before they even get to discover their sexuality. Black girls, who are forced into boxes of angry and aggressive, strong and independent. Black girls, who grow up being told they are not beautiful, or worthy.
For eight years, we've watched Malia and Sasha grow up from two little black girls, both a little awkward, with frizzy hair and toothy smiles into two beautiful, capable young women. Somehow, they have managed to thrive in spite of growing up in a literal fishbowl. They've managed to become, as both of their parents have often said, two "kind," "thoughtful," passionate women. And for that, they deserve all the praise in the world.
No, they didn't run the country or personally organize initiatives to let girls learn. They may someday. But the mighty feat that they both accomplished was merely in growing up. Growing up is hard. Growing up in the White House, presumably makes things even trickier. But what about growing up a young black girl in the White House?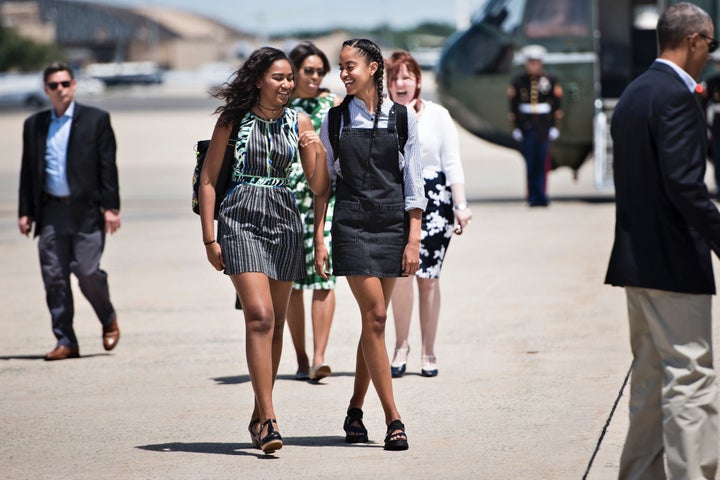 What is it like to be told to "have some class" just for being yourself? What is like to see your father burned in effigy? To hear your mother compared to a monkey and ape? It's an incredibly unique experience. An experience that probably challenged and exhausted them, an endurance test in continuing to be a decent person in the face of indecency. It's a unique experience that, thus far, only Sasha and Malia have ever known.
The image of Malia Obama rising to her feet and joining a stadium full of people as they gave her mother a standing ovation at her father's farewell address is one of the most poignant moments of the entire Obama presidency. It's in that moment you see how these two women made it through, though Sasha was absent ― studying for a test, the White House says.
There has to be something incredibly profound and motivating to watch your father, a black man, the president of the United States, honor your mother with such respect and admiration on a daily basis.
The beauty of that moment was that not just the Obama daughters were experiencing that ― so were millions of other young black girls. When has that ever happened in America? When will it happen again?
Before You Go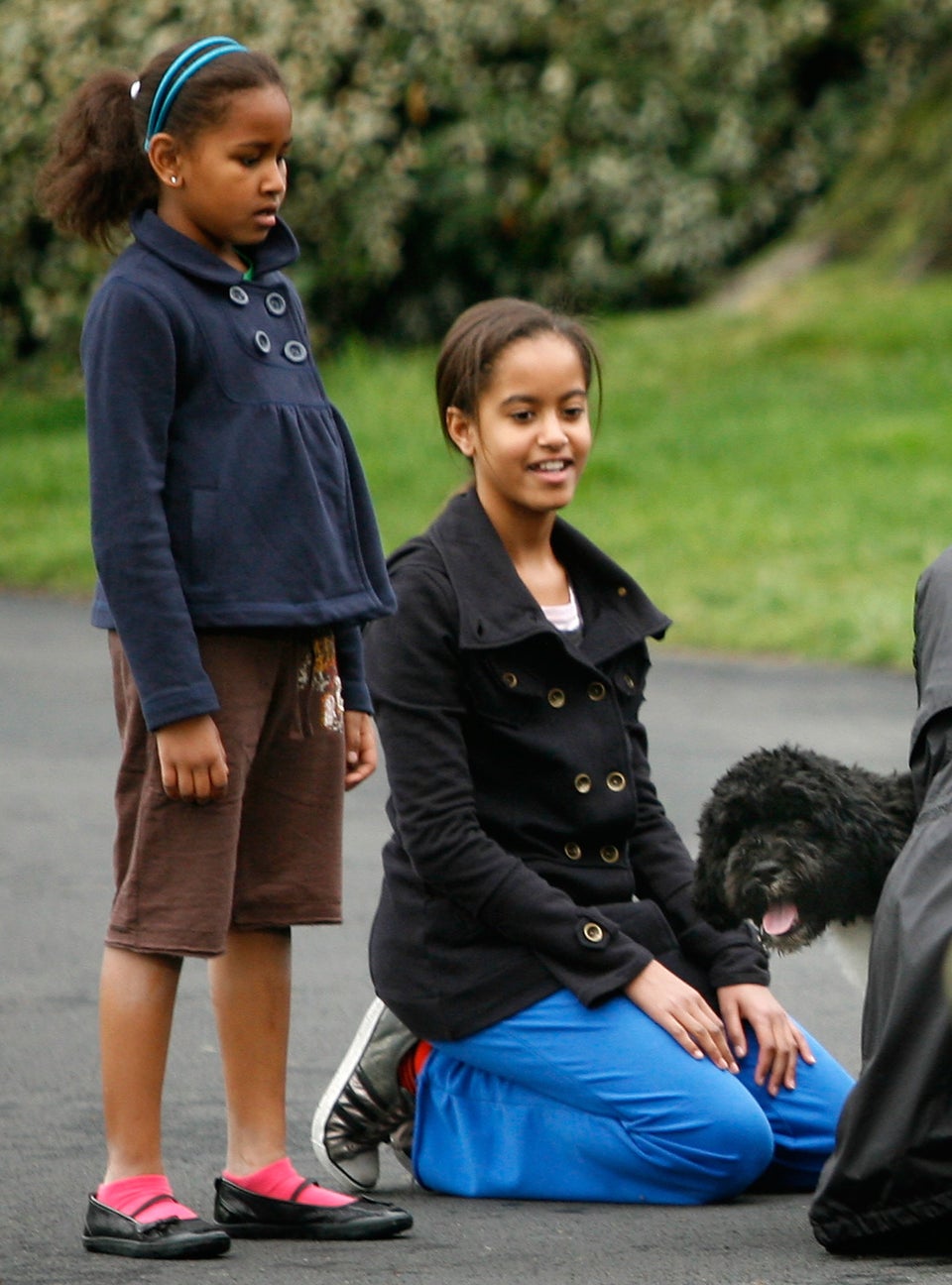 23 Times Malia and Sasha Obama Slayed The Fashion Game
Popular in the Community