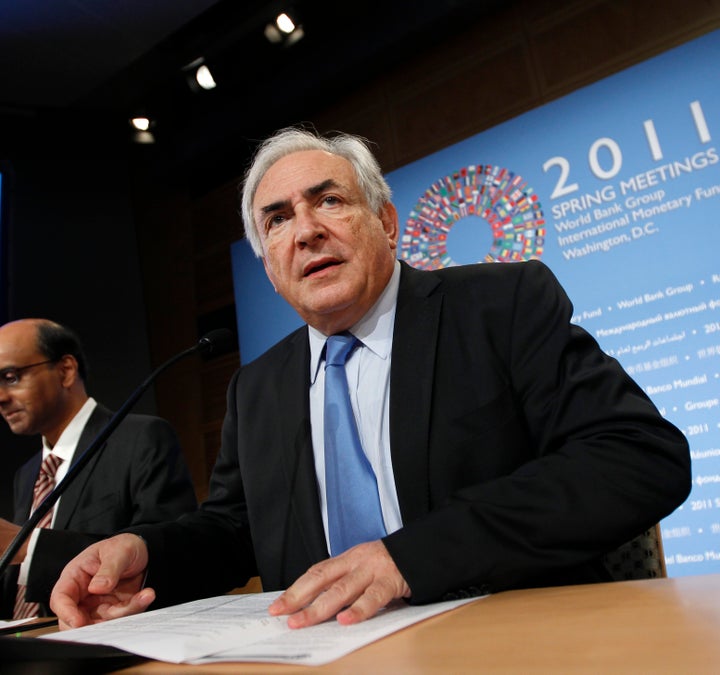 Thanks to then Embassy of France to the U.S. Minister-Counselor for Economic Affairs, and now recently returned Embassy Minister of Finance, Jean-Francois Boittin, I met Dominique Strauss-Kahn for a one-on-one meeting in 1998. Boittin, working single-handedly to correct my over-familiarity with Asia by a productive junket to Paris, said "You must experience Strauss-Kahn; there is no one else like him in France, and perhaps the world."
As France's Finance Minister, when I met him, Strauss-Kahn had emerged in the French Socialist party as its leading, sometimes reluctant, sometimes bullish globalist. Europe was hard-charging into deepening its internal arrangements, and Strauss-Kahn had helped engineer technically and politically his nation's forfeiture of the French franc and the embrace of the Euro.
But Strauss-Kahn was never a manic neoliberal nor is he what financier George Soros derisively calls a "market fundamentalist." Strauss-Kahn, even when we discussed his views of the global economy in 1998, was a storm of contradictions that nonetheless made sense.
He could see deeper global economic dependencies growing and simultaneously increasing the speed and scale of financial transactions but in contrast to the U.S. ruling triumvirate of Robert Rubin, Lawrence Summers and Alan Greenspan, Strauss-Kahn believed in healthy and robust regulation and monitoring. Strauss-Kahn has always been concerned about the human and national victims of an amoral global economic order.
In 1998, Strauss-Kahn said that there was much to admire in what was happening in the U.S. with the boom in information technology and the inspirational aspects of what President Clinton was trying to sell as benign U.S.-led globalization, but Strauss-Kahn feared that America was blind to the downsides of economic deepening around the world and needed to be careful of turning globalization into a religion.
In so many ways, Dominique Strauss-Kahn's thoughts were highly prescient about the instabilities being cooked into an evolving global economic system in which manic deregulation and the triumph of markets were going to bring serious challenges.
Strauss-Kahn has long been the living embodiment of an ideological hybrid between Milton Friedman and Joseph Stiglitz, two antagonists profiled in journalist Michael Hirsh's Capital Offense: How Washington's Wise Men Turned America's Future Over to Wall Street. And this is what the highly regulated world of French socialist-capitalism needed, and also what the world needed and got when Strauss-Kahn became Executive Director of the International Monetary Fund.
Given the global financial crisis of 2009 and the many foreshocks of that crisis that have been brewing around the world in earlier years, the IMF -- if to survive -- needed someone who would be able to convince the new growing major economies like Brazil, China, Turkey, South Africa, Saudi Arabia and India that the IMF could partner with their aspirations and regional financial needs rather than be a rival to them. Dominique Strauss-Kahn, during his tenure at the IMF, has largely achieved this and helped steer the institution and the world through the rough currents of large scale financial deleveraging.
At the inaugural meeting of the Institute for New Economic Thinking, co-founded by George Soros, held at King's College in Cambridge, England where John Maynard Keynes used to reign, Strauss-Kahn spoke as one of the keynote speakers. As his remarks began, anti-IMF protesters had broken into the hall and hung a banner over the stage in front of 200 or so surprised economic thinkers and writers. I was in the second row and snapped the picture at the side, which I quickly fed to Arianna Huffington who in turn had it up as the lead on Huffington Post in about three minutes.
What followed was magnificent. Strauss-Kahn showed no fear at all of these protesters whom he engaged in discussion. He asked them to make clear their concerns -- to use his stage to articulate their core fears and demands and make this time that they had taken count. Unfortunately, the folks hanging the banner were not those most intellectually in tune with the protest and they ran off after he asked them to speak. I communicated with the protest leaders later and have no doubt that they would have done well in responding to Strauss-Kahn, but the key then is that he actually did think they should be heard and that the elite who had assembled in Keynes' former halls should not forget the voices of those worried about the impact of global economic policy making. It was a powerful moment, deftly managed by Strauss-Kahn.
Strauss-Kahn's latest IMF patient has been Greece, helping it to work through its debt nightmares. Virtually everyone gives the IMF Director high marks for his ability to keep in mind human faces when sorting through and dealing with the tough disciplines wrought by globalization.
I know nothing of Strauss-Kahn's rumored aggressiveness towards women and think that President Nicolas Sarkozy is right that he should be presumed innocent until the charges against him for sexual battery are sorted out. Nouriel Roubini has publicly speculated that it can't be discounted that this may be some sort of a set up. I won't speculate one way or another as I think at the time of this writing, none of us know the truth of what did or didn't happen.
What is clear is that Strauss-Kahn, who is one of the few major economic gladiators in the world to defend the rights and privileges of people, is human himself. We sometimes forget that.
If his political career is cut short by the revelations that he assaulted a woman in New York's Hotel Sofitel, that would be a true loss for France and the world in my view -- not necessarily because his faults should be overlooked. They shouldn't. But because his defining role in globalization -- the meaning of Strauss-Kahn -- is vital to a world that is still trying to sort out what form of capitalism it can live with.
Popular in the Community