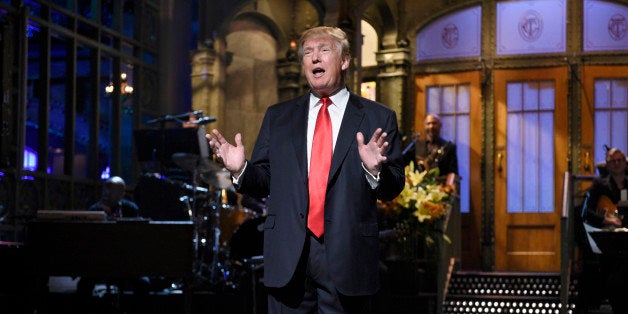 Whenever I think Donald Trump's campaign rhetoric couldn't get any stupider, it does: Send all 11-million illegal immigrants home? Build a beautiful wall on our Southern border, and make Mexico pay for it? Temporarily ban all Muslims from entering the United States?
Trump's ill-conceived, flimflam ideas never seem to hurt him. In fact, they have propelled him to GOP frontrunner status, which has happened with the full cooperation of the mainstream media.
According to a recent analysis of the alphabet networks' evening newscasts conducted by "The Tyndall Report," Trump is "the most newsworthy storyline of Campaign 2016." Between January and November, ABC, NBC and CBS devoted 234 minutes to Trump, while Marco Rubio, Ben Carson and Ted Cruz, combined, merited only 83 minutes. (Other network news programs, and cable-news shows were not analyzed.)
Most Republican primary voters believe the mainstream media favors the Democratic party and liberal ideals. That's especially true of Trump's supporters, who now comprise 35 percent of the GOP electorate, according to the latest CBS News/New Times Poll.
I happen to agree with them, based on my experience at NBC News and CNBC where I worked as a producer for a decade. However, the usual pro-Democrat media bias doesn't apply to Trump. Because he isn't the usual GOP candidate. Why? It's the fame, stupid. Trump is a real, honest-to-goodness celebrity, which makes him American royalty. Celebs get special treatment, even from the media.
Trump hosted NBC's hugely popular shows, "The Apprentice" and "Celebrity Apprentice" for 11 years. (In television years, that's known as eternity.) He's the guy who made "You're Fired" a household phrase. Before that, he was already a well-known real-estate mogul. Even Hillary Clinton can't...ah...trump the Donald in the VIP world.
Add to that Trump's experience as a presidential candidate. As a former co-producer for Jay Leno's "Tonight Show," I frequently booked Trump as a guest, and worked with him. When "The Apprentice" began airing in 2004, he launched a...wink, wink...presidential campaign on "The Tonight Show" and other programs, which lasted until 2015. This was nothing more than a front to promote his show. Even so, it established him as an even bigger celebrity, as well as a believable presidential candidate.
Trump's star status gives him an incalculable advantage: When he announced his intention to round up the 11-million illegal immigrants in this country and deport them, he called some undocumented Mexicans murderers, rapists and drug dealers. If any other presidential hopeful--Republican or Democrat--had said this, the media would have hammered that person mercilessly and repeatedly as a racist, effectively ending the campaign.
The media loves doing stories about hypocrisy, and I can't think of a better example than NBCUniversal. The Peacock Network self-righteously announced it would no longer air the annual Miss USA and Miss Universe Pageants, which it co-owned with Trump, and that it was firing him as host of "Celebrity Apprentice" because of his anti-hispanic remarks. A few months later, the network re-hired Trump to host "Saturday Night Live," despite outrage from hispanic organizations.
Why the one-eighty from 30 Rock? To quote Trump: "It's called ratings." Indeed, his SNL appearance in November resulted in the show's best numbers in four years, even though Trump's performance was universally panned.
"The Hollywood Reporter" blamed the writers for providing subpar comedy sketches, but their hands were tied because Trump had veto power over the bits he would do. While this is routinely done for guests on SNL and other late-night comedy shows, the bigger the name, the more veto power. And Donald's name is, well, huuuuuuuge!
To be fair, SNL doesn't pretend to be anything but a comedy program, unlike ABC's "20/20," which does pretend to be news. That show recently devoted its entire hour to Trump, his supermodel wife Melania and their family. Host Barbara Walters subjected the couple to "tough" policy questions, like whether Melania's early modeling photos, showing partial nudity, would be a liability to the campaign.
Then there are Trump's television news interviews. All of the shows, except "Fox News Sunday with Chris Wallace," allow Trump to do them by phone, while other presidential candidates are required to show up in the studio. Occasional exceptions are made for Clinton, the leading Democratic presidential contender.
This gives Trump a big advantage. He can do numerous television interviews from his office, extending his reach far beyond what his competitors can do. And he can rely on aides and notes, which cannot be done in a television studio.
Donald Trump didn't become the frontrunner because of his brilliant vision for America. He has no vision. He doesn't even have a cohesive political brand, to use his favorite word. That makes him a charlatan. It's time for the mainstream media to stop enabling this Wizard, and start paying attention to the man behind the curtain.
Related
Popular in the Community