Since roughly 2009 I've been documenting what I've coined the mediaquake, its tremors reverberating within the television, advertising, feature film and music industries, among other sub-industries. This evening, May 18, 2014 marks a day when the mediaquake is accelerating and taking a detour through space, thanks to at&t, now a major mobile carrier in the US after different incarnations, buying satellite tv provider DirectTV for close to $48 billion.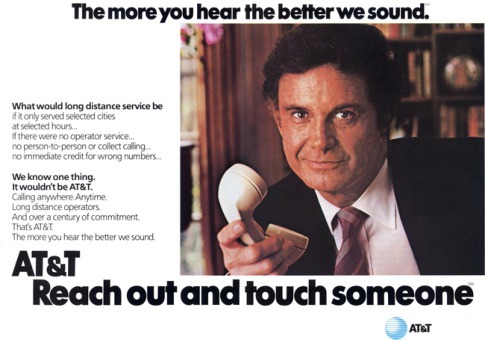 Circa the early 1980, but probably the best copywriting ever in telecoms
The first driver for the deal is not limited to size: at&t claims 250 million mobile customers, DirecTV totals 35 million. The deal is driven by at&t wanted to prove, that, yet again, in the words of Mihai Crasneanu's Greyjuice Lab "Content is King, Distribution is King Kong". at&t, built from the ashes of the trust busting of 1982 that split the Bell system, is ironically paying close to the same amount its corporate predecessor AT&T sold its lucrative cable business in 2001 to Comcast, then number 5 or 6 MSO in the US. Irony aside, this merger, if it goes through, signals a tectonic shift in the media landscape.
The shift it signals, weeks into the Net Neutrality controversy, is that everything old is new yet again, and that telecom and cable monopolies will rule the media convergence era we live in, not the upstarts like Google, Facebook and Apple. As Ouriel Ohayon astutely tweeted tonight: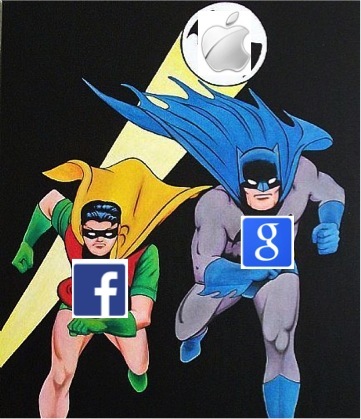 Google, Facebook and Apple, our Silicon Valley dynamic trio, are going to wake up a bit groggy from this deal and will regret to not have strayed from their core businesses a bit. The telecom&cable monopolies strive to own the entire value chain and in time, will dictate terms to the trio that will squeeze their margins, because in the convergence era, he who owns the pipes controls the flow of money. Case in point, the announcement this week by Comcast that data caps will become the norm for their millions of users. These data caps will mean that telecom&cable monopolies will collect their toll as US households are cordcutters or cordnevers in increasing numbers and embrace streaming vs cable boxes. This will lead to ever higher cable bills and frustrated consumers. Yet, this forecasted rise in ARPU will be celebrated by investors and further strengthen the monopolies.
The dynamic trio's entire businesses rest on collecting revenue that is derived from their users accessing the internet, both fixed and mobile and thereby exploiting the telecom&cable monopolies' pipes. The at&t-DirecTV deal signals that these century-old companies will fight for their positions to the death. Google's Fiber experiment in Kansas City shows promise but should have pushed it farther along, and to preemptively protect its business, into acquiring a major telecom or cable player.
Is the dance over for the trio? Of course not: Google could and most probably will expand Google Fiber into major markets; Apple has the largest database of credit cards in the world and by virtue of that, is already for instance the largest VOD distributor in the world; Facebook is going to bypass the telcos with Whatsapp in emerging markets. There are also other mature targets out there, notably the remains of what the FCC mandates stay out of the Comcast-Time Warner merger. Nevertheless, Sprint's acquisition by Masayoshi Son's Softbank and the looming merger with T-Mobile shows that monopolies are resilient. A final comment: given recent US history with monopolies, one wonders who will be this century's trustbusting Teddy Roosevelt and stand up for the consumer....
REAL LIFE. REAL NEWS. REAL VOICES.
Help us tell more of the stories that matter from voices that too often remain unheard.