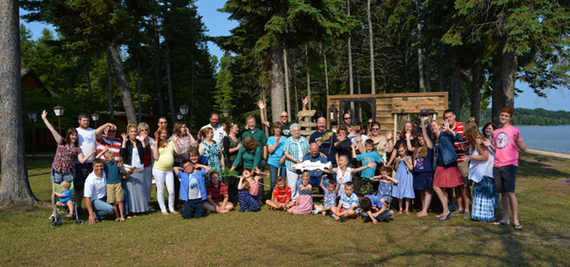 I'm not saying that family reunions are something new but they are transforming into something huge that families across America are getting in on. Mega reunions.
Mega reunions are events that span several days, usually a holiday weekend, and gather multiple generations of family members from all corners of the country or globe to get (re)acquainted, learn about their roots, and start a new tradition that can be carried forward for future generations.
They don't happen every year, in fact, they might only happen once per generation, but these mega events are the new way to cement family ties in an ever expanding and impersonal world. And, I don't know about you, but the older I get the more I realize how important it is to know and love my family. So, I love this mega reunion trend and I want to help make it become a habit for everyone.
You could argue that with video chatting and social networking sites families are closer than ever at long distances. Sure, that's sort of true. We Skype with Grammy and Grandpa every week, but nothing compares to getting the whole family together in person to make memories and get real. The energy of tons of kids running around together and seeing similarities that span generations are simply unforgettable.
It's obvious to me that mega reunions are becoming an essential element to preserving our family histories, knowing our relatives and being proud of where we came from. What families used to take for granted when they all lived in the same town now has to be crammed into one long and incredible weekend. If that's what it takes, I'm game.
Here are some tips on how to throw your own mega reunion:
Take one year to plan the first one.
Identify a core team of family reunion organizers.
Get a head count of attendees as soon as possible.
Long holiday weekends work best for the actual event.
Raise money with fund raisers and by entering contests like the Tinybeans Ultimate Family Reunion contest.
Splurge on a photographer to document the event and to get at least one mega family photo.
Schedule at least one photo-worthy splurge like horse and carriage or pontoon boat rides.
Plan a few events to break up the day like family history (recent or long past) slide show and kid's games.
Set up a backdrop where people can pose for photos with props to make the photos even more fun.
One secure family photo sharing app, Tinybeans, brought one family's mega reunion dream to life this past weekend. I love this story! Barbara Klee of Pemberville, OH decided on a whim to enter the $10,000 Tinybeans Ultimate Family Reunion competition, and won. Four generations ranging from infant to 86 years old and including 28 great-grandchildren and 71 people altogether, showed up. Many actually met at the reunion for the first time! Every living relative of the family matriarch and patriarch, Evie and Clarence Brahier, was there. If that's not mega, then I don't know what is. Just look at that family photo! Priceless.
"It's been the best thing that has happened to us in many, many years- since we've had our own children. It's the finest day of our lives in years. We are thrilled that everyone made it here. It is so fun to see all of the grandchildren and great-grandchildren and is amazing to think that we started all of this." - Evie and Clarence Brahier (86 and 85 respectively), Family Matriarch and Patriarch
And, if winning some money seems like the only way to make one of these happen for your family, then try to win the second Tinybeans Ultimate Family Reunion competition. Judging begins in November so if you download the free app and make your profile awesome between now and then, you might win $10,000 towards your own mega reunion.
I mean, don't you want this photo of your family? I do!