Armitage Gone! Dance will be celebrating the career of one of our most beloved dancers, Megumi Eda, at our Gala on Feb. 5. To honor Megumi, our Board is putting together a portfolio of images created by leading visual artists that will be sold to benefit the company. I wanted to share this incredible process with you by interviewing each of the participating artists about their work.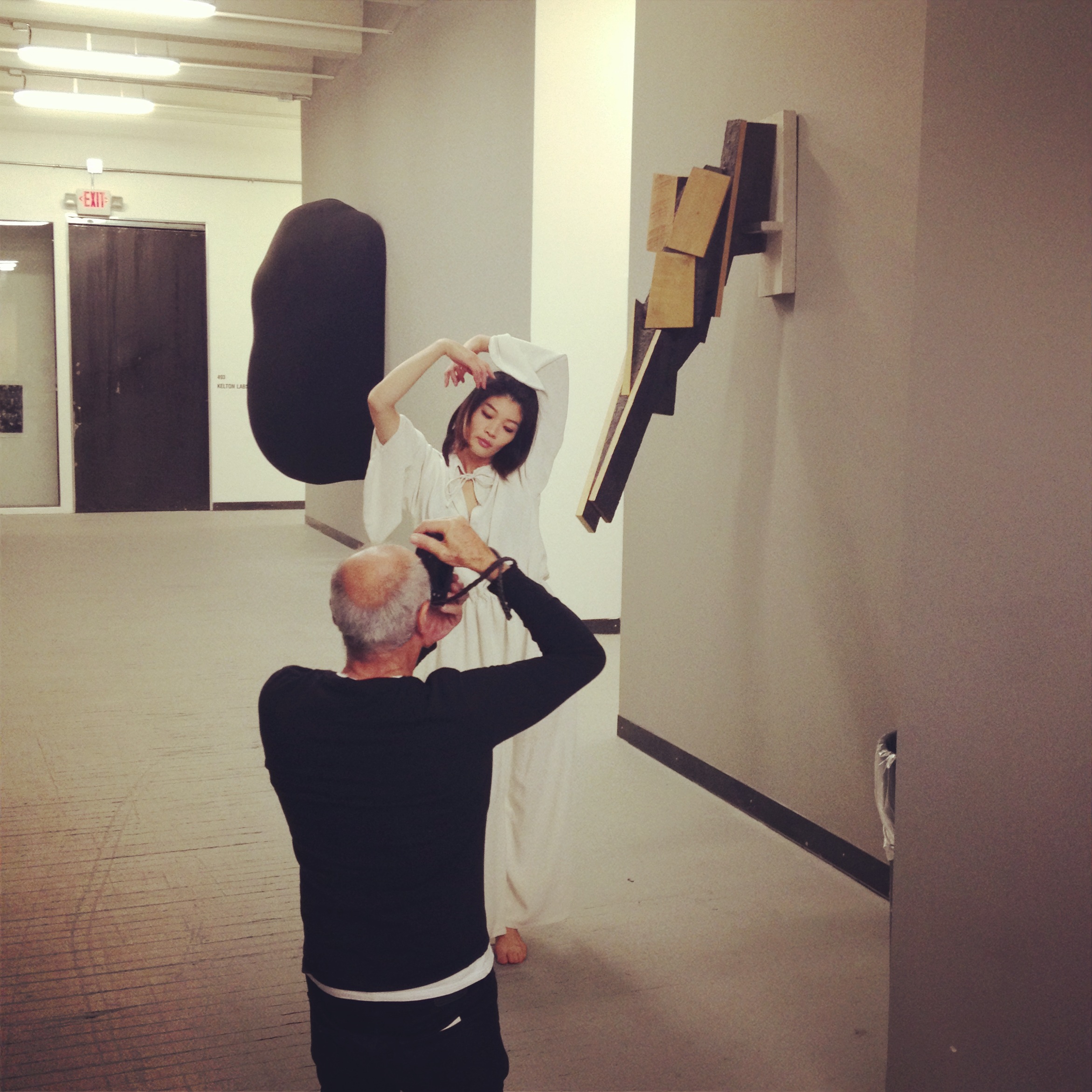 Ralph Gibson shooting Megumi Eda
We start with our first artist for the Megumi Project, Ralph Gibson. Ralph is an internationally renowned photographer with one of the strongest viewpoints in black and white photography, his work is known for its sensuality and juxtapositions and his photography books have been celebrated all over the world through multiple awards. After our shoot with Megumi, I fired through a few questions to Ralph as we sat on the floor of our home studio:
How did you get into photography?
I started out as a young man in the navy, they made me into a photographer when I was seventeen. I had no choice, but then I became very serious about it very quickly. It was my life's vocation. When you have a vocation at seventeen, it's the same as being born very rich.
When did you know that you were going to be a photographer?
I had just come out of photo school and was crossing on my first ship. At 3 a.m., I was standing watch during my first storm, there was rain and sleet and hail, I was freezing. I looked up to the heavens and shouted, "I am going to be a photographer!" So I am still shouting.
What is the best part about the job?
The best part is every now and then (sometimes intervals are great) I get a profound sense of satisfaction.
What's the hardest part?
You never reach closure. I am only as good as my next photograph.
What would you recommend for a young photographer as they are working to establish themselves?
Go into real estate! I don't have any advice for young photographers other than to try to be as unique as possible. Do not try to imitate people they admire. Every young artist always starts by imitating people they admire.
What should people look for when they see your photographs?
I would never answer a question like that directly. The subject matter of the photographs is essentially my perceptual act of the subject, not the subject itself. If I was really good, I could take a picture of your microphone and turn it into a masterpiece.
What is beautiful to you?
I very much enjoy the language of shapes in all things. I like the way those shapes correspond and interact and communicate amongst themselves.
If you weren't an artist, what would you be doing?
It's never occurred to me to be not to be an artist. There would be no other thing for me to do.
What do you want to be remembered for?
I could care less. I didn't become an artist to be remembered. Probably to be forgotten.
REAL LIFE. REAL NEWS. REAL VOICES.
Help us tell more of the stories that matter from voices that too often remain unheard.