By Nana Obrempongmaa Ofori-Atta, WiSci STEAM Camp participant

The melting pot of 9 different countries, diverse cultures and wonderfully unique people has presented me one of the most memorable 3 weeks of my lifetime. Not only was coming to Kigali, Rwanda an opportunity for me but a once in a lifetime privilege to attend a girls STEAM camp. This camp certainly highlighted the need to fight against gender inequality and bridge the insurmountable gender gap that exists all over the world, even till today. This camp has led me to believe in this as I am going to actively involve myself in this battle and tackle the advocacy aspect of this fight.
One thing I value most is the close knit relationships I have built and will carry with me in the future with both students and staff. Our differences and similarities bonded us even further and the challenges we faced always opened up a subject for conversation. Activities like cohort bonding, leadership workshops and different classmates exposed us to new people with different ideas and perspectives which helped broaden my horizon.
Undoubtedly, office hours were one of the major highlights for me. Listening to others share their college experiences, career paths and major life decisions was absolutely encouraging. There was never a simple answer to the question of choosing a career path. There was always a story and more often than not, I could relate to these situations because I'm at the point of choosing my future career. Listening to the humble beginnings of the guests and where they ended up flushed reality right before me. People who studied Astronomical Physics ended up as Marketing Specialists or even interior designers.
Overall, the learning experience was eye-opening. Programming with "Kodu" which is object oriented programming with the Microsoft team was enlightening. My partner and I designed a game 'Kodu goes to Africa' where Kodu had to save the president when the city was under attack by zombies. One fun fact is that our terrain was shaped like the map of Africa! Our hard work indeed paid off as we saw our game run in full action. And it only got better. In week 2 and 3, the Intel team taught us how to work with the Galileo Board and C++ programming. For the first time ever in my life, I strongly considered pursuing engineering. Debugging and writing codes exposed me to the life of a technologist which I consider inspiring although sometimes frustrating. My partner Emily and I were daring, in that we lit three LED lights when only one was needed and we programmed a button to send off a buzzer, taking the class and our instructor Bev, by complete surprise. We also successfully built a car which runs on a programme and even qualified for the final race!
Many of us anxiously waited for week 3 to unleash our creativity and experience the technical rigor of starting our own projects from scratch. My group of 5 finally decided to help combat floods and fire in our communities, especially at gas stations. Working on this project with limited supplies built long lasting relationships and helped me learn more about myself as I took the leadership position in the group, refusing to settle for mediocrity. Late nights, sacrificing meals and finally our project "CYNACHI" was selected to present to the First Lady of Rwanda, we were humbled!
Inspiring speakers added a ton to my experience. Dr. Francés Colon got me going. Being Hispanic and a woman put her in the minority yet her confidence level radiated to all the girls. She was extremely successful and told us "At a table of men, never be intimidated but quickly pull up a chair and join the panel." Also, Bilepo from the Intel team had a motivating story. She totally understood how people of today fear failure but she convinced me to be daring and to never let fear restrict me and hopefully, "There will be other opportunities to right your wrongs", she said. Without forgetting Michele Morelli of the AOL team, who taught us vital marketing skills and how branding can make a huge difference. Because of that, I am now a strong critic of various advertisements, brand names and slogans.
Although there was never enough time to fully explore the beautiful city of Kigali, the Kigali genocide memorial will always be engraved in our memories, marking how far Rwanda as a country has come. Spending about ten hours in a bus to visit the Akagera National park was absolutely worth it. Although we didn't get to see lions, the mighty buffalo's, the beautiful zebras, the daring baboons, the seemingly indifferent giraffes and the incredibly huge hippo's among others got me off my seat. The dusty roads and thirst did not deter us and the other's reactions to the different animals were enthralling. It was nature at its best!
I can confidently say that I've developed as a person. Working towards our Ghanaian presentation, learning the Rwandese dance, tasting new foods, learning new languages, interacting with the counselors, networking training and a host of other things have further stamped my desire for neurosurgery and neuropsychology. Now, I have my own elevator pitch I can deliver at any time. As I start a GirlUp club in my school, I begin to fulfil my commitment to WiSci 2015 and all girls around the world. I am today's leader and I look forward to changing the world!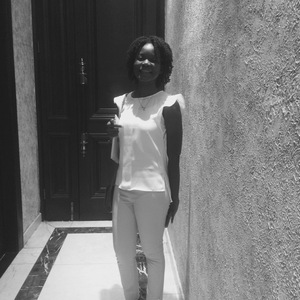 Nana Obrempongmaa Ofori-Atta lives in Ghana and attends SOS-HGIC. Her dream is to make the lives of the people in her country better. She looks forward to being the change.
REAL LIFE. REAL NEWS. REAL VOICES.
Help us tell more of the stories that matter from voices that too often remain unheard.