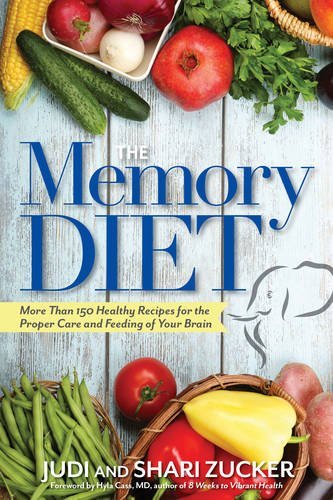 The Memory Diet is an empowering, informative and motivational read. Judi and Shari Zucker's book, "The Memory Diet: More than 150 Healthy Recipes for the Proper Care and Feeding of Your Brain," provides readers with the insights to understand how food and diet plays a vital role in good health and well-being. Most individuals do not realize the food we consume helps protect our mental health, physical health, quality of life, and overall well-being.
In the introduction, Judi and Shari Zucker provide astonishing facts to help readers realize how specific mental diseases are on the rise. Judi and Shari Zucker open up and let you into their world sharing how dementia had affected their life once they found out their mother was diagnosed with the disease. Judi and Shari Zucker continue as they educate readers about cognitive decline, and how to prevent and deal with it.
In The Memory Diet, Judi and Shari Zucker help you understand with their words of wisdom that a journey of awakening does not require a traumatic event to occur in order to experience a rude awakening. Their teachings and recipes in the book give the reader an understanding how to improve and prevent cognitive decline by focusing on scientific-based information about memory loss, and over 150 healthy brain-boosting recipes included in the book. Judi and Shari Zucker give you the opportunity to improve your cognitive function and prevent diseases such as Dementia and Alzheimer's from occurring. Judi and Shari Zucker provide excellent guidance for improving cognitive function in their astonishing book, The Memory Diet: More than 150 Healthy Recipes for the Proper Care and Feeding of Your Brain.
The Memory Diet is packed with magnificent advice, recipes, techniques, and strategies, which teaches readers how to improve their cognitive function giving them the ability to take back control in their lives, so they can experience a healthy and productive life.
Judi and Shari Zucker provide brilliant insight on how to transform your brain including fabulous recipes plus a wide range of recommendations and tips from scientific studies on how you can achieve better brain function. This book provides you with the necessary tools, so you are able to harness the Memory Diet's incredible power.
Throughout the book, Judi and Shari Zucker provides a vast array of scientific evidence that helps readers acknowledge the vital importance of diet and how it plays an essential role in people's mental and physical health. One important factor I acquired from reading this amazing book on cognitive brain function and diet was that it's crucial for individuals to maintain a healthy diet and incorporate exercise into their daily regimen. Creating a healthy lifestyle, exercising, and eating right can help boost your memory, enhance your brain function and improve your overall health.
In the beginning of the book on page 27, Judi and Shari Zucker discuss how it's not always possible to get everything you need through diet alone. Zucker reports that certain supplements and herbs can help to reduce cognitive decline. Judi and Shari Zucker go on as they help make the reader aware that it is important to supplement the diet with vitamins, minerals and herbs to help reduce cognitive decline. One fact that really grasped my attention when reading the book was a study they provided by the Proceedings of the National Academy of Sciences that found that vitamin B6, B12, and folic acid may help to slow down the progression of Alzheimer's. Could it be possible that dementia and Alzheimer's are on the rise because our society is consuming unhealthy foods that are destroying our bodies? Judi and Shari Zucker devote three-fourths of the book providing excellent recipes to help improve cognitive function. I found these recipes in chapter 4 extremely valuable and effective.
Diet is not only necessary for well-being, but it is vital for each individual to consume healthy food on a daily basis so they can function well. Sadly, most people do not eat the proper foods their body needs because of the various obligations that they have to do. With looming responsibilities and hard tasks that need to be accomplished immediately, people tend to eat the foods that are quick and easy (ex. processed foods) and put their health on the line as they increase their risk of developing cognitive-related illnesses, diseases and even the possibility of Alzheimer and dementia. The trick is how do we renew our bodies and transform our lives so we can have a life filled with happiness and productivity. Judi and Shari Zucker teach you in their book how to turn your life around with the tips, tools, strategies and recipes that are easy to incorporate in your life and very self-rewarding.
Judi and Shari Zucker not only discuss how to transform your life with diet and lifestyle changes, they show you how to transform your entire life as you read this astonishing life changing book.
Judi and Shari Zucker approach to improving cognitive function helped me realize that WE control our bodies. We can change the way we think and feel by making productive lifestyle changes.
In addition, through reading this book I realize no matter what age you are you can transform your life and create the life you always wanted for yourself. A life filled with happiness, inner peace, good health and strong inner strength that can lead you to endless opportunities and the ability to use your brain to its ultimate capacity.
I highly recommend this book for anyone interested in improving their cognitive function or for a loved one who suffers from dementia and Alzheimer's. Judi and Shari Zucker's book is excitingly packed with outstanding advice, tools and recipes and I find The Memory Diet: More than 150 Healthy Recipes for the Proper Care and Feeding of Your Brain a rewarding, motivating, inspiring and an enjoyable read.