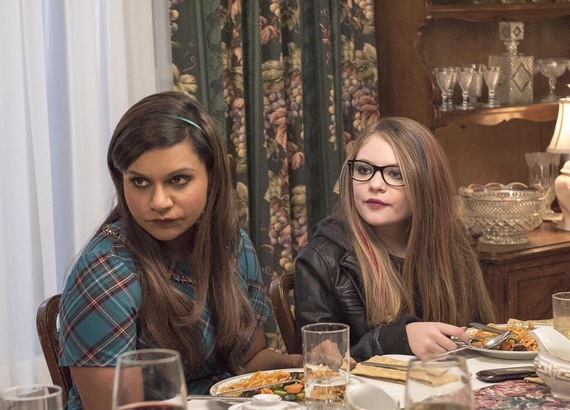 This morning, the Television Academy announced its nominations for the 2015 Primetime Emmy Awards.
As is customary every year, critics spent the day opining on the nominations, singling out the surprises, joys and snubs. Given the increase in series nominations to seven per category, a change in reality competition categories, and the automatic classification of 1-hour series as dramas rather than comedies (here's looking at you, Orange is the New Black) unless granted an exemption (here's looking at you, Glee and Shameless), this year was full of fascinating surprises.
And this year, with the nominations being announced at a human hour on the West Coast instead of werewolf time as is typical of nomination announcements, the stream of articles is likely to flow well into the evening and next day. While I am a big fan of this analysis, I also realized that beyond being inducted as a member of the "snub club," people and series that don't reap nominations on announcement day are often solely given a snub club membership without any further mention. It's like a Costco card without the free samples and really, what's the point?
As a result, I decided that I wanted to hand out my very own Emmy Awards today and thanks to a slight typographical error when first writing this piece I decided they would be called The Memy Awards -- my picks for performances and series that warranted being singled out for recognition. Without further ado, the winners of the 1st Annual Memy Awards are (Memy winners, please feel free to contact me for your trophy):
Mindy Kaling, The Mindy Project
From Mindy and Danny embarking on their relationship, to Mindy pursuing her dreams of a fellowship at Stanford, to a surprise pregnancy, our favorite television heroine has faced it all this season and done it with her kickass sense of fashion, whip-smart commentary, and her vocal enthusiasm for love, success and family. Kaling's fantastic work never shied away from Mindy's neuroses nor did she make the titular character back down when faced with Danny's many judgments along the way. Her work in the episode "Dinner with the Castellanos" alone places her on the list for Memy consideration, with this line in particular making her a winner: "Don't step to me. I just murdered a bunch of eels."
Kerry Washington, Scandal
For her work in the episode "Run" alone, Kerry Washington elevated the series from taut political thriller laced with romantic entanglements to a full-on Quentin Tarantino / Kill Bill study in perseverance, resilience, and the limits of human strength in the face of the unimaginable. The ferocity of Washington's performance coupled with the highly stylized nature of the episode made for one of the most captivating hours of television this season. The subsequent episodes post-rescue where we see Olivia grapple with the PTSD flowing from the kidnapping juxtaposed against her constant attempts to reclaim her life are unquestionably some of Washington's best work to date. Her work in the Ferguson-inspired outing "The Lawn Chair" in particular was unforgettable and on its own proves why she is a definitive Memy winner.
Will he get the girl? A season long question in a series that nobody thought would ever again explore complicated romantic entanglements after the Brody-Carrie relationship came to a definitive end last season. Friend's work this season was beyond the beyond. He made Peter Quinn's quiet, brooding, fractured persona into one of this season's most riveting character studies. Whether conflicted about going back into the field, dealing with the ramifications of the attack on the Embassy, or confessing his feelings to Carrie, Friend delicately walked the tightrope of calculated efficiency and shattering vulnerability. A Memy winner in my books.
Lorraine Toussaint, Orange is the New Black
Orange is the New Black has a phenomenal way of pairing back stories with present day events in Litchfield Penitentiary to give deeper significance to the lives of the women you have grown to know over the course of the series. One such iconic character was the vitriolic, towering, calculated Vee played with haunting, harrowing precision by the brilliant Lorraine Toussaint. Toussaint is a powerhouse actress who most recently appeared in Oscar Best Picture nominee Selma. Her work opposite Danielle Brooks' Taystee, Kate Mulgrew's Red, and Uzo Aduba's Suzanne in Season 2 of Orange is the New Black was particularly awe-inspiring and varied, and her physical absence and continued lingering emotional presence in Season 3 were acutely felt.
Matt Czuchry, The Good Wife
Matt Czuchry turned in a career-best performance this season on The Good Wife. Caught in a web of vengeance and the machinations of an overzealous State's Attorney Office, Czuchry's character Cary Agos faced a slew of challenges: incarceration, threats, intimidation, and watching everything he had worked so hard for crumble in front of his eyes. Throughout the ordeal, Czuchry has been nothing short of a revelation, portraying Cary's palpable fear, the lingering trauma of the whole ordeal, and the many ways in which it seeped into every corner of his character's life. For breaking the carefully constructed world his character has so tirelessly built over the previous five seasons and breaking our hearts in the process, Czuchry is a sure-fire Memy winner.
Ellie Kemper, The Unbreakable Kimmy Schmidt
The Unbreakable Kimmy Schmidt explores the coming-of-age story of an unabashedly enthusiastic woman claiming her life in New York City after being imprisoned in a bunker by a crazed cult leader. Yes, you read that correctly. On paper, this concept seems improbable as the premise for a comedy series. One of the main reasons it works, however, is the central performance of series star Ellie Kemper who never compromises the innocence of Kimmy in favor of a laugh. In her hands, Kimmy navigates the world around her after her ordeal with an optimism that does not feel out of place, instead it feels hopeful. With her yellow cardigan, pink jeans, and Walkman, Kimmy is a character for the ages which Ellie brings to life so perfectly. Without question, as Titus sings to her in his "original birthday composition," Kimmy is a firework and we have Memy winner Ellie Kemper to thank for that.
Who would receive your Memy Awards for their work on TV this past year? Share your picks with me in the comments below.