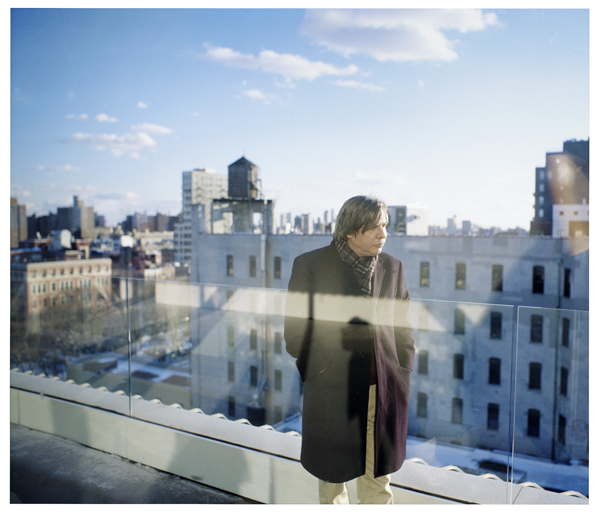 George Condo (Photograph by Antony Crook)
George Condo is a prolific painter whose career spans almost three decades. In the last five years his work has also crossed into commercial realms. Condo collaborated with designer Adam Kimmel on a casino-inspired line of clothing (with models wearing grotesque, Condo-made masks for on the runway) and in late 2010, he was commissioned to make five paintings for the cover of Kanye West's album My Beautiful Dark Twisted Fantasy. In a way, Condo's work is the embodiment of this album title. His characters live in a dark, twisted world, one where humor abates tragedy and our inner demons are realized on a canvas.
As his work is the visual embodiment of our mental states, also fitting is the title of the first major American survey of Condo's work "George Condo: Mental States," organized by the New Museum and Hayward Gallery, opening at the New Museum today, comprising over 80 paintings and sculptures. I had a chance to meet Condo at the New Museum over the weekend where I got a sneak peek of the show during installation while in conversation with the artist.
Like Condo has compartmentalized his career into mental states, I thought I'd approach this interview with statements or phrases followed by Condo's response.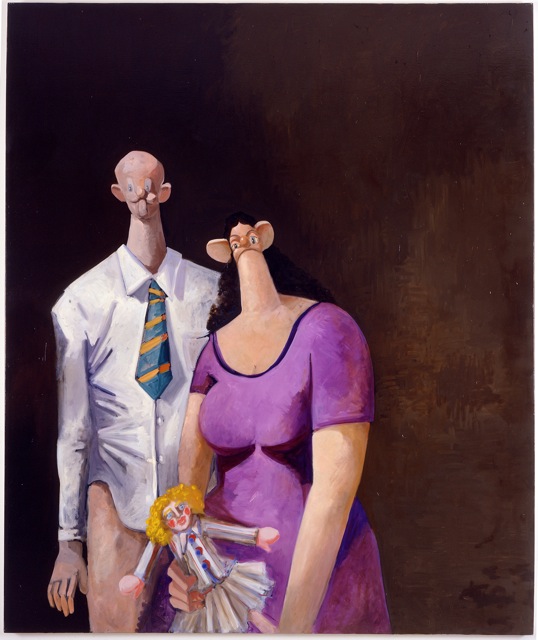 George Condo, The Stockbroker, 2002. Oil on canvas. 96 x 80 in (243.8 x 203 cm). Collection Vicki and Kent Logan. © George Condo 2010
This is not a retrospective
George Condo: It's not a chronological description of the work in the sense that a retrospective would be. So then we had to think about what would be the best way to present the work on two floors so that it would capture the essence of what it is I'm talking about as a painter. The curators Ralph Rugoff and Laura Hoptman looked through my body of work and came with the conclusion that obviously a quantity of the work are portraits. Portraits are also kind of abstract paintings in that the portrait itself is just a skeleton in which abstraction and transformation take place. We thought it would be a great thing to hang them salon-style. And then [another aspect of the show] deals with emotional content in painting--these were paintings that talked about the despair and loneliness and the dehumanization that people were think about during the period of time when I did The Stockbroker, at about 2002. And then the period of time passed and you got to the point where things like Enron and Dennis Kozlowski and his orgies and sex scandals were the big topic of discussion; there were a number of paintings that were almost parodies of that moment in time. And it was interesting that Ralph found a way to put those two bodies of work together, calling them the Boom and Bust rooms, and categorized them as these pathos paintings--ones that had this deep empathy with that kind of despair and the other ones more of an exploitation of the social mania of the time. And then coming from there to another aspect of my work throughout the last twenty-some odd years, I've always been involved and interested in abstract figurative paintings in a way that might help to redefine what some of the preconceptions are about what abstraction is.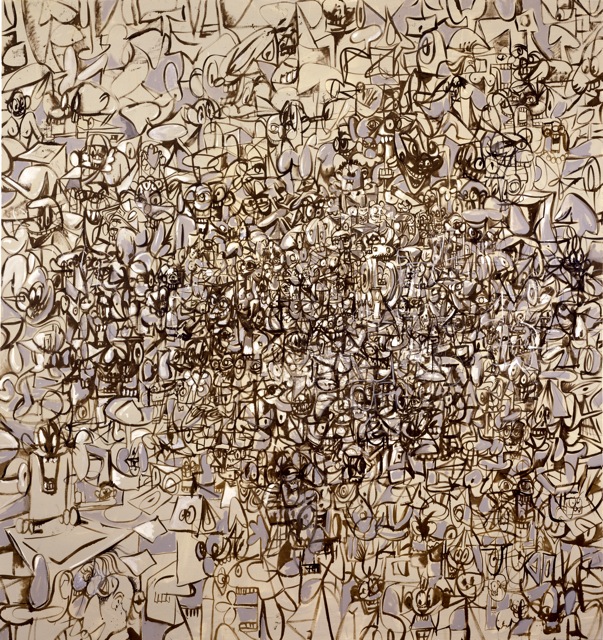 Internal Space, 2005. Oil on canvas, 85 x 80 in (215.9 x 203.2 cm). Collection Nina and Frank Moore. © George Condo 2010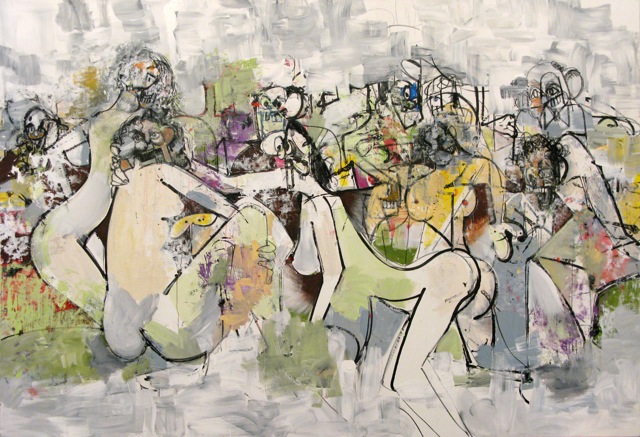 Figures In a Garden, 2010. Acrylic, pastel, and charcoal on linen, 78 x 108 in (198.1 x 274.3 cm). Collection Laura and Stafford Broumand. © George Condo 2010
"Representational pictures are the artist's body, abstractions are pictures of the artist's mind." George Condo
Yeah, and even to go one step further to say the abstractions were the subject of a portrait's mind and the portrait is often a picture into the interior of a subject as opposed to the way they might look on the outside--that idea of portraying the interior of a person's thoughts and the way that they think they look or the way they feel like they look. And the abstractions are sort of those same subjects, what's going through their minds and as well my own in a way that you didn't need to think to paint, sort of like automatic writing, this is automatic painting, improvisational work, some kind of a jazzed out way of expressing yourself that involves improvisation.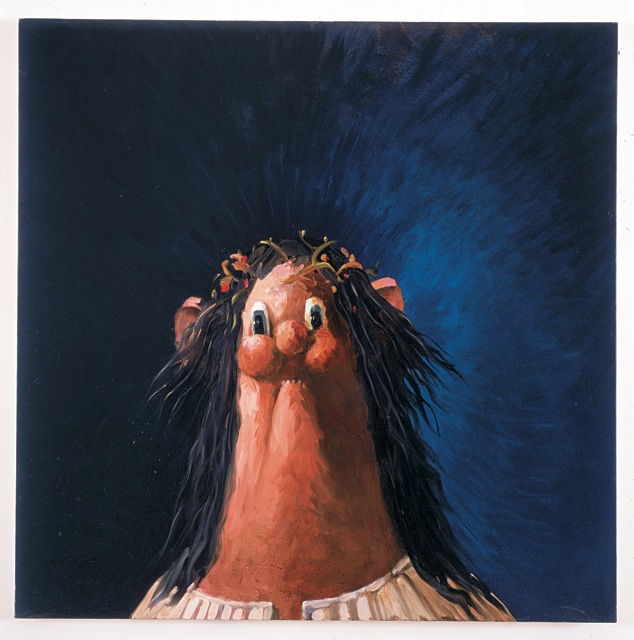 Jesus, 2002. Oil on canvas, 36 x 36 in (91.4 x 91.4 cm). Collection Nancy and Robert Magoon. © George Condo 2010
George Condo's Characters
Somebody looks at the paintings and they make their own story about who [these characters] are or what they are, because they don't come from total absolute literary sources. They're not from a literary source like Balzac, but yet they have this Balzacian aspect to them that a writer could pick up on.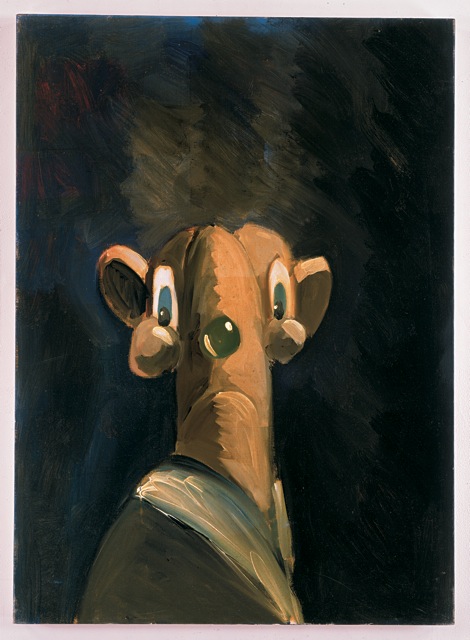 The Butler, 2000. Oil on canvas, 40 x 29 in (101.6 x 73.7 cm). Private collection. © George Condo 2010
George Condo and Writers: David Means' "The Butler's Lament"
[David Means'] use of language is beautiful. He sometimes applies it to a miserable and terrible subject matter, and I think that's his power and also what I like to do as a painter. I read a few of his stories, like "The Knocking" and "Lighting Man" and then I went and asked [literary agent] Andrew Wylie, who I've been working with for many years--when I worked with Burroughs and Ginsberg--and Andrew said, 'Why don't you work with David Means? I'd love to put you two together,' and so he did and we got to talking and I said to David, 'It would be great if you could just write the life of one of that characters in my paintings.'
George Condo and Writers: Salman Rushdie
Here's the thing that happened with Rushdie. So again, I was at Andrew's and Rushie was having a ping-pong match with Larry Clark and we were talking about painting and Salman was saying, 'I love your paintings, these crazy pods or whatever it is that you call them...' and I told him that I got them from Aldous Huxley's book Heaven and Hell, and it was just because I thought, 'Oh wow, look how much [Huxley's] talking about Bruegel and Rembrandt and all these great painters,' and his explanation for it was that they were not depicting religious mythological figures, but they were these peripheral beings that live independent of us within our mind and operate totally independent of our existence. He called them figures living out on the antipodes, saying that like kangaroos and marsupials are just as real as giraffes, we just don't see them but we still know they're there. Just like those creatures, we have them in our head and the only way to access them is through a kind of visionary process. And the artist accesses them somehow naturally and puts them in paintings ... I shorted that idea of antipodes to pods. So Salman is talking about that, and I did one painting called The Psychoanalytical Puppeteer Losing His Mind and he said to me 'Oh take a look at my book Fury and read the chapter where I changed the typeset. It's all about that painting.' And I thought, 'Oh how cool is that, you know' and so that's where that happened. That was a real compliment. I think that writers are abstracting from reality but to have a painter who has already done that abstraction from reality and then to bring it back to something real ... writers can do that--they can reset the placement of the figure in a kind of real world that they can create. So that is the beauty of working back and forth with writers.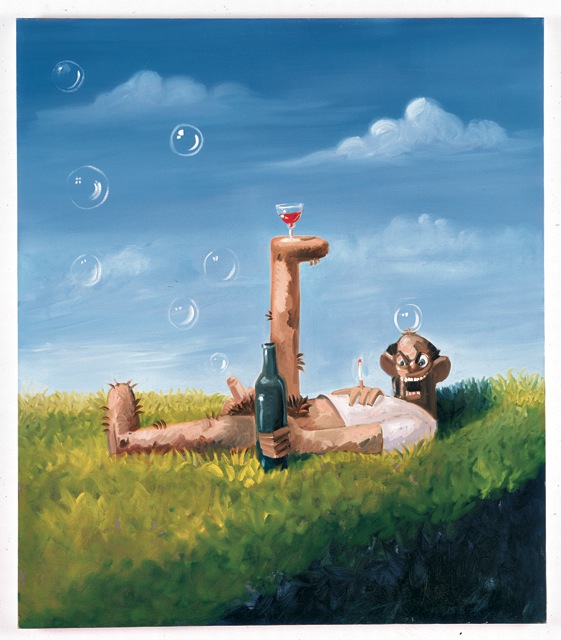 Uncle Joe, 2005. Oil on canvas, 53 x 46 in (134.6 x 116.8 cm). Private collection. Courtesy Simon Lee Gallery. © George Condo 2010
Condo and Jack Kerouac
The way that Kerouac wrote is how I thought a painter could paint, starting to write and writing straight through without even reading the earlier pages and just writing from word one to the end to really tell a story and not have it just simply be a lot of words. It was such an amazing thing that he did. I thought that it was a kind of extension of André Masson's technique of automatic writing, but into literature. That's where the expanded canvases come from, just starting from one small spot in the painting and working out to all four corners until the painting's done, until the story has been told. And the story is a picture of your mind.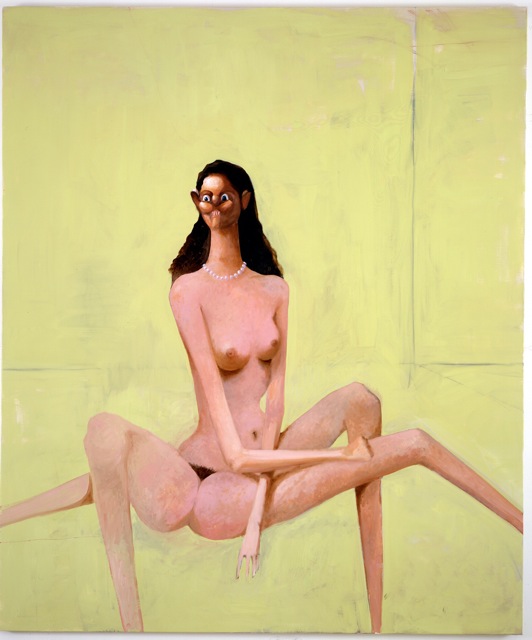 Spiderwoman, 2002. Oil on canvas, 96 x 80 in (243.8 x 203.2 cm). Collection E. and G. Tatintsian. © George Condo 2010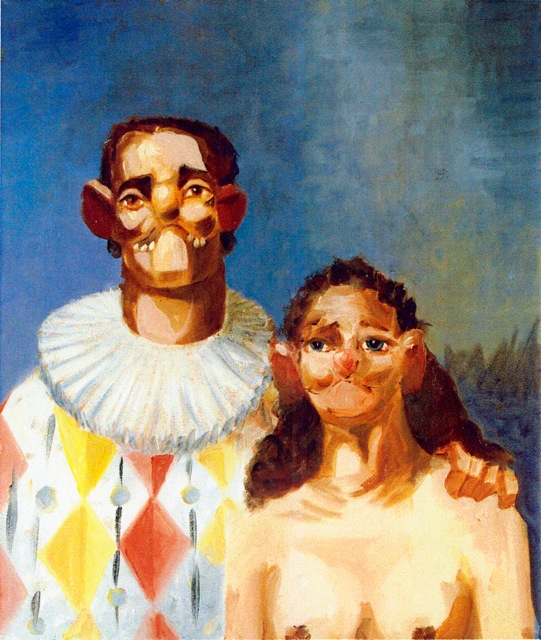 Homeless Harlequins, 2004. Oil on canvas, 24 x 20 in (61 x 50.8 cm). Private collection. © George Condo 2010
Condo doesn't work from photos or drawings. The paintings take shape spontaneously from his mind, sometimes in just one night.
Some days, like when I did Big Red, this red antipodular agent, I remember I did it out in the Hamptons. We were out there on a vacation and I did this painting and then I went to bed right after a finished it. And then I woke up in the morning and I forgotten that I had done it, really, because it was late at night. And I got up and I had coffee and I went into the other room and he was just standing there, and I thought 'Where did he come from?' Some of these characters just appear in your life that way, like Big Red, which is his kind of nickname; Jean-Louis, who is this imaginary butler; and then Rodrigo who is this other kind of low-life character. And they live out these fantasy lives, which I would never be able to do myself. I can let them live a life that I could never live. It's like when people watch movies and they see war films and they think, 'What would it be like to be in some medieval battle?' Mel Gibson lives that life in every movie. And then I think Kanye was into in that with his [album] My Beautiful Dark Twisted Fantasy--that was the whole point of the album.
George Condo and Kanye West
Kanye's an art-driven person and he's very knowledgeable about painting. He wanted to be a painter and a fashion designer and he did everything he could to test his skills until he arrived at what he did best, which was music writing lyrics and creating songs. He didn't want to just come to the studio or look through books and say, 'I like that, can I put it on my cover?' He was like, 'I want to do this together with you, a full-on collaboration, like you would be an instrument in this process, a visual instrument in the process of creating this thing together.' That's what I love about working with him.
People interpret some of the things in their own mind and they superimpose their perceptions on to the paintings.
Kanye West's Dark Twisted Cover Art 'Banned'
In the New Yorker article I said that Kanye wanted something that would be banned and then there was this big press backlash about it, [everyone writing] 'Kanye wanted his record to be banned,' And I thought to myself, You know what, it was simply a figure of speech from an artist to an artist, I said to him 'How far do you want to take it?' and he said, 'I want something so good that they won't be able to print it.' He was just trying to get me revved up. Neither one of us would ever of have expected that it would be banned.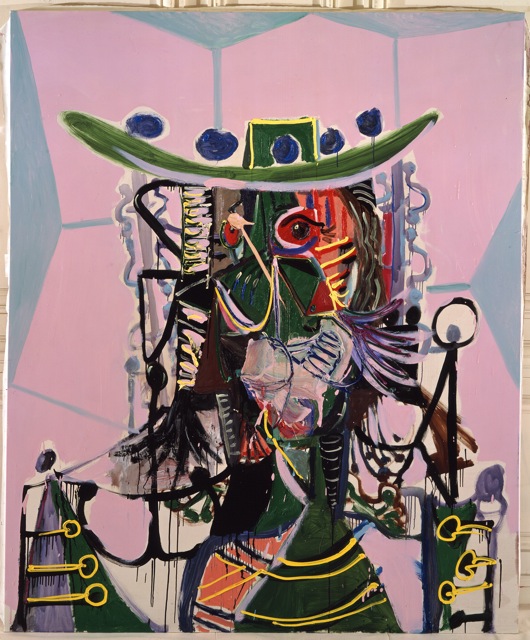 Memories of Picasso, 1989. Oil on canvas. 78 3⁄4 x 63 in (195 x 160 cm). Frac Île-de-France Collection, Image courtesy Frac Île-de-France. Photo: Georges Poncet. © George Condo 2010
George Condo and Designer Adam Kimmel
Adam came to me and said, 'Man I'd love to have you come up with an idea for something.' So I had been hanging out at these casinos in London and also when I worked in Monte Carlo on a ballet. I was working on costumes and sets there and as soon as I got to Monte Carlo, all the dancers took off and went to Milan for a week and half. And so they left me to my own devices, and that's how I got into the casino lifestyle. So to come back after all that to say that I said to Adam, 'Maybe you should call it casino wear because you get some wacky characters at the casino and they have some of the best outfits.' Then we came to the idea about some of my characters in this casino wear and dreamed up this surrealistic fashion event. Everybody in the world of fashion is beautiful so we thought let's get some hideous, crazy looking characters and we'll create this beautiful event.
George Condo on Collaboration
I always loved working on other things. There's so much time spent alone as a painter--I have no assistants, just one guy that works with me that handles all the phones and those kinds of things--and so you just sit there all day long by yourself, and so when somebody is interesting and interested in a collaboration if it doesn't take too much away from your painting, it could be fun.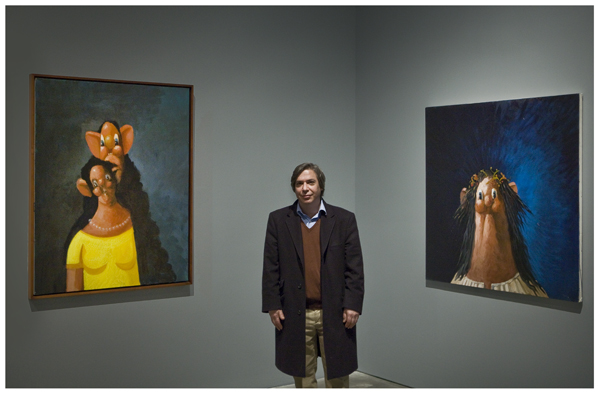 The Power of Painting
I like the idea that the painter can right what's wrong in the world, somehow make something beautiful out of something horrible. If it's really horrible, like factually horrible, something like the Haitian earthquake, and nobody is doing anything to help those people then you can make a real powerful political statement about how they're not helping. And maybe the beautiful result won't be the painting but that it influenced some people to go over there and help. If you can paint the anguish of everyday life and give some dignity to everyday despair or anguish or some of the emotions that regular people have, their feelings or thoughts become worthy of an artistic endeavor. There's something beautiful about recognizing those kind of things in life and saying something about them.
"Art is the lie that tells the truth." Pablo Picasso
Exactly, that's the idea of taking something that is unimportant and turning it into life. If you think about people's feelings and emotions or unimportant, insignificant thoughts and shine a light on them, you get a kind of cinematic moment, like what happens before the first word on a page in a novel.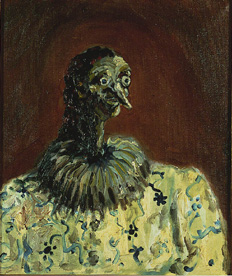 Lady Crimp, 1984. Oil on canvas, 31 x 26 in (78.7 x 66 cm). Private collection. Image courtesy the lender. © George Condo 2010
New York in the 1980s
When I first got here in that period of time, it was so crazy around here. That's one of the things that I like about showing here at the New Museum. [The Bowery] used to be the place where all the bums lived -- there's a painting in the show called The Bowery Bum. Again, it's those kind of characters where you never know who it is that's knocking on your door. It may be the one who has the key to the universe. They're kind of like transpositions of old religious tales and that kind of thing into everyday life.
Reuniting with Old Friends and Mental States
I hadn't seen a lot of the paintings for so many years, and it's exciting to see them in concert with the others. The idea of "Mental States" is that it's not just the character in the paintings, it's also going to be about the people who come to see the paintings and what it does to their mental state, to see all these different reflections of humanity, from all walks of life, happening at the same time on the wall.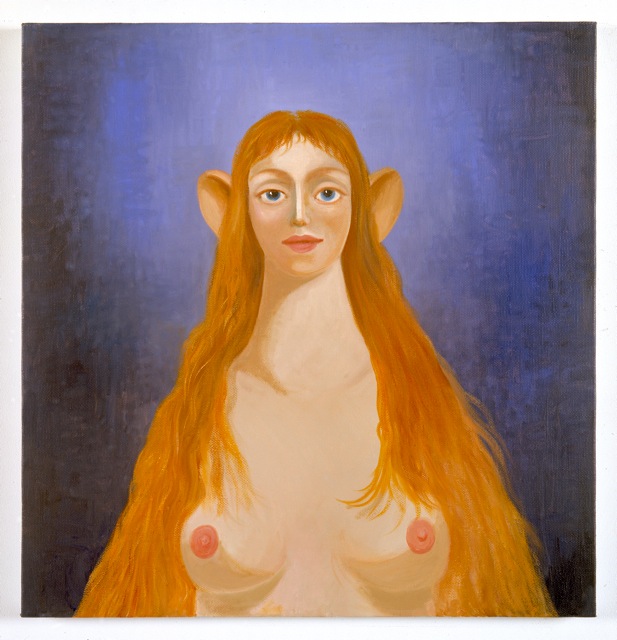 Mary Magdalene, 2009. Oil on canvas, 27 x 26 in (68.6 x 66 cm). Collection Richard and Hazel Collins. © George Condo 2010
At the New Museum in New York, January 26-May 8, 2011.
After its presentation at the New Museum, a modified version of the exhibition will travel to Museum Boijmans Van Beuningen, Rotterdam (June 25-September 25, 2011); Hayward Gallery, London (October 18, 2011-January 15, 2012); and Schirn Kunsthalle, Frankfurt (February 23-May 28, 2012)."
Popular in the Community