I was a second grader in the mid-60s, my school was a red brick behemoth in southern Wisconsin. The valentines we exchanged back then were still the beautiful die-cut, glittered and embossed cards that are today's collectibles. I mourn each year, just a little, when I see the plain and cheaply made Valentines my daughter must select from for her in-class exchanges, but Valentine's Day as we know it, though based on very old religious commemoration, is largely superficial and nothing to make much ado about.
There is a framed valentine hanging on the wall of my daughter's bedroom I found online and for which I bid aggressively, for it is -- but for the absence of glitter -- a close replica of a valentine I received in second grade. The valentine was an over-sized, foldable card depicting a mermaid girl seated on a boulder with a boyish merman gazing adoringly up at her. It like nearly all my other childhood artifacts was long ago eradicated by a mother who "cleaned out" zealously and indiscriminately, something I now understand was a reactionary reflection of the unhappiness with which she lived. I honestly don't know if my parents ever exchanged valentines...
Additionally, I am fully aware that as adults we compensate ourselves materially with the things we lost or longed for as children. Being very involved in the materialistic world that is fashion, I am fascinated by this reality and the philosophy and sociology behind it. Yes, this valentine I won at an online auction is indeed a replacement, and most likely on a couple of levels. But its acquisition serves primarily a happy purpose, for it represents most of all my first cognizant memory of thoughtfulness.
I remember this: Before I opened the Valentine during our in-class party, a little girl, a classmate whose name I do not remember, said to me she had chosen my valentine because she knew how I loved mermaids. This was long before Disney's cartoonish red-head overtook the Andersen fairy tale and back when it was quite difficult to find any images/toys depicting mermaids -- I drew them constantly and no doubt drew them in class. Though many details of the memory are gone, I remember precisely the moment this little girl told me of the mermaid valentine, as I remember this too: Thinking (without having the actual word at my disposal) how thoughtful it was of her, to remember this tidbit about myself and match a card up to me, and to want to share it with me as well, for this was very happy news. I was truly excited to open my card on the 14th and receive my mermaid valentine.
There is no way either one of us seven year olds would have known how much that would mean to me, nor how this first gesture of thoughtfulness would stay with me all my life, but it has.
Kudos to all who exist in this person's world, for they have someone in their life who as a child already possessed the gift of thoughtfulness.
I wish my second grade classmate Oceans of Love in return.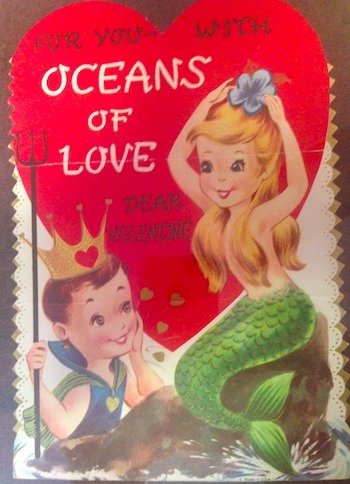 Related