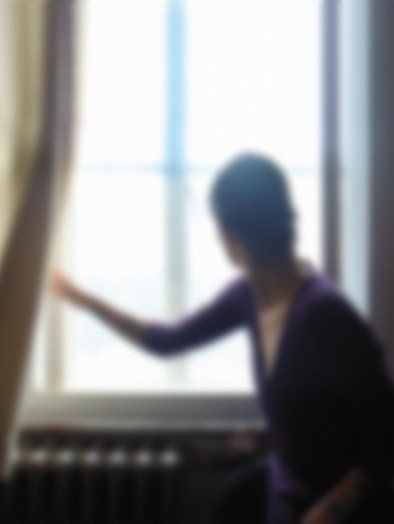 Eva Schlegel is best known for her photographic portraits that focus in front or behind her subjects, but never on the subjects themselves. These create blurry images that are distinctly human, but devoid of self. It is not the actual person who can be discerned in the images, but rather, their bodily forms.
Schlegel is an artist and academic who lives and works in Vienna. She graduated from the University of Applied Arts in Vienna in 1985, and taught at the Academy of Fine Arts in Vienna from 1997 until 2006. In 2011, she was the Commissioner for the Austrian Pavilion at the 54th Venice Biennale. She has been the subject of numerous solo exhibitions, including a March 2015 show at Galerie Krinzinger in Vienna, as well as a 2014 show at Gallery Wendi Norris in San Francisco.
Currently, her work is being shown in an exhibition at Park Hyatt Vienna. Consisting of four large-scale images, the exhibition is a glimpse of Schlegel's oeuvre for those who might not know her work.
In "o.T . 031″ (2013) and "o.T . 018″ (2001), viewers are given a glimpse at one of Schlegel's best-known series. Each depicting a figure in front of a window, holding back a curtain, the color lambdaprints are characteristically blurry. The effect of looking at the compositions feels as though one has looked directly at the light from the windows, rather than just a print of the light, and then closed their eyes, leaving the imprint of the forms depicted on their eyelids. The photographs capture not the people themselves, but the memory of their forms.
In "o.T. 208″ (2013) and "o.T. 204″ (2013), long, sun-lit hallways are inscribed with what appears to be verse of poetry. Closer inspection reveals that the words are in fact just blots of ink, and carry no textual meaning. Printed on handmade paper, and employing Schlegel's characteristic blurry effects, the images are left open to interpretation. Much like the photographs of human forms, text is transformed into something recognizable but unreadable -- tricking the brain, at first, to try to interpret them as personal before discovering that they merely representations of form.
Brienne Walsh is an ARTPHAIRE contributor, as well as a freelance writer who contributes to Art in America, Interview Magazine, The Huffington Post, Glo, NY Mag, The New York Times and the NY Daily News, among other publications.
Sign up for our weekly newsletter to get the best of ARTPHAIRE delivered straight to your inbox!
PHOTO GALLERY
The Mesmerizing Photographs of Eva Schlegel arrive at Park Hyatt Vienna
Calling all HuffPost superfans!
Sign up for membership to become a founding member and help shape HuffPost's next chapter