"What's the message here?"
"No, ma'am. We think everyone should buy more stuff, and hurry!"
"No. I believe in spending. Either the stores will run out of stuff or you'll run out of time!"
"I don't get it. Are you being serious?"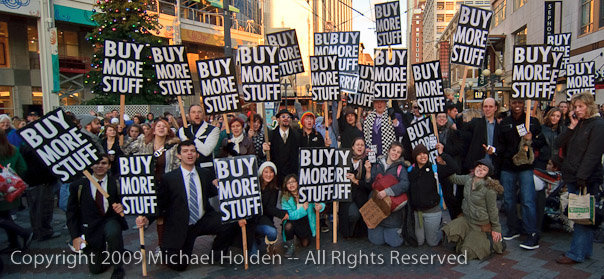 It's pretty tepid, as performance art goes. It's not over-the-top, like a lot of the flash-mob stuff you might see in New York, or as in-your-face as it gets in San Francisco. Just take an outdoor mall, in this case, Westlake Center in downtown Seattle, on Black Friday, stuffed to the brim with pedestrian shoppers of all ages from many walks of life. Then take anywhere between 10 and 40 people in their best formal wear carrying large black signs that all say the same thing in large white letters: Buy More Stuff.
"The message" is quite simple: Buy More Stuff. That's all the signs say, and that's all we told curious bystanders that we were there to encourage. One stern middle-aged man beckoned me and demanded to know what all this was. One couple assured us that they put their faith in local economies, but only the faith leftover from the faith they put in the Lord. One woman asked if we were against the federal government. The security guards wanted us off the sidewalk where the Christmas tree was to be lit at 6 p.m., but not because we were protesting. We weren't protesting. One shopper exclaimed that we must have been employed by Macy's, so gung-ho were we about the boost to the economy achieved by the simple, necessary action of Buying More Stuff right outside its doors.
This is Buy More Stuff's fourth year, and last Friday was its most successful Black Friday to date. Some people saw our flock and joined us, chanting and carrying spare signs. More passersby asked for the Buy More Stuff stickers and leaflets we were passing out than waved them away.
Conservative, wealthy shoppers weren't the most rankled by the spectacle. Neither were those too hard up to Buy More Stuff. The most likely to be offended were those who often give themselves credit for being more aware and open than most: the liberals, the granola-heads, the Obama-bumper-stickered anti-Bush crowd.
Underneath the slicked hair and three-piece-suits of the Buy More Stuff facade, of course, were a bunch of Google and Microsoft employees who know Burning Man as a regular and almost devotional experience. Those who might on a normal day identify with them were the most likely to be offended--no one broke character, and they didn't get it.
I stood with a Starbucks cup in my hand, assuring curious passersby that I bought this coffee. After all, I hadn't made my jacket. I'd bought it. No one was accosted or asked to sign a petition. We just stood and walked with Buy More Stuff signs in our best suits for a few hours to some bemused, some annoyed, but most of all, a whole lot of perplexed expressions on the faces of the shoppers around us.
Michael Holden, who founded Buy More Stuff with fellow performance artist Cody Strauss, recalls the genesis of the event as the day he thought of a much more extreme performance art project: crawling around eating money while dressed only in saran-wrap, feeding coins from passersby into a coin press. His brother Dominic, currently the News Editor at The Stranger, Seattle's alt-weekly, pointed out that it might be a good idea to render a piece of performance art like this just a tad more accessible (as the man behind the proposition making possession of less than 40 grams of marijuana the lowest police priority in Seattle, something 12 other cities across the nation have since emulated, Dominic would know). If they burned the money, ate it, and squished it, they'd lose a lot of their audience by presenting them with an un-get-at-able existential quandary instead of engaging them in art whose presentation they might be more comfortable engaging back. After a while of talking that day, the idea was boiled down to its essence, and the more civil, jovial, and social Buy More Stuff was born.
"It's interesting: Americans in particular are hyper-attuned to advertising and marketing, which all comes down to Buy More Stuff, and when you reduce it down to its primary thing it becomes very weird. When the message is pared down to its essence is when it confuses people the most."
" It produces a cognitive dissonance because it's hard for onlookers to categorize. It's fairly compelling for both the participants and the audience, I think. I didn't expect it to be as fun as it was, and I certainly didn't expect 40 people to come down on their day off after Thanksgiving to join me. I'd love to see Buy More Stuff happen all over the country."
Related
Popular in the Community